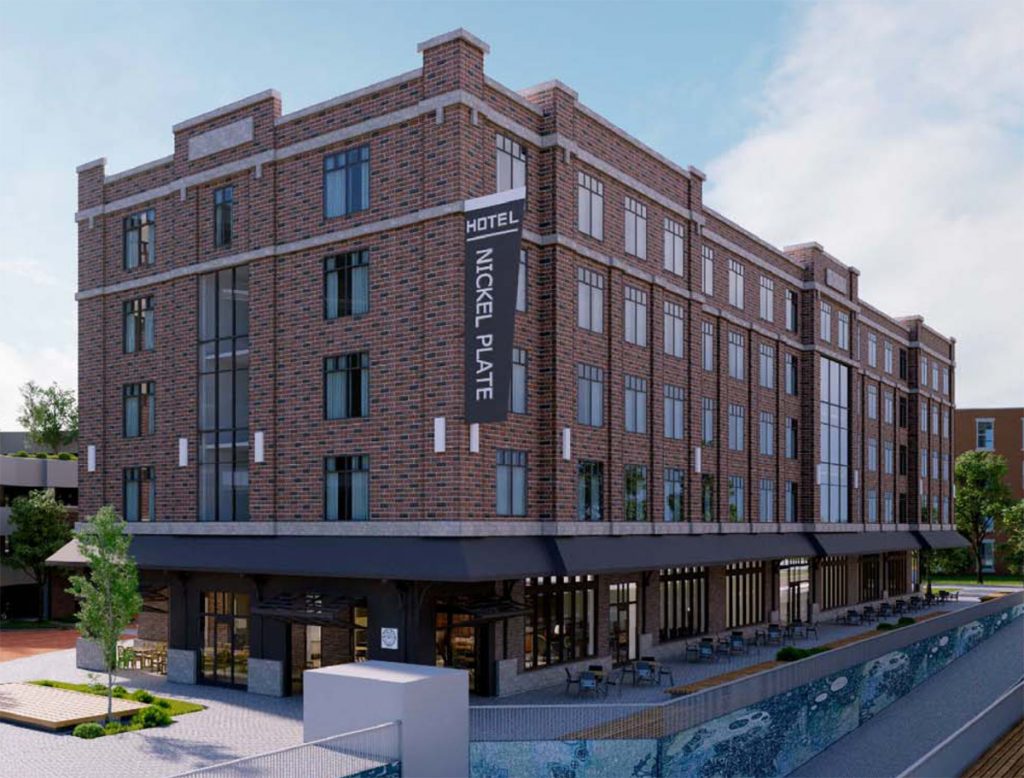 The $157 million mixed-use project slated for the Nickel Plate District in Fishers will include a five-story, 116-unit hotel under Hilton's new high-end Tapestry Collection brand.
To be named Hotel Nickel Plate, the lodging property would be located on the south side of 116th Street in downtown Fishers and along the Nickel Plate Trail. Set to open in 2021, it will include a full-service restaurant at ground level.
Indianapolis-based Browning Investments, which is the lead developer of the mixed-used project in the district, plans to co-develop the hotel with Fishers-based Dora Hotel Co. They announced the partnership and their choice of the Tapestry brand on Tuesday.
Tapestry was launched by Hilton in 2017, jumping on the bandwagon in the hospitality industry for small-scale, high-end hotels. They're intended to feel like one-of-a-kind, independent hotels, each with distinctive elements related to their locations.
A 127-room hotel in the Tapestry portfolio named The Wilshaw Indianapolis—named for Wilbur Shaw, the last native Hoosier to win the Indianapolis 500—has been planned for Speedway with its debut scheduled for third quarter of next year. Hilton already counts more than 25 other locations for the Tapestry brand in the United States and Canada.
Browning's mixed-use project is slated for the north and south sides of 116th Street in downtown Fishers and is expected to include apartments, town homes, retail space and a six-story office building—in addition to the hotel.
The cost of developing the hotel is part of the $157 million price tag for the full development announced by Browning late last year. A spokesperson said Tuesday that the firm did not have a specific figure for developing the hotel.
The Fishers City Council will consider financial incentives for the hotel project at its Dec. 16 meeting, including waiving impact and permitting fees and reimbursing up to $2.1 million in eligible construction costs, via a tax increment financing fund.
Please enable JavaScript to view this content.