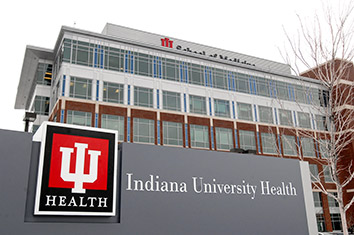 The pandemic whipped through Indiana University Health in 2020 and left damage in its wake in almost every business category.
The state's largest hospital system saw its inpatient surgeries fall 12% and outpatient surgeries fall 13%. Emergency room visits fell 16%. Admissions fell by 6%.
CEO Dennis Murphy used language akin to a tragic novel in describing the year.
"The story of 2020 was one of loss and suffering," he wrote in a Feb. 25 report, "but as is often the case in times of crisis, our team members showed their commitment to our patients and each other every day under the most difficult circumstances we have ever faced."
Despite the setbacks, the 16-hospital system saw operating revenue climb 1.5% to $6.81 billion, excluding federal relief funding.
But operating expenses—salaries, supplies and equipment—rose even faster, by 6%, to $6.39 billion.
IU Health said it invested "significant funds" for personal protective equipment, expanded intensive care units, temporary care facilities, extra frontline staffing and a hospital-at-home program to free up hospital beds for the most critically ill.
As a result, operating income fell 3.4% last year, to $565 million.
Declines were seen almost across the board in patient service categories, including hospital admissions, surgeries, ER visits and radiological exams, due in part to a government order to shut down elective procedures for several months.
One category that went up (slightly): average length of stay in a hospital, which climbed to 5.76 days, up from 5.62 days.
To cope with the pandemic, IU Health said it has performed nearly a half-million coronavirus tests in a lab it opened early in the pandemic. It also directed providers to pivot to telemedicine and other virtual links to respond remotely to patient care needs.
"COVID-19 disrupted the status quo, forcing health care to do things differently, and IU Health responded in agile and innovative ways," Michelle Janney, executive vice president and chief operating officer, said in written remarks.
The company said it did not furlough any employees during the pandemic, keeping 36,000 doctors, nurses, therapists, administrators and others on the payroll.
Please enable JavaScript to view this content.