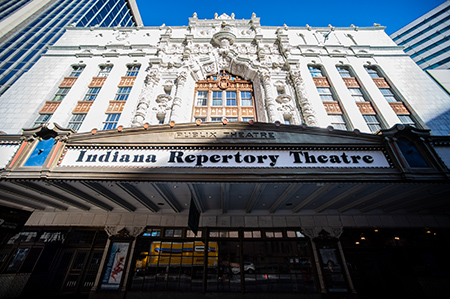 After trying to stay open with limited seating to meet state guidelines for stemming the spread of COVID-19, the Indiana Repertory Theatre on Monday announced that it would close to the public for the rest of its current season.
"We cannot overstate the devastating impact that not performing the remainder of our season will have on our organization," IRT officials said in the announcement. It was co-signed by Artistic Director Janet Allen and Managing Director Suzanne Sweeney.
This means the current run of "Murder on the Orient Express" will end immediately and that productions of "The Paper Dreams of Harry Chin" (March 25-April 19) and "Jane Austen's Sense and Sensibility" (April 14-May 10) will not be staged.
"This is devastating news for our staff and artists, and we do not make this decision lightly. We thank our loyal patrons for your patience as we move forward in these unprecedented times," the IRT officials said.
The decision follows new guidance from the Centers for Disease Control and Prevention that on Monday was adopted by both the city of Indianapolis and the state of Indiana. The guidance asks that mass gatherings be limited to fewer than 50 people for the next eight weeks.
Over last weekend, IRT decided to stay open for its productions of "Murder on the Orient Express" while adhering to the then-current state guidance that mass gatherings be limited to 250 people or less. The theater's plan was to only sell enough tickets to meet the guidelines.
Theater leaders said Monday that the box office would contact ticket holders for "Orient Express" about refunds. However, they also requested that patrons consider exchanging the tickets for an IRT gift card or simply donating the value to the tickets to the theater.
They suggested the same thing for season-ticket holders.
"As a nonprofit organization, which employs many talented artists, artisans and staff, the IRT could use your support during this time. We know that closing for the remainder of the season is the right decision to make for our community, but please consider donating the value of the remainder of this season's tickets to the IRT," they said.
Please enable JavaScript to view this content.