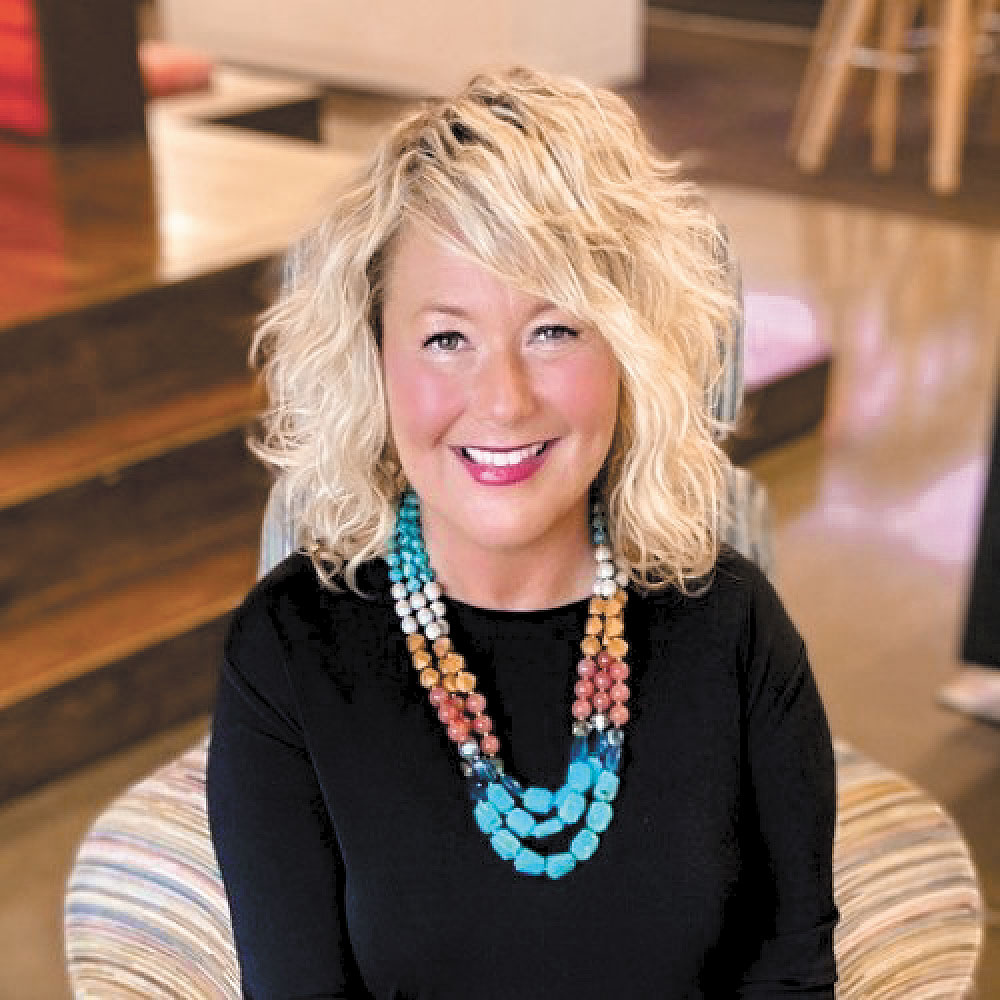 Mary Beth Oakes began working at Business Furniture—which is celebrating its 101st anniversary this year—as a showroom manager in 1992 and moved up to become CEO and co-owner. The company, which has two showrooms in the Indianapolis area and one in Dayton, became a certified woman-owned business enterprise in 2021. Oakes co-founded Choreo in 2008 to provide data- and people-driven research and change management to help organizations create workplaces that maximize real estate and support strong cultures. This year, Choreo became part of Business Furniture. Oakes serves on the Indy Chamber board.
First job
My first job was not technically a paying job, but I loved it anyway. When I was in the second grade, my sister gave me her tape recorder. My early journalistic tendencies kicked in, and I started interviewing everyone in my family and all of my friends. My passion for people began!
Job swap
From my "first job," I knew I LOVED people and learning about their journeys, so if I were not the CEO of BF, I would want to be a broadcast journalist. Getting to know someone and really feeling connected to their story has always been very fulfilling and meaningful to me.
Favorite thing about being a leader
Our employees are at the heart of what we do every day, and they are the reason that we have great relationships with our client partners. Having the opportunity to encourage my team and to cheer them on is the most meaningful part of my job as a leader. Watching our team learn, grow and thrive is an experience that I treasure and value.
Something surprising
Most people are surprised to learn that, as much as I love people and human interaction, I also appreciate having time with just myself to think and sort through my day. I truly appreciate having an hour or two every night after my family goes to sleep. The silence can be golden.
Walk-up song
"Runnin' Down a Dream," by Tom Petty.
Indiana love
When you live in Indiana, you learn that it's truly a small world, and that Hoosier hospitality is real. I love that Indiana is a place that not only has a strong history of sports, but also a strong history in the arts, business and innovation.
Admires most
For me, it's a tie between the two people who have been most influential in my life.
My Mom raised four daughters all by herself with little help from family or friends. I watched her struggle to support her family on a teacher's salary, and yet she never gave up. … I met Dick Oakes in 1992, when I was interviewing for the showroom manager position at Business Furniture. I could not have imagined how much I would learn from him over the past 31 years.
Toughest challenge
When I became the CEO of Business Furniture in 2016, I was replacing a beloved leader who had been in the role for several years. … I wondered how my collaborative approach and passion for culture would resonate with our leadership team and with the employees. My first step was to ask a group of leaders and employees to complete an assessment on me, as I wanted to understand their perceptions. It was difficult to read some of the responses but truly helpful, as it gave me clarity about how to evolve in a genuine way. •
Please enable JavaScript to view this content.