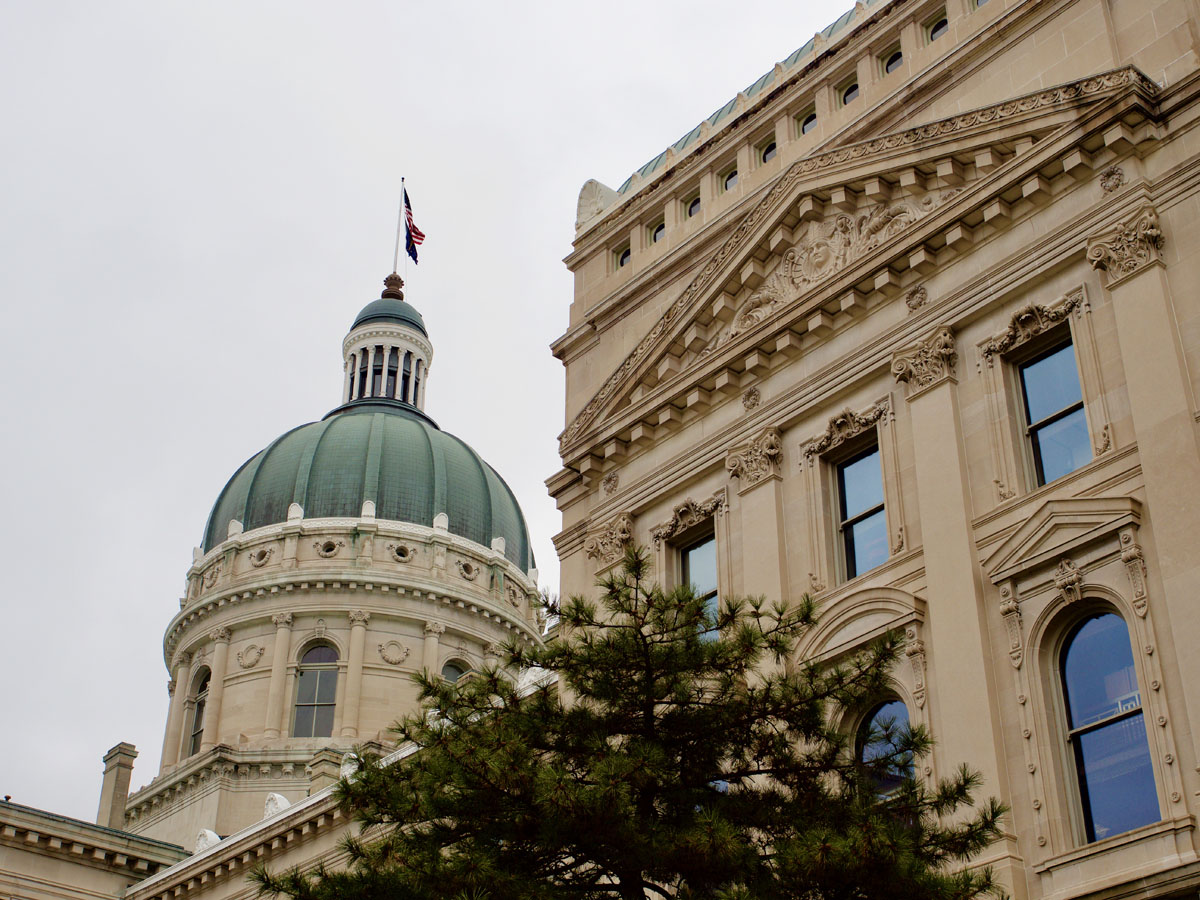 While House and Senate Democrats met at the Indiana Statehouse on Wednesday—the technical start date of a special session intended for discussions about Hoosier economic relief and abortion—a swarm of protestors calling for abortion rights gathered on the building's stoop.
As Sen. Shelli Yoder, D-Bloomington, spoke on the fourth floor, her voice boomed down to the halls below of an otherwise empty Statehouse on the initial special session date (July 6) set by Gov. Eric Holcomb.
The start date on legislative work was delayed when House Speaker Todd Huston, R-Fishers, and Senate President Pro Tem Rod Bray, R-Martinsville, announced June 29 that lawmakers would not return until July 25.
Holcomb had called lawmakers back to discuss a $1 billion refund for taxpayers to help with inflation costs, but the landmark U.S. Supreme Court decision of Dobbs v. Jackson Women's Health Organization that overturned Roe v. Wade prompted legislators to add that issue to the special session's agenda.
The Indiana Republican supermajority is poised to enact stricter abortion regulations, but has not yet released details as to what any new laws might entail.
Despite the date change, Democrats gathered at the Statehouse anyway Wednesday and used the opportunity to express frustration and question  why their Republican counterparts were not present.
"I cleared my calendar to be here because it's my job to work for Hoosiers," said Rep. Terri Austin, D-Anderson. "We are looking at a three-week delay for even starting the conversation. We wanted to come here to tell Hoosiers we are ready to work for them."
The Democrats offered their proposed solution to what they called a continued need for relief at the pump–suspending state gas taxes through November. The Democrats also advocated for a $225 refund to be distributed to all Hoosiers, whether they file a state tax return or not, including those on Social Security, disability and Supplemental Security Income.
"As you all know, the cost of getting anywhere, even the places that you absolutely need to go like work, the grocery store, taking your kids to school or daycare, has been far too high in Indiana for months," Austin said.
The Democrats said they have been calling for an immediate gas-tax suspension for months, and that further delays will put Hoosiers in deeper financial pain.
"Even in the face of mounting Hoosier suffering and economic instability, Republicans continue to look the other way," Yoder said
She said that, so far, only 45% of Hoosiers who are getting $125 from a previously announced automatic taxpayer refund have received that money and the additional proposed $225 will take months to distribute.
"The supermajority could pass this at any time right now," Yoder said. "If they are still figuring out where they land on restricting abortion and liberty, even after having months of time to plan, they could still pass the refund, go into recess and come back before Aug. 14 to deal with the looming abortion ban. Relief should not be held hostage to the supermajority's unpopular and disorganized policy debate."
Sen. Jean Breaux, D-Indianapolis, said that banning abortion would lead to an increase in maternal mortality, especially among women of color. She offered concerns that banning abortion will "balloon" Indiana's Medicaid budget.
"We've already expanded Medicaid to include pregnancy care, which is wonderful. But if we think that that's going to be sufficient to cover the costs for those that will be increased number of births that we will be requiring in the state of Indiana, then that's woefully under budget," Breaux said.
Rep. Cherrish Pryor, D-Indianapolis, said hundreds of thousands of Hoosiers are left out of the automatic taxpayer refund and the inflation relief plan because they haven't filed tax returns. That includes some seniors and young people, individuals on disability and new workers.
When asked if they agreed with Holcomb's previous comments that extending the inflation relief plan to more Hoosiers during the special session would be "too complicated," the lawmakers were silent before Austin bluntly said, "I think that's a crock."
Yoder, stepping back to the front, interjected that "we are about to criminalize health care."
"We're about to criminalize women, what, that's not too difficult to figure out?" she said.
None of the lawmakers present said they have heard from the governor or from the House or Senate leaders on the special session topics. They all called for greater transparency and communication within the General Assembly.
Please enable JavaScript to view this content.