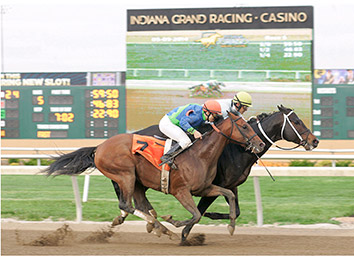 Indiana's horse racing industry has more than doubled in value in the past decade—a surge attributed to the state's ongoing investments in equine racing and breeding, according to an economic impact study from Purdue University released Tuesday.
Indiana's horse racing and breeding industry contributed $933 million to the state's economy in 2021, generating $1.44 billion in economic activity, the study found.
Collectively, the total economic footprint of the industry nearly eclipsed $2 billion in 2021, according to the study.
The findings were based on economic impact data combined with input from racetrack owners and more than 600 people involved with the state's racing and breeding industry, researchers said.
"We have seen a lot of new farm development in recent years, especially around Horseshoe Indianapolis (track and casin0)," said Joe Davis, president of the Indiana Horsemen's Benevolent and Protective Association, in written remarks. "We knew there had been a significant increase in our industry but had no idea it had amounted to $2 billion."
Between 2007 and 2020, Indiana saw a 59 percent increase in the number of horses owned, trained or bred in the state.
Hoosiers placed more than $380 million in total bets at Indiana's two racetracks—Hoosier Park in Anderson and Indiana Downs in Shelbyville—resulting in $129 million in federal tax revenues and $77 million in state and local tax collections.
"We are committed to bringing the Indiana horse racing industry to a higher level," said Joe Morris, senior vice president of racing for Caesars Entertainment, which includes both Harrah's Hoosier Park and Horseshoe Indianapolis. "Our goal is to continue to elevate all three breeds into the national conversation of horse racing."
From its inclusion in county fairs dating back to the late 1800s, horse racing has long been a part of Indiana's history. In the 1930s, the Indiana State Fair added horse racing to its offerings. In 1994, state lawmakers passed legislation legalizing betting on horse racing, creating a surge in breeding and racing programs across the state.
Purdue previously conducted an economic impact analysis of the industry in 2010 and found it had more than $1 billion in total economic impact.
The horse racing and breeding industry employs about 2,000 people in Indiana.
Please enable JavaScript to view this content.