The Republican primary in the new Indiana House District 32 remained too close to call Wednesday afternoon.
Fred Glynn holds a six-vote lead over Suzie Jaworowski—1,844 to 1,838—with 100% of voters centers counted and most absentee ballots counted. Paul Nix of Fishers has 479 votes.
The candidates had been waiting on tallies from a final vote center in Marion County where a problem prevented immediate counts. That was resolved late Wednesday with no change in the totals.
However, Marion County will continue to count late-arriving ballots and consider provisional ballots, which are cast when there are questions about a voter's qualifications or address. The county has until May 16 to certify its results. Candidates have until May 17 to ask for a recount.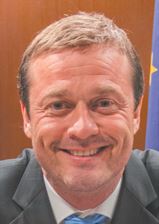 Jaworowski said she is not prepared to say if she will ask for a recount.
"Just trying to be patient and wait and see what happens," she said.
Glynn said turnout in the race was 10%, which was lower than when he ran for Hamilton County Council in 2014.
The newly redrawn District 32 includes Hamilton County's Clay and Delaware townships and extends south into Marion County.
Glynn held a 30-vote lead over Jaworowski in Hamilton County after all precincts reported Tuesday night. Marion County uses a system that allows voters to cast their votes anywhere throughout the county.
Marion County Elections Director Brienne Delaney said an inspector at the remaining vote center did not pull the media—the USB stick with the vote totals—out of the machines. The media sticks are how election officials retrieve vote totals.
The issue wasn't discovered until late Tuesday night after the vote center already closed, so officials had to wait until Wednesday morning to pull the totals, Delaney said.
How recounts work in Indiana
Indiana does not have automatic recounts in elections, according to the state election administrator's manual.
A candidate must request a recount by filing a petition within 14 days of the election with a county's circuit or superior court.
For the District 32 race, the State Recount Commission would handle a recount as the commission is in charge of federal, statewide and state legislative office recounts.
The candidate requesting a recount has to cover the cost of it, according to the manual.  The petitioner has to pay the civil case-filing fee and file a bond or cash deposit of at least $100 with the court to cover costs of the recount. The court sets the total cost, which can be determined based on the number of precincts that need to be counted and also whether the candidate lost by more or less than 1%, according to the manual.
If the recount does alter the original results of the election, the candidate filing the petition would be refunded.
Please enable JavaScript to view this content.