The longtime leader of Indiana Members Credit Union—the largest credit union in the Indianapolis area—plans to retire at the end of next year, the credit union announced Thursday.
Ron Collier, 64, joined the credit union in 1985, originally serving as its training director. He has served as president and CEO since 2003, and during that time the organization has seen significant growth.
In 2003, Indiana Members Credit Union had 89,000 members, $768 million in assets and 235 employees. Today, the organization has 141,000 members, $2.9 billion in assets and 400 employees at 33 offices in central and southern Indiana.
Much of that growth has come through mergers and acquisitions—Collier has managed 33 such transactions since 1985.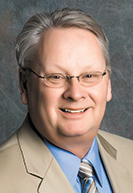 Typically, credit union mergers and acquisitions involve two credit unions—but not always. In January 2020, Indiana Members closed on its acquisition of Evansville-based Commerce Bank, at a purchase price of just over $34 million. The deal, Collier told IBJ last year, gave Indiana Members the ability to expand both its commercial business and its presence in southern Indiana.
Before shifting to the financial world, Collier had a brief career in education. The 1975 Warren Central High School graduate went on to earn an education degree from Ball State University, then taught and coached for three years at Noblesville High School. After leaving teaching, Collier worked for three years at the Indiana Credit Union League before joining Indiana Members.
Indiana Members told IBJ that it has not yet publicly named Collier's successor.
Please enable JavaScript to view this content.