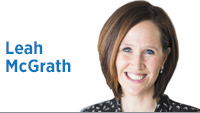 Almost 15 years ago, Muscatatuck State Hospital closed its doors. It was one of the last centers of its kind in Indiana to shut, marking the end of an era of institutionalizing adults with intellectual and developmental disabilities and the beginning of a new approach of inclusiveness and hope.
Fifteen years later, we still have a long way to go. Although progress has been made, the system is still fragmented, and for many, piecing together care is just that—a piece-meal approach.
It's time for the state to turn its attention to this topic and develop a modern, comprehensive policy for what care should look like in Indiana from birth to death for our most vulnerable Hoosiers.
Unless you are affected by it personally, it is easy to dismiss this as someone else's problem. It is easy to point to a few achievements and claim success. It is easy to lean on the excuse that "we don't know what we don't know." Yet, the most rewarding work is rarely easy.
Indiana has an opportunity to lead in defining a new vision for individuals with intellectual and developmental disabilities. We can create a system of care that works, that is customizable to the unique needs of each individual, and is accessible—whether you live in the rural corners of our state or the urban centers.
We must try. In the last few months, I've watched friends be frustrated by the bureaucracy. I've watched them reel from decisions by Anthem to eliminate coverage for applied-behavioral-analysis therapy for kids with autism. I've listened as parents have fretted over what will happen to their children when they turn 21 and can no longer attend school, with few options available in our county for what's next.
I've heard stories from providers who would love to focus more on outcomes and less on the limits dictated by Medicaid reimbursement, a reimbursement that is so low it barely covers costs. In places like Fishers (where cost of living is higher than the state average), it rarely allows a provider to break even.
In such a climate, how can our Hoosiers with intellectual and developmental disabilities and their families thrive when, for far too many, it feels like they are scraping day by day to merely survive?
The heartache and stress caused by such an unstable system for loved ones and for the individuals with disabilities is truly heartbreaking. The system and broken funding methodology make it harder for those whom we should be supporting toward success.
Every tweak to a law, policy or eligibility standard adds another layer of bureaucracy to the system. What begins as a well-intended effort quickly becomes an unmanageable, complicated web of red tape.
Every lawmaker and policymaker at the state and federal levels should attempt to complete a Medicaid application for a family. I did, and it was eye-opening. Once through the application process, the waiting begins. The waiting to get an appointment, to secure placement, to access services—waiting to essentially find much-needed hope to survive. The system must change.
The waiting must stop. For behind the waiting, the applications, the forms, the checklists, the bureaucracy—there are human beings. There are mothers and fathers, sons and daughters.
Let's redesign our system of care to first make sure it works for those it intends to support: to empower opportunities for all people to live their best life.•
__________
McGrath is deputy mayor of the city of Fishers and is vice chairwoman of the Indiana Republican Party. Send comments to [email protected]

Click here for more Forefront columns.
Please enable JavaScript to view this content.