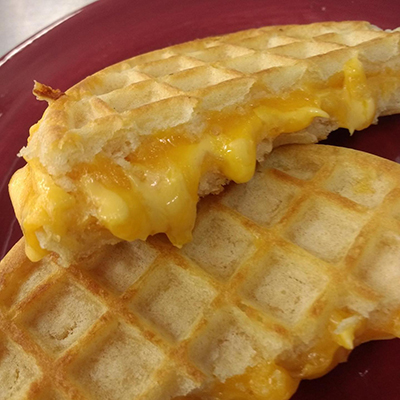 The Indiana State Fair is set to offer 23 new food items this year that will be featured in its "Taste of the Fair" contest, includes everything from a funnel-cake-inspired beer to a grilled cheese sandwich made with waffles.
Fairgoers can vote for their favorite food item during the fair, with $4,000 in cash prizes being awarded to the top three stands.
Nearly 140 food stands will be operating this year. The fair is scheduled to run from July 30-Aug. 22.
Following is a rundown of the new menu options and the vendors who carry them:
Beef Parfait (sold by Indiana Beef Cattle Association)
A parfait of chopped smoked beef brisket, mashed potatoes and BBQ sauce sold at the Indiana Beef Cattle Association tent.
BBQ Suga Momma (Gobble Gobble Food Truck)
An answer to the Mac Daddy, the BBQ Suga Momma features pulled BBQ turkey sandwiched between two fresh doughnuts.
Buttermilk Wafflewich (American Dairy Association Indiana Inc.)
A grilled cheese sandwich, with buttermilk waffles replacing the typical bread. Filled with cheddar and American cheese.
Deep-Fried Cheesecake (AP Concessions Deep Fried Sweet Concession)
Fried cheesecake bites topped with powdered sugar and a strawberry drizzle.
Honey BBQ Wings (Da Portable Rican)
Chicken wings covered in honey BBQ sauce, offered in a small or large bucket.
Bavarian Cream Puff (The German Corner)
A German pastry dessert filled with sweet vanilla cream and covered in powdered sugar or chocolate sauce.
Iced Coffee Float (Hook's Drug Store Museum)
A cup of iced coffee mixed with a scoop of ice cream.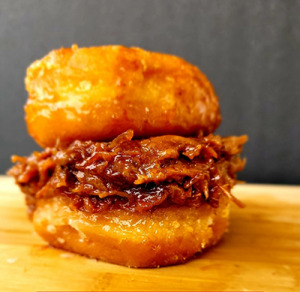 Bison Steak Fajitas (Red Frazier Bison)
Fajitas filled with marinated bison steak, grilled onions and peppers. Served with salsa, lettuce, cheese and sour cream.
Winner-Winner Chicken Dinner (Urick Concession)
Mac and cheese, coleslaw and popcorn chicken combined into a waffle cone bowl.
Cherry Chocolate Funk Hand Dipped Ice Cream (American Dairy Association Indiana Inc.)
Cherry and chocolate ice cream mixed with Bordeaux dark cherries, chocolate fudge and chocolate chunks.
Philly Cheesesteak Fries (Miss Piggy's)
French fries topped with Miss Piggy's Philly cheesesteak, onions, peppers and cheddar cheese.
Media Noche (Da Portable Rican)
Media Noche, meaning "middle of the night," is a Cuban sandwich with garlic bread, roasted pork, ham, mustard, swiss cheese and sweet pickles.
Frozen Mocha Coffee (American Dairy Association Indiana Inc.)
A frozen coffee drink with a consistency similar to a milkshake.
Outlaw Burger (Indiana Ribeye)
A quarter-pound burger with pepper jack cheese, peanut butter and jalapeño jelly.
Fruit Twister Paradise Pop (Goodwin's Pork-N-More)
A frozen fruit popsicle with squeezed lemon, oranges, limes, pineapple and strawberries.
Fruity Pebbles Funnel Cake (Monroe Concessions)
Fruity Pebbles cereal sprinkled on top of a Monroe Concessions' funnel cake.
Cinni Minnis (R&W Concessions)
A cinnamon roll center dipped in funnel cake mix, deep-fried and served with powdered sugar and sweet cream.
Chocolate Salted Carmel Milkshake (American Dairy Association Indiana Inc.)
Chocolate and salted caramel flavors mixed into a milkshake.
Miss Piggy's Mac Daddy (Gresham Foods)
Macaroni and cheese topped with Miss Piggy's pulled pork and Greshman Foods' Sweet D's BBQ sauce.
Loaded Brat (Black Leaf Vegan)
A vegan brat that is also 100% soy-free and gluten-free.
Bacon Mac & Cheese (Indiana Pork)
Macaroni and cheese mixed with fresh bacon.
Mangonada Frozen Beverage (Baskin Robbins)
A mix of Latino flavors, including mango puree with chamoy, a sprinkle of Tajín Clásico Seasoning–a signature Mexican combination of mild chili peppers, lime, and sea salt–into a frozen drink.
Sun King Funnel Cake Pastry Ale (Sun King Brewery)
Sun King Brewery's 2021 Indiana State Fair beer is a dark brown ale that was brewed with sugar funnel cakes.
Please enable JavaScript to view this content.