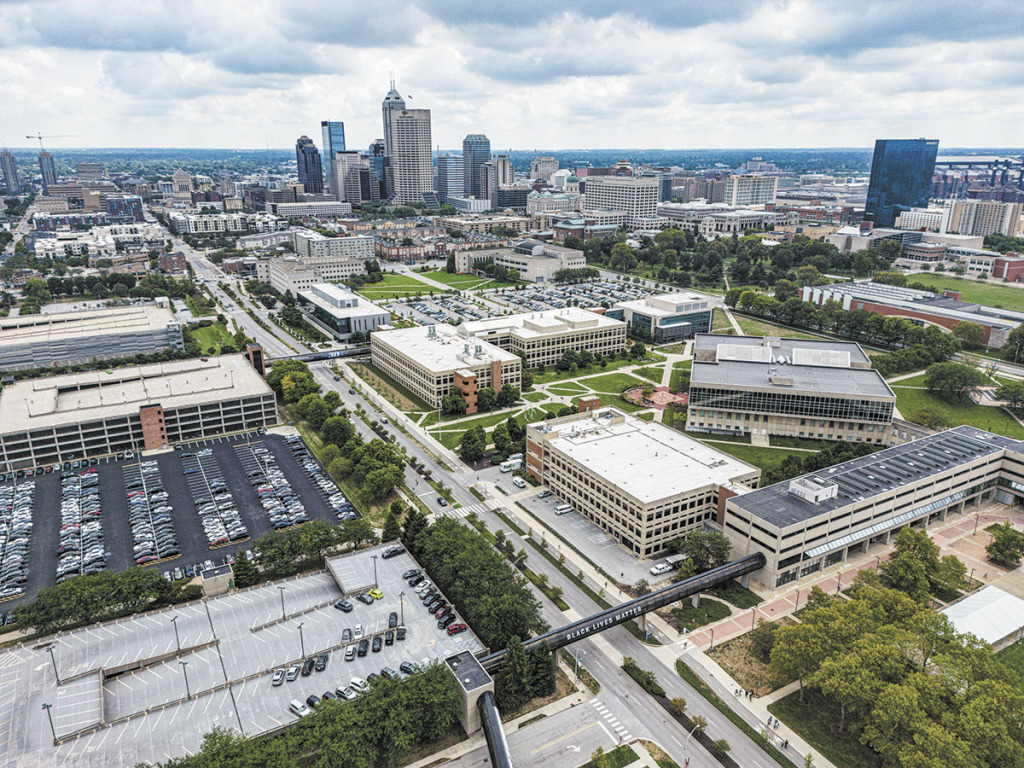 Emphasizing the need for collaboration, officials from Indiana University and Purdue University shared some of their respective goals Thursday for two independent urban campuses in Indianapolis.
In June, the two institutions signed an agreement to dissolve the IUPUI partnership that was created in 1969 after then-Mayor Richard Lugar expressed the need for Indianapolis to have a "great state university."
The result will be two separate institutions: Indiana University Indianapolis, the new name for IU's existing campus in Indianapolis, and Purdue University in Indianapolis, which will expand Purdue's footprint downtown and open other Indianapolis locations. The official change will take effect in fall 2024.
Michael Huber, who joined IU in September 2022 as vice president for university relations, said the change was spurred in part by a need to graduate more students into the high-demand fields of science, technology, engineering and math, as well as health care.
IU is planning a science and technology corridor in an effort to boost STEM degrees, and IU President Pam Whitten has said that one of the university's goals is making IU Indianapolis the country's top public urban research university.
The restructuring has already sparked new discussions with Eli Lilly and Co., Elanco Animal Health and other large Indiana employers, Huber said.
"My hope is that you're going to hear about more collaborative applied research partnerships coming out of this transaction," Huber said during a forum Thursday hosted by the not-for-profit Indiana Fiscal Policy Institute.
Purdue University aims to have between 800 and 1,100 Purdue students in Indianapolis by fall 2024, including both first-year students and those already enrolled at West Lafayette who would elect to come to Indianapolis, said Dan Hasler, a former Indiana commerce secretary and Lilly executive who was tapped to oversee Purdue's Indianapolis expansion in November.
Purdue has plans for a 28-acre campus footprint on the north side of the current IUPUI campus that will be in addition to the existing IUPUI Engineering & Technology buildings, which Purdue will continue to use. The addition could include five buildings, and Purdue plans to develop three other locations in Indianapolis.
While both officials emphasized opportunities for collaboration, each institution has made investments in areas where the other has shined.
In June, Purdue announced a partnership with Indianapolis-based venture studio High Alpha that will house executive education programs in the Mitch Daniels School of Business alongside programs at Purdue Innovates, an initiative supporting Purdue-connected inventors and entrepreneurs. The IU Kelley School of Business, which has locations in Bloomington and Indianapolis, is ranked as one of the top 25 business schools in the country, according to U.S. News and World Report.
Meanwhile, Indiana University earlier this week announced a planned $111 million investment in new faculty, facilities, equipment and strategic initiatives focused on advancements in microelectronics and nanotechnology—areas in which Purdue has made a name for itself.
Following the friendly forum, Hasler rebuffed a suggestion that IU was trying to compete with Purdue by investing heavily in fields in which Purdue has already-robust programs.
"I think it's great," Hasler said. "IU is not Purdue's competition and Purdue is not IU's competition. Our competition is MIT, Columbia, Harvard, Stanford, California. Those are the people that we're competing for faculty and talent and economic development."
Hasler also sees more opportunities for both institutions to collaborate.
"There's plenty of demand for talent, especially in the hard-tech stuff, right? Informatics, computer science, nanotechnology—the demand is off the charts. We can produce all we can produce from both schools and never satiate. And, frankly, if we can keep more and more of those folks in Indiana, those are the kinds of industries that will want to come her."
The Indiana Legislature supports the realignment. In the most recent state budget, lawmakers allocated nearly $210 million toward the realignment effort, including $89 million for an amateur sports facility on the IU campus in downtown Indianapolis. They also included $120 million in the state budget for new buildings: $60 million for IU to construct a school of science instructional and research building, and $60 million for Purdue to build an "academic and student success building."
Please enable JavaScript to view this content.