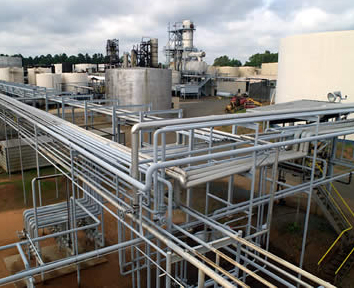 Indianapolis-based Calumet Specialty Products Partners, which was among the nation's largest recipients of Paycheck Protection Program loan funding, has returned the entire $31.4 million under public pressure to do so.
The federal Paycheck Protection Program offers forgivable loans and was designed to keep small businesses afloat during the economic disruption of the COVID-19 pandemic.
But some larger companies also participated in the program, prompting the federal government to pressure these companies to repay the loans. Monday was the deadline set by the Small Business Administration for larger PPP recipients to repay the money and avoid further consequences.
Calumet, a publicly traded firm with about 1,500 employees, returned its PPP loans on Monday.
"As the requirements and expectations for the PPP program continue to change, particularly with respect to publicly traded companies receiving funding under the PPP, we decided that the right thing to do was to repay the PPP loans," the company told IBJ in a prepared statement Tuesday morning.
The SBA, which is overseeing the loan program, defines a small business as one with 500 or fewer employees. Under program rules the amount a company can qualify for depends on the size of its payroll, and recipients are limited to one loan of $10 million or less.
In certain instances, larger companies can qualify for PPP funding through their affiliates or subsidiaries, said Rob Scott, director of the SBA's Great Lakes Region.
Calumet, which produces lubricants, oils, fuels and other products, received PPP funding in five separate loans to its subsidiaries between April 17 and April 24.
The Paycheck Protection Program was rolled out quickly and has undergone several updates and revisions since its April 3 launch. On April 23, the SBA announced that borrowers would be required to certify their need for a PPP loan and their inability to tap other liquidity sources.
"It is unlikely that a public company with substantial market value and access to capital markets will be able to make the required certification in good faith, and such a company should be prepared to demonstrate to SBA, upon request, the basis for its certification," the guidance says.
Initially, the SBA set May 7 as the repayment deadline, but it later extended the deadline until May 14, then until May 18.
Calumet's return of the PPP loans represents an about-face from its previous position on the matter.
In a public filing on May 7, Calumet was still maintaining that it planned to keep its PPP loans—but it acknowledged that it could face serious consequences for doing so.
"If, despite our good-faith belief that we satisfied all eligible requirements for the PPP Loans, we are later determined to have violated any of the laws or governmental regulations that apply to us in connection with the PPP Loans or it is otherwise determined that we were ineligible to receive the PPP Loans, we may be subject to penalties, including significant civil, criminal and administrative penalties and could be required to repay the PPP Loans in its entirety," Calumet said in that filing.
In the filing, the company also said its status as a PPP loan recipient could "result in adverse publicity and damage to reputation, and a review or audit by the SBA or other government entity or claims under the False Claims Act could consume significant financial and management resources."
Calumet is among dozens of public companies, including one other Indiana-based firm, that have returned their PPP loans.
According to a database created by the analytics firm FactSquared, as of Tuesday 421 public companies had received a combined $1.35 billion in PPP loans. Of those companies, 66 had returned a combined $433.39 million in loans. The database uses a bot to comb public companies' regulatory filings.
Escalade Inc., an Evansville-based company that makes sporting and recreational equipment, returned its $5.6 million loan April 28.
The vast majority of PPP borrowers took loans of less than $1 million, according to the SBA.
The PPP is in its second round of funding, and from the program's April 3 launch through last Friday it had approved 4.3 million loans worth a combined $513.27 billion. The average overall loan size is $118,000, and 63.7% of borrowers received loans of $50,000 or less. Less than 2% of borrowers received loans of more than $1 million, although these loans represented just over a third of total borrowings.
Please enable JavaScript to view this content.