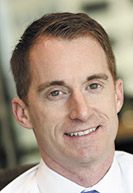 Indianapolis-based private equity firm Centerfield Capital Partners has completed fundraising for a $400 million investment fund—the fifth and largest yet in the company's 24-year history.
The fund, which closed this month, was oversubscribed—meaning that Centerfield was able to attract more than the $350 million it had been targeting for the fund. Funding came from a mix of existing and new investors.
Centerfield was able to raise the money within 12 months—about half the time it took the firm to raise the capital for its previous funds, said Senior Partner Michael Miller.
Miller said the speed of funding came in part because of the long-standing relationship that Centerfield has with many of its investors.
"That provides really good momentum, when you have investors investing in fund after fund," he said.
Centerfield has a staff of 11, with Faraz Abbasi as managing partner, Miller and Mark Hollis as senior partners and Jill Margetts as partner. The firm is working to hire two additional staffers, which will bring its total head count to 13.
Centerfield's investors include individuals, insurance companies, foundations, commercial banks and family offices—entities set up to manage a wealthy family's assets.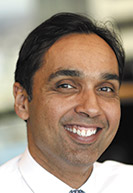 Centerfield invests in U.S. companies that have between $15 million and $100 million in annual revenue, with a focus on those in business services, consumer products, health care, manufacturing and value-added distribution. About half of Centerfield's investments are in Midwest-based companies and, to date, the firm has invested in 80 different portfolio companies, typically holding each investment for about five years before exiting.
The firm's current portfolio includes several Indiana-based companies: Indianapolis-based produce distributor FreshEdge, Indianapolis-based P1 Dental Partners and Westfield-based manufacturer DuraMark Technologies.
Centerfield is currently evaluating potential investment targets, but it has not yet made any investments out of Fund V.
Including Fund V, Centerfield has raised a total of $1.1 billion since the firm's founding in 1998. Its Fund 1 raised $60 million, Fund II raised $116 million, Fund III raised $171 million and Fund IV raised $335 million.
As it has done with previous funds, Centerfield partnered with the U.S. Small Business Administration's Small Business Investment Co. program to raise capital for Fund V. Centerfield raised $225 million, and it tapped into SBIC for the other $175 million.
In the SBIC program, the SBA loans money to entities such as Centerfield, which in turn makes the money available to small businesses in the form of debt or equity financing. The SBA makes its money back through program fees plus interest that Centerfield pays on the loans.
Please enable JavaScript to view this content.