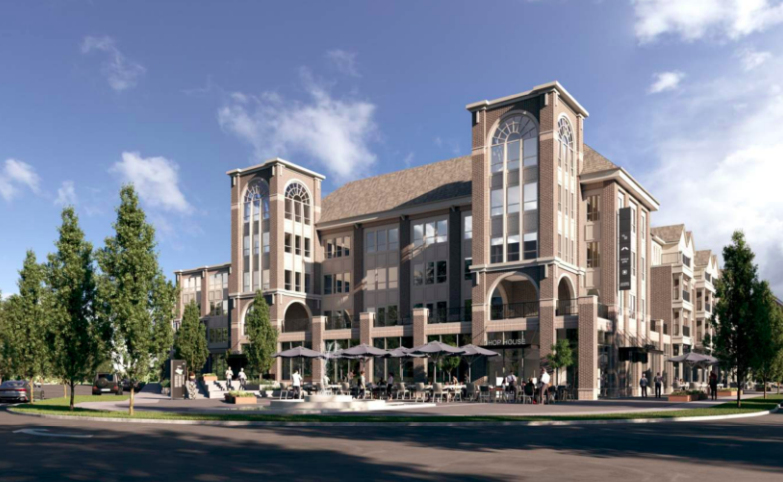 Indianapolis-based Tegethoff Development's planned debut in Carmel is a $65 million apartment, condominium and retail mixed-use project called The Signature at Carmel.
Tegethoff Development will appear before the Carmel hearing officer later this month to review its plans for a four-to-five-story, mixed-use building to be built at the northeast corner of Old Meridian and Main streets. The Signature at Carmel is currently designed to feature 287 luxury apartments, eight condominiums and 16,100 square feet of retail space on the ground floor. The development also includes an interior 389-space parking garage and over 20,000 square feet of space dedicated to resident amenities.
The project's planned amenities include golf simulators, a resort style infinity pool, pickleball and shuffleboard courts, outdoor fire pits, a 3,500-square-foot indoor/outdoor fitness facility, a hot yoga room, private event space, a community lounge, a dog park and more.
"We believe we're putting together a project that's got a higher focus on amenities than any project that has ever come into Indianapolis," Matt Cremer, a managing principal with Tegethoff, said.
Cremer said Tegethoff hopes the amenities are attractive to apartment dwellers who have been stuck in their homes for the better part of a year because of the coronavirus a more fun and functional place to live.
"We set it up from an amenity standpoint to be able to attract a broad spectrum," Cremer said. "I think it's going to be a mix of ages and demographics; young professionals all the way up to the 'empty nester' group that's looking for a rental or for-sale product that's turnkey and easy to live in."
Cremer said the nearly 445,000-square-foot project will feature a mix of studio, one- and two-bedroom apartments with estimated rents between $1,100 and $2,000 per month. The two-bedroom, 2.5-bathroom condominiums are expected to sell for around $500,000.
The roughly 4-acre site is home to buildings that once housed Northside Animal Hospital and Stout's Footwear. They will need to be demolished before construction can start.
Cremer told IBJ residents could begin moving in as soon as the end of 2022.
While no specific retailers have signed on for the project's commercial space, Tegethoff hopes to bring several new businesses to the property that complement its residential aspects.
"We're looking for retailers that are going to activate the property, whether that's from a neighborhood services, food beverage or entertainment standpoint," he said.
The project goes before the city's hearing officer April 22 for site plan and design approval. The property is already properly zoned for the type of development Tegethoff has proposed.
Please enable JavaScript to view this content.