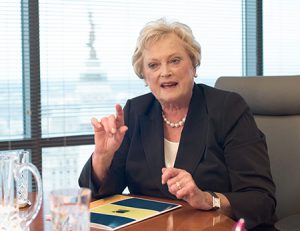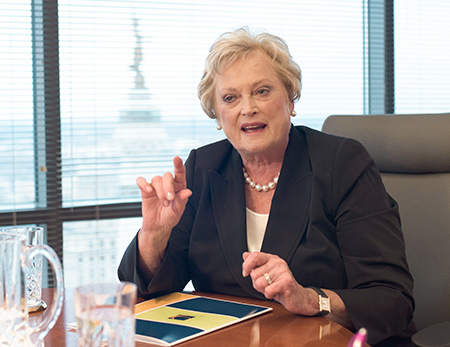 Indianapolis businesswoman, philanthropist and community leader Christel DeHaan has died at age 77.
DeHaan, who co-founded Resort Condominiums International in 1974 and built it into one of the largest timeshare exchange companies in the world, used the fortune she made in business to establish not-for-profit Christel House International in 1998.
Christel House International operates K-12 public charter schools in high-poverty areas. The organization has two academies and two dropout-recovery schools in Indianapolis, and several other schools internationally in India, Jamaica, Mexico, and South Africa.
DeHaan also founded and served as chairwoman of the Christel DeHaan Family Foundation, which provides about $2 million annually in grants to arts and cultural organizations throughout central Indiana.
Christel House International did not release a cause of DeHaan's death, but officials said she died at home, surrounded by family.
Her organization and its work will continue, even though she was its most significant contributor, giving the group annually about one quarter of what it spends—essentially the amount needed to cover administrative expenses. DeHaan told IBJ in 2017 that she had established a system to ensure financial support would continue after her death.
"As founder, I will continue to support the organization," DeHaan said in 2018. "My financial commitment ensures that 100% of donor contributions will go directly to help kids. There is a structure in place to ensure general & administrative and fundraising expenses are covered in perpetuity."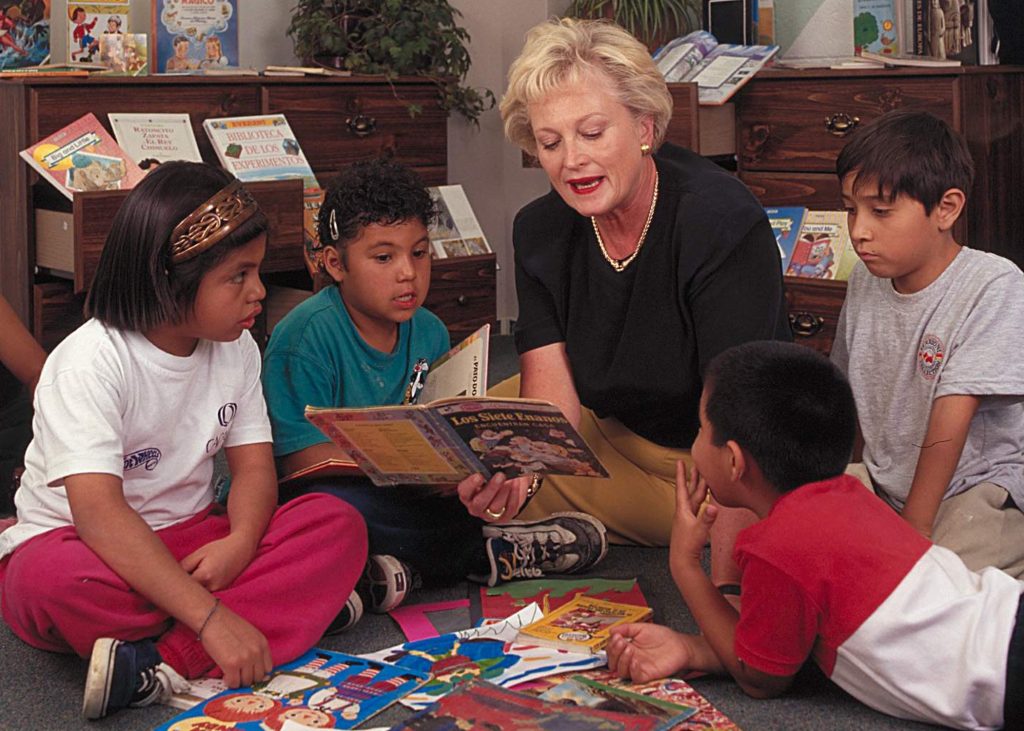 Dennert O. Ware, chairman of the Christel House International Governance Committee, said in a statement that, "Christel's vision and compassion were unparalleled."
"Christel sought to provide impoverished children with a seat at the table of life—and accomplished her mission with a unique blend of business acumen, generosity and empathy for those less fortunate," he said. "Her legacy will live on in the thousands of lives she uplifted." 
DeHaan ran the organization's day-to-day operations until October 2018, when she turned over the reins to former Indianapolis Mayor Bart Peterson, a year after he retired from Indianapolis-based drugmaker Eli Lilly and Co. DeHaan had remained chairwoman of the board at that time.
However, Peterson suddenly and unexpectedly left the organization last month. The group has not named a replacement.
On Saturday, Gov. Eric Holcomb said, "We should all be comforted knowing [DeHaan's] legacy will live on for generations to come."
"Christel was a world-renown humanitarian, rooted in her expertise in business and expressed through immense compassion," Holcomb said. "She used her talents to support the arts, and transform the lives of impoverished children globally through educational access to those she had never met.
"I will miss her spirit, her wit, her commitment, but most of all daily inspiration," he said.
Indianapolis Mayor Joe Hogsett said that, while "we were lucky that Christel decided to call Indianapolis home, she was truly a citizen of the world."
"As a philanthropist, Christel utilized her resources to invest in areas where she saw a need—strengthening arts and cultural institutions and providing educational opportunities to children in Indianapolis and around the globe," he said.
DeHaan made her mark in business before she became a well-known philanthropist. She and her then-husband, John DeHaan, built Resort Condominiums International—known better as RCI—and became pioneers in time-share exchanges, in which people who owned a week in one location could trade it with someone who owned a week elsewhere. The couple built the company into a powerhouse.
But when their marriage fell apart, John DeHaan tried to cut her out of the business. When they went to court in one of the highest-profile divorces in Indiana history, however, a judge awarded Christel DeHaan control of the company.
She returned to RCI in 1989 as CEO and more than doubled the size of the company before selling it in 1996 to New Jersey-based HFS Inc. for $825 million, making DeHaan one of the wealthiest women in America.
DeHaan then planned to downshift her career, according to the book, "19 Stars of Indiana: Exceptional Hoosier Women."
But two years later, she received a call from a former colleague asking if she would support two orphanages in Mexico. She decided to visit first, and what she saw changed the trajectory of her life.
That year, she opened the first Christel House school in Mexico City. In the following three years, she would add them in India, South Africa and Venezuela and then continued to add to the list.
In 2017, @GovHolcomb and I had the opportunity to visit one of the schools Christel DeHaan started in India. While we are heartbroken about her passing, her global impact and legacy of giving will carry on. https://t.co/PJpmPJ9cZs pic.twitter.com/ZFDPM0Z590

— Janet Holcomb (@FLJanetHolcomb) June 6, 2020
She opened her first U.S. school in 2002 in the Garfield Park neighborhood in Indianapolis, as the charter school movement was beginning to take off in Indiana.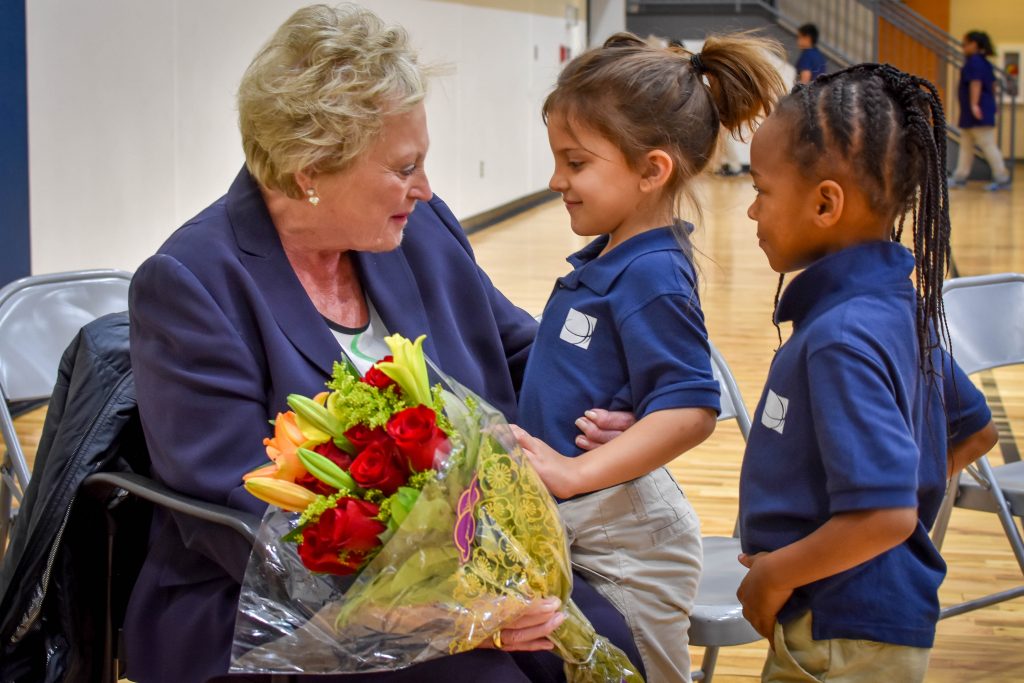 Christel House Academy West opened in August 2014 on the near-west side of Indianapolis.
Christel House also opened DORS South, an adult dropout recovery high school, that is located on the Christel House South campus. Christel House DORS West, the Academy's second adult high school, opened on the Christel House West campus in 2015. A third site is located at Ivy Tech North Meridian Center Building.
Brandon Brown, CEO of The Mind Trust, a school reform organization, said in a statement Saturday that it "is impossible to adequately describe Christel's impact."
"From her career as a businesswoman, to her support of the arts, to her trailblazing leadership in education, Christel is without a doubt one of the finest civic and philanthropic leaders our city will ever know," he said. "It is Christel's tireless advocacy to provide a quality education to our most marginalized children that will leave her greatest and most long-lasting legacy. Through sheer will and unrelenting tenacity, Christel served as an example for so many. Her light will shine on and her impact will be felt for generations. We will miss you, Christel."
Christel also played significant roles in helping to shape our state's leadership – providing support for a bi-partisan set of state and local leaders.

— Derek Redelman (@derekredelman) June 6, 2020
DeHaan believed in combining compassion with data to ensure that Christel House schools were succeeding. And she has been successful.
A study by Ernst & Young—which Christel House commissioned—found that, while 51% of South African students drop out of school before grade 12, only 6% of Christel House students in Cape Town did so from 2009 to 2014. About 95% of that school's graduates are either employed or continuing their education, while 48% of all 15- to 24-year-olds in the area are unemployed.
A separate study Christel House commissioned for its Bangalore, India, school found 98% of Christel House students pass grade 12, compared with 73% of students in other private schools and 64% of students in government schools. That study was conducted by Deloitte Touche Tohmatsu India LLP.
"I believe wherever you set the bar, that's where you'll be," DeHaan told IBJ in 2017. "Our entire academic program is very much enhanced through music, arts and sports programs, which are also critical to human development, and you don't have that in every school."
This story will be updated.
Please enable JavaScript to view this content.