Two decades of sustained growth came to a close in Indianapolis last year when the city experienced a population decrease, raising some concerns about its economic future.
The drop of 5,600 residents between July 2020 and July 2021 happened during the pandemic, when the deaths of more than 1,200 people in Marion County were blamed on the coronavirus during the same time period. Meanwhile, the practice of working remotely took hold, which may have influenced departures from the city.
Observers have varying opinions about the reversal of a growth trend that lifted the population of Indianapolis from 782,000 residents in 2010 to 887,600 residents in 2020. The 2021 population figure is 882,000.
Bill Oesterle, founder of a pair of worker recruitment companies, TMap and MakeMyMove, said the size of the population decrease is concerning.
"In cities across the U.S., we're seeing that the pandemic hit the urban core," Oesterle said. "Indianapolis hasn't been insulated from that, and it's troubling."
Michael Hicks, director of the Center for Business and Economic Research at Ball State University, refers to population growth as the strongest single sign of regional economic health.
When reviewing the 2021 data, Hicks said the first post-COVID population adjustments are underway. Citing the rise of remote work as a significant development, Hicks said population patterns may emerge across multiple decades.
"It's altogether possible that we're in a lengthy period where the traditional patterns of household relocation are going to continue to be tested," Hicks said. "We are going to see a different pattern emerge, so there are more people living in places where they want to live and not be concerned about what the available job options are for them."
Matthew Kinghorn, senior demographer at the Indiana Business Research Center at the Indiana University Kelley School of Business, analyzed U.S. Census Bureau data on counties and cities this spring.
Kinghorn said an estimated net out-migration of more than 9,200 Marion County residents was the "primary driver" of the population decline in Indianapolis.
He's not ready to pronounce remote work as a significant factor.
"It's way too early for me to be able to say whether or not people were able to take advantage of remote work situations to move to less populated areas," Kinghorn said.
Portia Bailey-Bernard, vice president of economic development at Indy Chamber and a mayoral appointee for economic development, said the decrease in the city's population isn't overly alarming. Bailey-Bernard notes, for instance, that the occupancy rate of multifamily buildings in downtown Indianapolis is 93%.
"We know cities across the nation saw a decrease during the pandemic," Bailey-Bernard said. "Indianapolis wasn't unique in that population loss, and I don't anticipate seeing a decrease for years to come."
Popular suburbs
Westfield topped the list of Indiana's fastest-growing cities with a 7.7% population increase from 2020 to 2021. The Hamilton County community became one of seven cities in the United States to surpass 50,000 in population in 2021. Jeffersonville, an Indiana suburb of Louisville, Kentucky, also joined the 50,000 club.
Four communities in the Indianapolis metropolitan area followed Westfield on the state's fastest growing list: Whitestown, with an increase of 7.4%; McCordsville, 7%; Avon, 5.7%; and Bargersville, 5.4%. A trio of Lake County communities in the Chicago metropolitan area landed on Indiana's Top 10 of fastest-growing cities: St. John, up 4.9%; Cedar Lake, 3.9%; and Winfield, 3.7%.
"It's been the story for a while in Indiana, but a handful of metropolitan areas are fueling all the growth in the state," Kinghorn said.
Fishers and Carmel each eclipsed the 100,000 population mark for the first time in 2021.
Bolstered by these suburbs, the Indianapolis metropolitan area has fared well when compared with population growth in other Midwestern cities.
Between 2010 and 2020, the metropolitan area of Indianapolis grew 9.97%, or a rate that trailed only Louisville (12.87%), Columbus, Ohio (10.2%) and Minneapolis (10.05%).
In 2021, the metropolitan area of Indianapolis grew 0.6%, topping Columbus (0.5%), Cincinnati (0.1%), Louisville (0.0%), Detroit (a decrease of 0.5%), Cleveland (a decrease of 0.5%) and Chicago (a decrease of 1%).
Efforts are underway to bolster the Indy area's population.
In December, the White River Regional Opportunity Initiative—which includes Marion, Hamilton and Madison counties along with the communities of Zionsville and McCordsville—was selected as a recipient of a $20 million Regional Economic Acceleration and Development Initiative grant focused on the White River.
"We have this amazing natural amenity," said Bailey-Bernard, an Indy Chamber executive. "We could have a real opportunity to do something with that riverfront."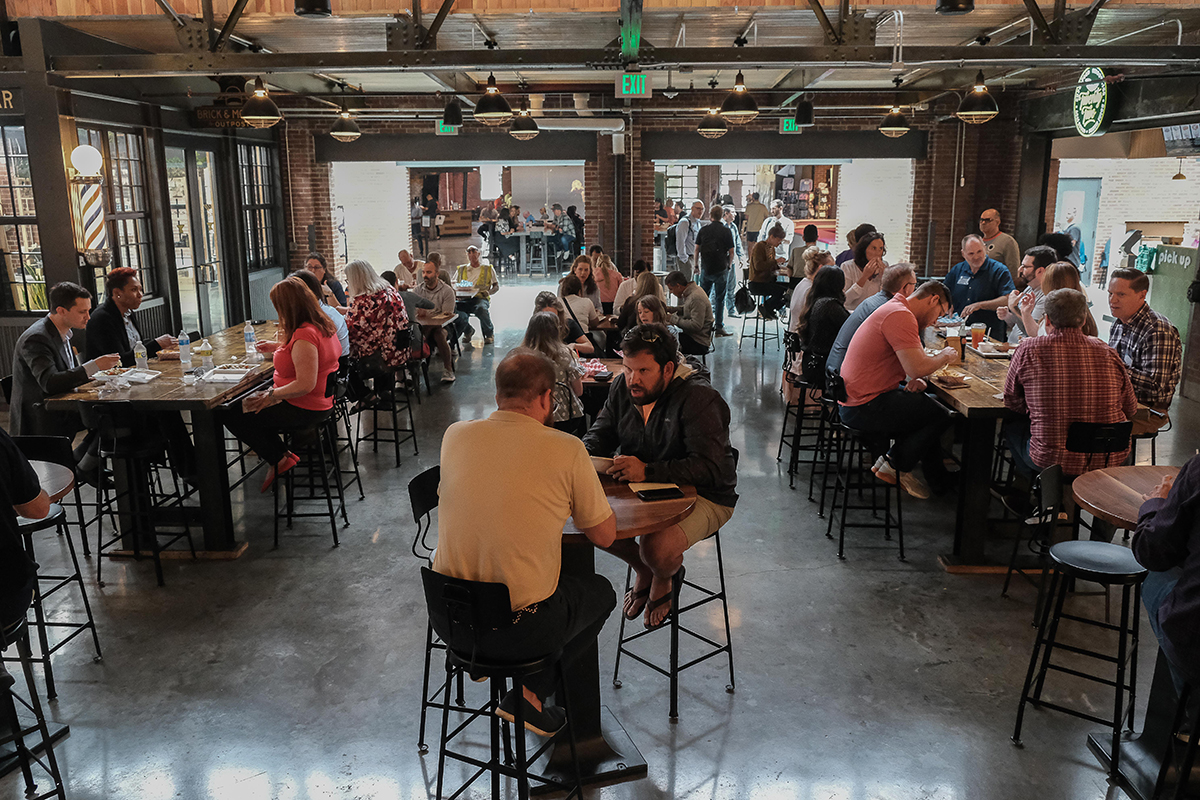 Picking your place
Ball State faculty member Hicks said work-from-home policies provide people with a broader set of options for choosing where to live.
"Instead of moving to a bigger home in the suburbs when you have kids, now people are potentially moving before they form families," Hicks said. "And they may be looking for different things. They may be looking for really affordable housing, or they may be looking for a hobby farm someplace. If you only have to be at work in Indianapolis one day a week, then you could live in Muncie or Portland or South Bend or Marion or Terre Haute."
In downtown Indianapolis, Hicks predicts that unused office space will be transformed into apartments.
"I think businesses could say, 'Maybe what I'll do is turn half of those office spaces into short-term apartments,'" Hicks said. "'When I hire somebody, I give them six months for free in my apartment to search around Indianapolis to decide where they want to be.' That sort of innovation is going to come. It's going to be what a lot of higher-end workers are going to be looking for."
Oesterle, who co-founded Angie's List, said the era of remote work poses challenges to companies in the middle of the city.
"There are knowledge-based workers who don't have to be on site, and they figure out they can avoid a commute and parking and all of that," Oesterle said. "Downtown is going to have to work hard to improve its appeal to people."
Bailey-Bernard said the future can be seen in the 16 Tech and Bottleworks developments that combine places to work with quality-of-life amenities. Up next are makeovers of the historic Stutz Motor Car Co. factory complex and the Elevator Hill campus that once was home to Angie's List headquarters.
"We're seeing a shift from our traditional towers downtown to more neighborhood district-type office space," Bailey-Bernard said. "Places that have all the amenities: Go to the office, go work out, grab a beer after work, go to a movie, go to a restaurant."
Pitching Indiana
Overall, Indiana added 20,300 residents in 2021 to reach a total population of nearly 6.81 million. Indiana Business Research Center demographer Kinghorn said 20,300 stands as the state's smallest increase since 2015 and falls short of Indiana's average annual gain of 30,000 residents during the previous decade.
Oesterle sums up the situation by saying, "The state isn't growing fast enough."
Increased birth rates and expanded refugee resettlements are two ways to boost population, Oesterle said.
In terms of attracting workers, Oesterle said anyone in Indiana can pitch the state as a place to live.
The Indiana Destination Development Corp. recently unveiled its "IN Indiana" campaign that supplies free marketing resources to any business, small town, city and destination. The idea, according to Visit Indiana, is to create a unified message to attract new residents and tourists.
"Communities are going to have to develop the capability to market themselves," Oesterle said. "They haven't had to do that in the past, and they now have to."•
Please enable JavaScript to view this content.