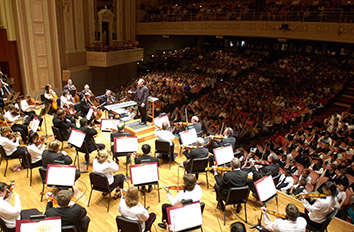 The Indianapolis Symphony Orchestra, which has canceled performances through May 27 because of the COVID-19 pandemic, announced Tuesday that it has put its musicians and stagehands on furlough and laid off nearly half of its administrative staff.
The ISO said it made the moves last week "in an unprecedented step to protect its long-term viability."
The organization has 72 musicians and 54 full-time employees.
The furloughs are unpaid, the ISO said, but the employees will continue to receive health care coverage through May.
The ISO said it has applied for financial relief through the federal Paycheck Protection Program and advised employees to seek unemployment benefits.
"Given the far-reaching economic impact of COVID-19, the Indianapolis Symphony Orchestra is implementing measures to best protect its financial stability during this time," ISO CEO James Johnson said. "These personnel actions are extraordinarily difficult, but necessary to manage the challenges faced by our organization."
The ISO said people who are interested in supporting the ISO can make donations at www.indianapolissymphony.org/donate.
The organization had been hoping to get back in the black this year after reporting two straight yearly budget deficits.
Please enable JavaScript to view this content.