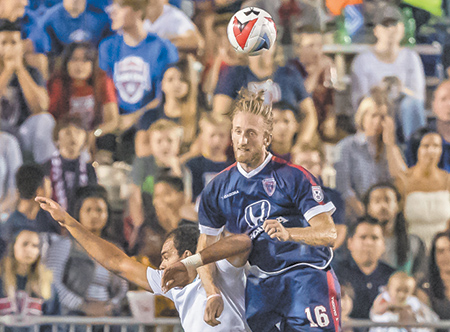 The Indy Eleven professional soccer team has reached a multiyear deal with BetRivers Indiana to make make the sports betting platform an official franchise partner, bringing with it multiple naming rights opportunities.
The agreement announced Thursday makes BetRivers the soccer club's third "Pillar Partner," joining Community Health Network and Central Indiana Honda Dealers, which have been with the club since its inception in 2013. Terms of the deal weren't disclosed.
The agreement provides for a sleeve logo on the Indy Eleven's 2021 jerseys—the first sleeve logo ever for the franchise—along with sponsorship of the 30-minute postgame show following every home game broadcast on WISH-TV or MyINDY-23 (it will now be known as the "Central Indiana Honda Dealers Postgame Show, presented by BetRivers"). 
Additionally, the deal includes various signage and digital advertisements at Carroll Stadium and online and sponsorship of the "Soccer Saturday" radio show opening segment on WFNI-FM "The Fan" 93.5 and 107.5. The company will also have a presence at various events hosted by Indy Eleven throughout the season.
"Since the legalization of sports betting in Indiana in late 2019, Indy Eleven has been extremely focused on finding a true partner to maximize what has become a pivotal area for growth in all corners of the sports industry," Indy Eleven President and CEO Greg Stremlaw said in a written statement.
Sports betting is regulated by the Indiana Gaming Commission and companies have to be registered and approved by the agency to provide sports betting services. As a result, partnerships between teams and betting firms do not provide exclusivity for a platform, but rather are used more as a marketing tool.
Stremlaw told IBJ that no determinations have yet been made about how or whether the partnership fits in with the proposed Indy Eleven soccer stadium, which is still in its early planning stages. The stadium site was expected to be announced by the end of March, but team officials have delayed the announcement.
"Our focus has been on finding a credible partner in this new space," he said of BetRivers Indiana. "Obviously, this is also [an area] that continues to evolve—it has evolved significantly just in the last 24 to 36 months."
Currently the state of Indiana does not allow for retail sports book locations at sports venues, although states across the country have moved in that direction.
"So, in terms of when new infrastructure and venues are built, it would be premature for me to speculate as to what the ecosystem or the gaming space may look like" at that time, Stremlaw said.
Mattias Stetz, chief operating officer of Chicago-based Rush Street Interactive, parent of BetRivers, said the partnership "combines two organizations that share an unwavering commitment to excellence in providing sports fans with unparalleled experiences."
Other local teams have taken on official betting partners in recent years. In 2020, the Pacers struck a deal with PointsBet making that entity an official partner, with naming rights for a new sports bar added as part of the ongoing Bankers Life Fieldhouse renovations. And the Colts inked a deal with Caesars Entertainment and its subsidiary William Hill in the sports betting space.
Please enable JavaScript to view this content.