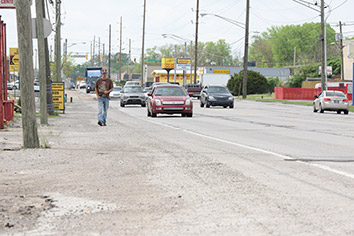 The city of Indianapolis faces a $1.07 billion annual funding gap to improve and maintain its roads, bridges, sidewalks and other transportation infrastructure—an amount approaching the city's $1.3 billion annual budget—according to a Department of Public Works report released Monday.
Much of the total comes from adding sidewalks to roads that lack them. But improving thoroughfare and residential pavement alone would take $520 million a year, several times what the city currently spends, according the report by Indianapolis-based engineering firm HNTB Corp.
"Ultimately, this transportation network was built because Indianapolis is the economic center of central Indiana, and our economic future is tied to our transportation network," DPW Director Dan Parker told IBJ.
Officials say the report marks the first time the city has taken such a detailed look at the condition of its transportation infrastructure and the costs to fix it all.
"If you're going to ask for additional help from whatever source, you've got to be able to say: What is your ask? What is your need?" Parker said. "… We had it based on estimates. This is now based completely on data."
Indianapolis spent $179 million on capital transportation projects in 2021, according to DPW's capital plan, as part of a multi-year infrastructure push under Mayor Joe Hogsett. But that total includes new bonds and other money based on policy decisions, plus competitive grant funds, not consistent funding. The base level of funding beginning in 2022 is just $25 million.
Keeping 2021's base funding of about $55 million constant through 2025 would leave the city short $68 million annually simply to maintain its transportation infrastructure as-is, according to the report. At the base amount, the city's infrastructure would be in worse in 2025 than it is now.
And because some assets, like pavement, are so degraded, they're more expensive to fix. The report uses the Army Corp. of Engineer's pavement condition index to evaluate the city's road surfaces. Thoroughfares had an average of 59 (fair), while residential roads had an average of 51 (poor).
The report sets scoring goals of 65 and 63. Meeting those targets would take $132 million and $388 million per year, respectively.
The report estimates that even though the city owns just 30% of the lane miles that the Indiana Department of Transportation owns, it would cost 30% more to meet the same pavement condition goals. Part of that is starting conditions, according to the report, but also:
Scale: Smaller projects don't achieve economies of scale;
Work: City noise ordinances prohibit nighttime construction;
Traffic: More expensive to establish work zones in urban areas;
Utilities: More common in urban areas, and expensive to relocate.
"There's not enough money," Parker said. "… I get this at every neighborhood meeting: I pay my taxes. Why can't you do my street? It doesn't matter what neighborhood. North, south, east, west, downtown—everywhere. The reality is that the dollars that go into this, there's not a lot of property taxes. Not a lot of income taxes. The bulk of our dollars come from those gas taxes."
Indiana's road-funding formula allocates gas-tax funds and other revenue by center-lane miles instead of lane miles, favoring roads with fewer lanes. But many Indianapolis roads are multi-lane thoroughfares.
The city has 3,398 center-lane miles, but more than double the lane-miles, at 8,444, according to the report.
Parker said the city has spoken with state-level legislators about the issue, but not about changing the formula. Rural and non-Indianapolis legislators would need to vote for a change, shifting funding from their own districts to the capital.
"I've been around the Statehouse long enough to know that you don't change formulas, because anytime you change a formula, there's a winner and then there's a loser," Parker said. "But are there other ways that that help can come?"
Parker pointed at the INDOT's Community Crossings grant program for local road projects. Indianapolis taxpayers currently pay about $22 million into the fund, but the city is only eligible for up to $1 million in projects, Parker said—but it's still a funding source that was only recently added.
Meanwhile, DPW's shifted to a long-term approach for maintenance.
It's taken on the complete reconstruction of some streets with broken-down foundations, instead of making surface-level fixes, like the high-profile Delaware Street project downtown.
And the department is looking to lose more lane miles, via road diets: lopping lanes off underutilized roads and instead widening sidewalks and adding bike lanes. That leaves fewer vehicle lanes to maintain, Parker said, while the pedestrian and cyclist infrastructure will wear more slowly because of the reduced weight.
DPW's first major road diet involves West Michigan Street, in a bike lane project that will go out to bid this year, according to Parker.
The next will be Madison Avenue, formerly U.S. 31. Parker said it was built for 50,000-plus cars per day, but is only getting 32,000. That project will turn the six-lane road into four lanes.
"From a yearly standpoint, sort of consistency standpoint, you'll see the thoroughfares continue to be a priority," Parker said. "But when extra money is made available, it really needs to be applied to that residential problem."
Transportation infrastructure needs, according to the study:
Thoroughfare pavement:

$119 million yearly to maintain current condition
$132 million yearly to achieve target condition

Residential pavement:

$319 million yearly to maintain current condition
$388 million yearly to achieve target condition

Roadway bridges:

$64 million in work from 2020 through 2025
Expected to increase over next 20 years as large waves of 1960s bridges reach 75-year lifespan

Traffic signals:
Traffic signs:
Sidewalks

$92 million total to repair poor-rated sidewalks
$7.2 billion total to build sidewalks along both sides of roads without them

Culverts

$350,000 yearly to maintain
$22 million total recommended in projects

Pedestrian bridges

$110,000 yearly to maintain
$2.3 million total recommended in projects
Please enable JavaScript to view this content.