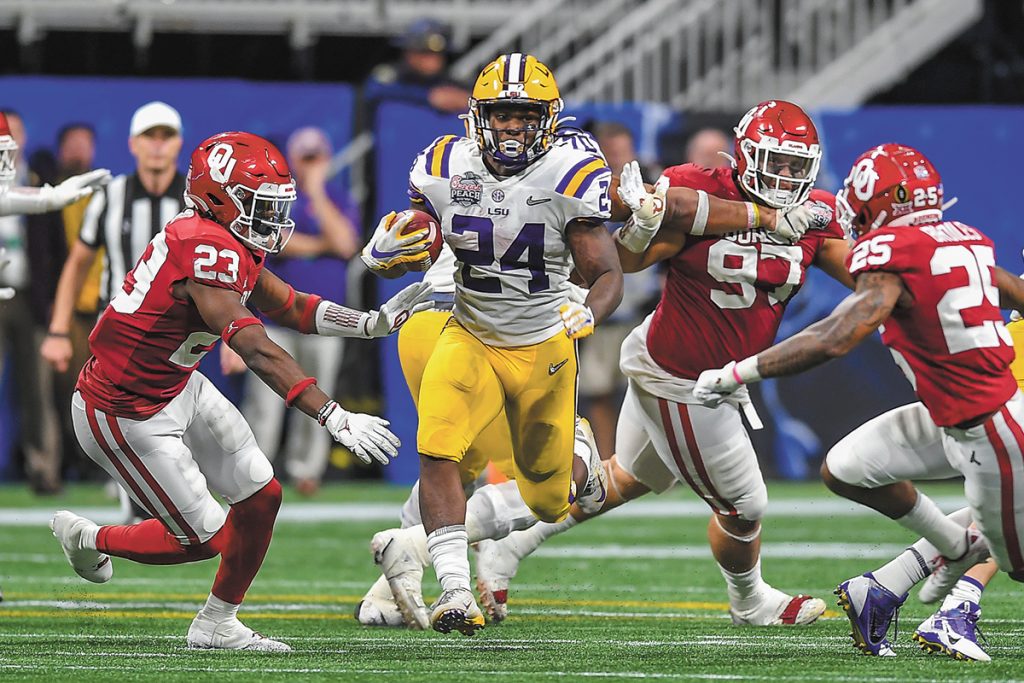 A contingent of 16 local officials will be in New Orleans this weekend for the College Football Playoff National Championship, as Indianapolis ramps up preparations to host the massive event in two years.
The trip south will last four days and include a two-hour meeting with other host cities. It's among the first of several steps this year the Indianapolis host committee is taking to prepare for the 2022 game.
J. Mark Howell, board president of the Indianapolis host committee, said the New Orleans trip will help community stakeholders become acquainted with all that's involved in hosting.
A smaller group of local officials has also represented Indianapolis at the previous two championships—in Atlanta and Santa Clara, California—after the city learned in 2017 it would host in 2022.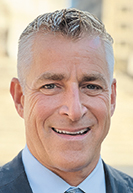 "It's very fortunate for us to be in a position … to be able to take folks that are engaged in actually activating our event to go see what works and what doesn't work as well and what challenges" cities face, Howell said.
Two years out is an important milestone for host cities, said Bill Hancock, College Football Playoff executive director.
Over the next year, he said, the host committee will begin finalizing steps like committee staffing, community initiatives, and lodging and travel partnerships.
The full board—composed of 37 local business, philanthropic and political leaders—was unveiled Jan. 8 by 2022 Indy College Football Playoff Inc., the legal entity created to oversee the event. Several board members will be on the New Orleans trip.
On Jan. 21, the committee is expected to detail its fundraising plans for the game, which will require a $15 million investment. Efforts will come through a partnership with the Indy Championship Fund, a not-for-profit that is pooling money for the CFP, as well as for the NBA All-Star Game and NCAA Final Four events Indianapolis will host in 2021.
And in late spring or early summer, the committee is expected to unveil its legacy projects—community-oriented philanthropic programs that often address critical needs for the host city, such as funding or projects for parks, education or the environment.
For example, the legacy project for the 2021 NBA All-Star Game is an initiative that will provide grants of up to $50,000 apiece for 21 brick-and-mortar projects around the state focused on education and health and wellness.
"A lot of what we're doing right now is [brainstorming ideas] and opening the office and getting the business itself up and running," said Susan Baughman, president of 2022 Indy College Football Playoff Inc. "This coming year will be definitely more operational, with planning and decision making, while 2021 will be all about logistics and implementation of the plans we've put together."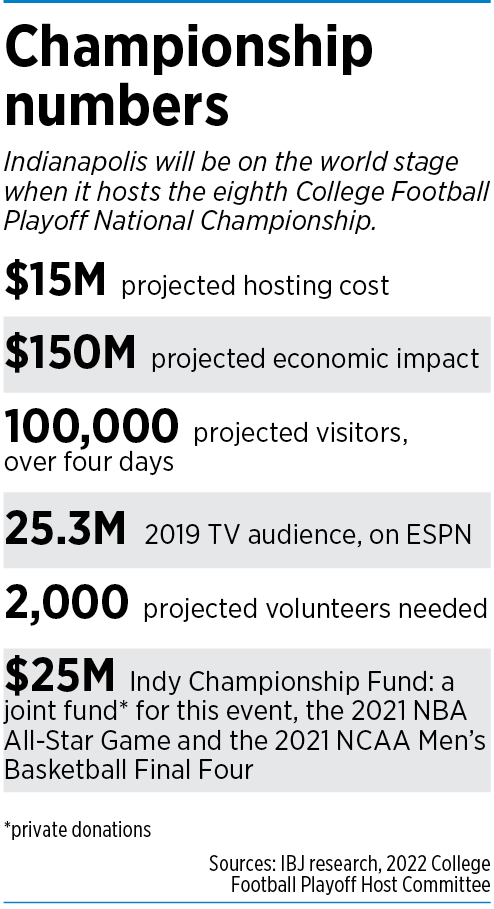 Location, location
Howell said the host committee has not determined what new concepts it will introduce while hosting the game, but indicated some ideas are under consideration.
The 2012 Super Bowl the city hosted introduced the now-popular Super Bowl Village. The NCAA—which operates separately from the CFP—often looks to Indianapolis as an innovator for its championship events.
"What really differentiates us is the way that this community comes together and embraces these visitors," he said. "Our goal is that the folks that come here feel unbelievably welcome and they fall in love with the city and the people and they can't wait to come back here again."
This year, the football championship's national committee will visit Indianapolis several times, including a multi-day trip to determine where public events—like tailgates and concerts—would best be held.
Possible locations include Georgia Street, Monument Circle, American Legion Mall, White River State Park and the Indiana Convention Center, Baughman said. The championship's annual Fanfest, which is expected to draw tens of thousands, will likely be at the convention center, she said.
"It makes you think hard," Baughman said. "I think it's just basically taking a new look at the space that is available and being creative with it, while also taking advantage of some of the [recent] enhancements like Shining a Light," a nightly patriotic light-show presentation on the Circle.
One location not on the staging list is Pan Am Plaza; it's likely to be in the midst of a drastic transformation as part of a convention center expansion and construction of two hotels.
Baughman said the committee is working with Kite, the Pan Am project's developer, to ensure Georgia Street, which fronts Pan Am Plaza, remains accessible during the event, but construction is not expected to stop.
"Historically, the city hasn't stopped its development in order to put on big events," she said. "It's figured out a way to put on events while continuing to develop the infrastructure of the city."
It's likely the first of the hotels—an 814-room Hilton Signia—won't be completed in time for the game. The hotel is expected to take two years to build, and no start date has been announced.
Baughman said the city was awarded its bid based on the 7,000 downtown hotel rooms at its disposal at the time. By the time the game is played on Jan. 10, 2022, room count is expected to exceed 9,000, with tens of thousands more throughout central Indiana.
"We were big enough to host the Super Bowl [in 2012], and the stadium's the same size it was then," she said.

On deck
According to Patricia Ernstrom, who was executive director for last year's game in Santa Clara, in the San Francisco/San Jose Bay Area, every host committee approaches the two-year milestone differently, with its own goals.
She said the Bay Area host committee's trip to Tampa in 2017—two years before it hosted—was a "fact-finding mission" that allowed the committee to begin shaping how it would organize events and determine what strides it had to make in terms of fundraising and gathering stakeholders.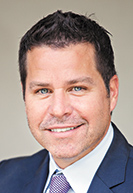 "It's nice to have this year-long period where you're kind of in … the on-deck circle and have the opportunity to learn and observe and solidify the vision for your community," she said.
Dan Corso, president of the Atlanta Sports Council and the 2018 host committee, said that group's focus was on game-day operations and marketing when it made site visits to Tampa and Phoenix.
"We scouted those cities out pretty closely to see how they lay out their venues and their various operational plans and marketing plans," he said. "We learned from that and tried to utilize some of that in our preparation."
New Orleans and Atlanta are likely to be models for Indianapolis, as both cities have stadiums within a mile of other downtown amenities. In contrast, Santa Clara is about eight miles from downtown San Jose.
Howell said Indy's previous visits to host cities have focused on crowd management and weather, and he expects those will continue to be at the top of the list in New Orleans.
"As we begin to plan out our events, we want to know how we can ensure any contingencies associated with weather would have the most minimal impact on fan and participant experience," he said. "Having physically been there … we have been able to learn some of the do's and don'ts."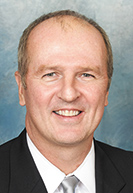 Jeff Hundley, president of the New Orleans host committee, said he is eager to share his city's experience with Indianapolis as well as with groups from Miami, Los Angeles and Houston, which will host the championship in 2021, 2023 and 2024, respectively.
"There's certainly a lot of note-sharing to be done over the weekend," he said.
Hundley said New Orleans officials began working on the financial component of hosting about a year-and-a-half out from the game. He said because of the city's size and relatively small pool of businesses—New Orleans has only one Fortune 500 company—it had to take a measured approach to asking for support.
"New Orleans has always got something going on and people getting stretched in a lot of different directions," he said. "There's just only so many doors you can knock on there."
That host committee's philanthropy-oriented appeal is similar to the one Indianapolis used for the 2012 Super Bowl, for which it raised $28 million from 131 mostly corporate donors—with no promise of anything in return. It remains to be seen what approach the local host committee is taking with this event, although Baughman said some money has already been raised.
Hundley said fundraisers in New Orleans also had to do some educating. Many would-be sponsors had never heard of the College Football Playoff, which will play only its sixth championship on Jan. 13.
Not the Super Bowl
Most sports fans generally don't consider the event to be on the same level as the Super Bowl or NCAA Final Four, said sports business expert David Ridpath, who oversees The Drake Group, a college football watchdog organization.
"College football is still in many ways a pretty heavy regional sport," he said. "I think most would agree that it's not a Super Bowl-level event. It [has] a long way to get to that level."
The 2019 championship game drew significantly fewer television viewers—25.3 million—than last year's Super Bowl, which drew 98 million viewers in a down year.
From an economic-impact standpoint for the city, however, the College Football Playoff is expected to be nearly on par with the Super Bowl.
The 2012 Super Bowl brought $176 million to the Indianapolis area, and the Super Bowl Village had more than 1 million visitors over a 10-day schedule.
The college championship is expected to draw at least 100,000 people downtown over four days, generating an economic impact of at least $150 million, Baughman said.
So Indianapolis is still prepping for the game—and its other 2021-2022 events—in a big way.
"The majority of people in town for this event won't have a ticket to the game," said Bob Schultz, communications director for Downtown Indy Inc. "And yet we still want them to feel welcomed and invited to take in the energy, the excitement of the civic event."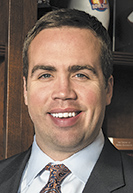 He said the city is working to ensure downtown businesses put their best foot forward.
"We're always looking for ways to engage the business climate and the business culture of downtown so that they feel all connected to the events that are happening in our streets and in our facilities," he said. "It takes a community to pull it off."
Ryan Vaughn, president of the Indiana Sports Corp., said the city is embracing the chance to showcase its offerings with back-to-back-to-back big-time events.
"No other city in the country is hosting events like this in an 11-month period," he said. "It's pretty special having all these so close together."
Baughman said the host committee is collaborating closely with the committees for the other two major events. "We've been able to work really well together across the events and be able to make the most of that economic impact and the spending power that we have across the three events."•
Please enable JavaScript to view this content.