Indy Premier Soccer Club plans to open a 52,888-square-foot facility this fall at Washington Business Park in Noblesville.
The facility at 15193 Cumberland Road will house two indoor soccer fields, a training field, Indy Premier's offices and meeting room space. Indianapolis-based Curran Architecture designed the facility, which Indy Premier will lease from Westfield-based Patch Development.
"It will be our home base, our offices and we will operate indoor programming year-round," said Indy Premier Business Director Matt Quinn. "It's actually in a very strategic location. This location [near] the corner of 146th Street and [State Road] 37 makes it very, very accessible for Fishers, Noblesville and other surrounding cities."
The facility is part of a larger 162,000-square-foot building at Washington Business Park. The Noblesville Common Council approved a special zoning consideration in February to allow Indy Premier to open a recreation business in the industrial/flex building.
Indy Premier serves about 3,000 youth soccer players and has the state's largest travel and rec-plus program. It formed in June 2014 through the merger of Fishers Soccer Club, Indianapolis Premier Soccer Club and the travel component of Noblesville United Soccer Club.
"We're teaching the game of soccer, but I think there's a lot of things that can transfer into people's lives, so I think any time a kid can get into soccer or any sport and have a positive experience, it's a good thing," Quinn said.
The new Noblesville location will replace Indy Premier's indoor field at Crosspoint near East 96th Street and Hague Road. Indy Premier also owns the Trinity Sports Complex in Noblesville and has agreements to use soccer fields at several schools and city parks around Hamilton County.
"We're going to have three times more turf in this existing facility compared to what Crosspoint had," Quinn said. "We're going to take all of that youth programming and allow it to grow and expand in this facility."
Quinn said Indy Premier plans to expand its adult rec league options at the new facility by adding options for men's, women's and coed leagues and seek a beer and wine license.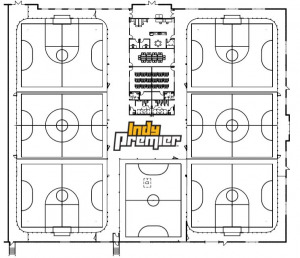 "Once they play, they can kind of continue their socialization and have a beer, too, while they're watching the next game because that's pretty important for adults, also," Quinn said. "We felt there was a void in the adult soccer market, primarily the adult indoor soccer market in Fishers and Noblesville."
Quinn said the facility will be known as the Indy Premier Indoor Facility, but the organization is considering opportunities for naming rights.
Noblesville broke ground on Washington Business Park in July on 75 acres of undeveloped farmland north of 150th Street, east of SR 37, west of Cumberland Road and south of 153rd Street. Officials expect to see more than 800,000 square feet of development there by 2026.
Please enable JavaScript to view this content.