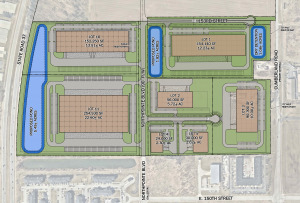 Westfield-based Patch Development LLC has gained support for its plan to turn 75 acres of Noblesville farmland along State Road 37 into a business and innovation park.
Noblesville Mayor Chris Jensen issued a written statement Tuesday announcing his backing for the proposed Washington Business Park, which would be developed north of 150th Street, east of SR 37, west of Cumberland Road and south of 153rd Street.
The master-planned business park could contain from seven to 11 lots containing develop sites ranging from 2 acres to 22 acres. If approved, individual buildings in the park could range from 10,000 square feet to 250,000 square feet.
Jensen said the development team expects to see more than 800,000 square feet of offices developed there within five years, and he's predicting that more than 500 jobs will be generated by the development.
"Washington Business Park will attract innovative and dynamic companies that create world class products and services that will add high-paying advanced employment opportunities to the community and will provide a home for world-class companies to easily relocate to Noblesville," Pat Chittenden, owner of Patch Development, said in a written statement.
Patch Development plans to introduce its plan to the Noblesville City Council at an upcoming meeting. If approved, Jensen said the city anticipates issuing a $6.7 million developer-backed bond financed by the property's increase in assessed value. Preliminary terms for the agreement show the tax collection being split between the city and the developer, with Patch taking 65% and the city taking 35%.
Those collections will be applied to utilities, stormwater and infrastructure improvement projects, such as an extension of North Pointe Boulevard and 153rd Street.
"Site selection and business location is a very competitive process," Noblesville Economic Development Director Andrew Murray said in written commrnts. "Washington Business Park will make Noblesville even more attractive to companies as a result of this investment in infrastructure improvement. Ultimately, it is about attracting the right jobs to Noblesville and having a response to the demand and importance of speed to market site and facility options under our current environment."
If approved, Patch plans to break ground on the project in the summer.
Please enable JavaScript to view this content.