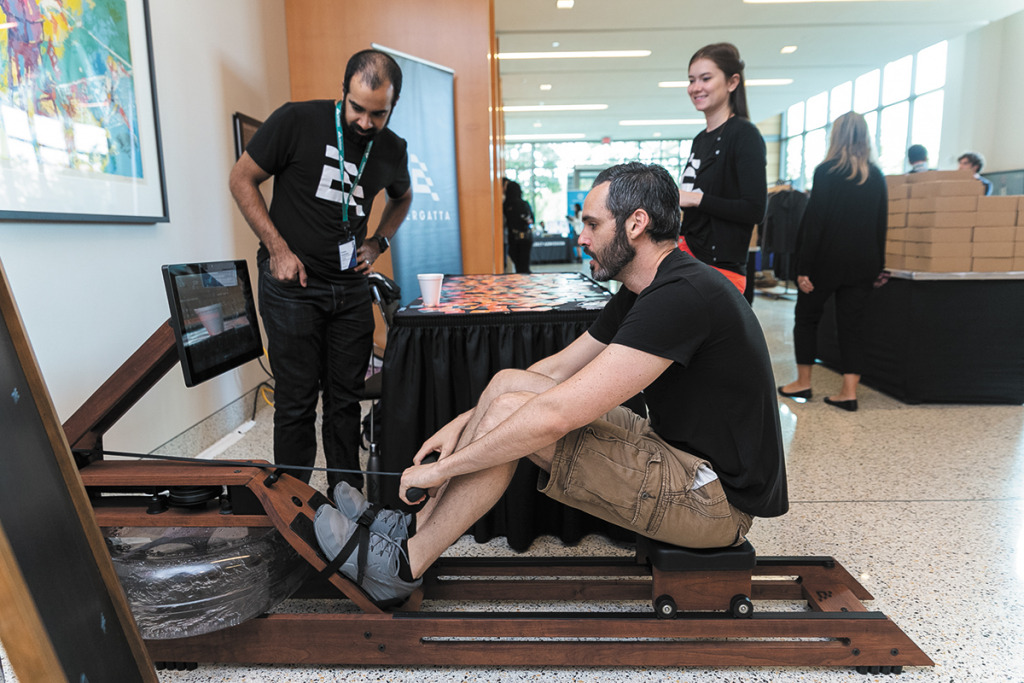 Fueled by a growing influx of capital into the state, the local tech sector has been booming the past five years, with the marketing-technology and educational-technology sectors amassing considerable muscle.
Now, the sports-tech sector, historically stuck on first base, looks equally promising. Local government, tech and sports leaders predict that it is poised to explode and could grow to rival the size of Indiana's other tech sectors.
Those leaders, along with world-renowned accelerator operator Techstars, have teamed up to take a swing at building a sports-tech epicenter in a city that has long been synonymous with sports.
The effort is already paying dividends, with several sports-tech companies either in part or whole relocating here, but there's a long way to go.
Consider that, from 2014 to 2019, investors poured $2.2 billion into Indiana-based startups, including $1.3 billion in Indianapolis, according to Crunchbase, a research organization that compiles financial data on public and private companies. During that period, Indiana tech companies reported raising $1.1 billion in venture and growth capital—much of that in Indianapolis—according to local industry advocacy group TechPoint.
Over the same five-year span, the state's sports-tech companies raised only about $5 million.
An initiative started by Indiana Pacers' and Indiana Sports Corp.'s top brass wants to change that. And those at the center of the local sports-tech movement say things are going to change in a big way.
The first big building block in the sports-tech effort was laid in 2018 when the local coalition signed a deal with Techstars to locate the nation's first sports-tech accelerator in Indianapolis.
Boulder, Colorado-based Techstars pledged to locate Techstars Sports Accelerator Powered by Indy here for three years starting in 2019. Indianapolis beat out a handful of much larger cities for the accelerator.
Local commitment
A big part of that win was the firepower local sports organizations brought to the bargaining table. The initiative was led by Pacers co-owner Steve Simon, who is also founder and managing partner of Indianapolis-based Simon Equity Partners; Pacers President Rick Fuson, who also serves as chairman of the Indiana Sports Corp.; ISC President Ryan Vaughn; and tech maestro Scott Dorsey, who co-founded marketing tech firm ExactTarget and served as Sports Corp. chairman from 2013 to 2019.
Simon told IBJ he approached Dorsey about doing something related to sports-tech at High Alpha, the venture studio Dorsey helped found. Dorsey suggested bringing in TechStars.
"We came up with a real partnership to augment each others' ideas," Simon said. "It's a no-brainer to keep innovating around everything in sports we're doing in this city. This has tremendous potential not only the existing teams and sports businesses here who will now get exposure to a new generations of sports-tech innovators but the entire city as this sector is built and grows."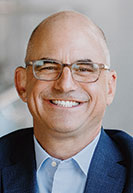 Officials from the Indianapolis Colts, Indianapolis Motor Speedway and NCAA also are backing the initiative.
"We have all the best partners in this city signed up to be a partner to this. That's really rare," said Jordan Fliegel, managing director of Techstars' local sports-tech accelerator. "I'm from Boston, and I don't think the [Boston] Celtics, [New England] Patriots, [Boston] Red Sox and [Major League Soccer's New England] Revolution would get together to do anything."
And Techstars got local commitments from more than just sports organizations.
"Gov. Eric Holcomb meets with each one of our companies in the accelerator," Fliegel said. "The governor! You don't get that in New York, Boston or L.A. The [Indiana Economic Development Corp.] is also super involved. I've never experienced that anywhere. I was the CEO of two pretty good-sized tech companies and I never met anyone in those cities."
The local play is no token involvement, he said. Simon communicates with Fliegel weekly about the accelerator and the companies in it, and Dorsey "is so supportive and has been personally involved," Fliegel added. Of Simon, he said: "He's opened up all the executives at the Pacers to our companies. Involvement like that is just so important."
The IEDC has been interested in the local sports-tech accelerator from the start, but Chief of Staff Luke Bosso said: "We took a focused approach with the second cohort to spend time with every company, get to know every owner and find ways to connect them with the sports teams and organizations here.
"Companies from these cohorts are hiring people here and they're locating here. The impact is real."
And Techstars is bringing in a deep bench of mentors, including executives from national firms like FanDuel, Baron Davis Enterprises, LPGA, National Hockey League, National Basketball Association, National Football League, Silicon Valley Bank, Wasserman Media Group, Spartan Race Inc. and Intel Corp.
While the initiative surrounding the accelerator is a major catalyst in the growth of the local sports-tech ecosystem, Bosso credited the local sports-tech pioneers with carving out a reputation for the state.
He noted that companies like Indianapolis sports and fitness management software firm UpperHand, Noblesville-based sports media tech company Stick and Hack, and two Zionsville sister firms—Zooom, which created a tech platform to help high schools and colleges evaluate game officials, and RefReps LLC, which developed a video game that helps train sports referees—have chosen to locate and grow here.
"It's really important for us that those companies have been successful in this space here," Bosso said.
Global magnet
The idea driving the Techstars sports-tech accelerator is to bring far-flung companies to Indianapolis. Local leaders want them to, in part or whole, move operations here. So far, the accelerator has attracted five international companies—from Germany, Ireland, Israel, Colombia and Russia—as well as four from New York, four from Boston, two from Detroit and one each from Los Angeles; Seattle; Austin, Texas; Nashville, Tennessee; and Auburn, Alabama.
Techstars screens about 400 companies each year from all over the world before winnowing down to the 10 invited to the 3-1/2 month sports-tech accelerator each summer.
Though the operation's budget and financial commitment by local partners has never been disclosed, Techstars has committed to invest $3.6 million directly into the 30 companies that will come through the program over three years.
The participating companies—along with Techstars—are housed in the Morrison Opera House at 49 S. Meridian St. Each company gets two free bicycles, the use of college interns, computer hardware and "lots of meals," as well as opportunities to attend sports outings, networking events and meetings with local sports and tech executives, Fliegel said.
Though the initial agreement with Techstars is to keep its sports-tech accelerator here three years, Dorsey and ISC's Vaughn hope to extend the deal. Techstars' Fliegel is optimistic that will happen.
Even longer term, Vaughn said, there's discussion about establishing a campus that houses sports-tech companies the way the Pan Am Plaza building once housed sports-governing bodies and related companies.
"The network that Jordan Fliegel put together and the opportunity to work with the Pacers, Colts, Speedway and other sports properties and executives there was very intriguing," said Stephen Glicken, CEO of Project Admission, a Nashville, Tennessee-based company that makes software that integrates with ticketing platforms to simplify buying, transferring and reselling tickets for teams, venues and event organizers and helps them gather data on ticket buyers.
Project Admission was in the 2019 inaugural class, and the firm's three co-founders spent much of the 3-1/2-month term in Indianapolis, Glicken said. Two other employees came up part time to participate in the intensive program.
"We learned a lot and made so many connections, it made the time commitment well worth it," Glicken said. "We learned a lot about the sports business and tech landscape in Indiana and Indianapolis as well. There are a lot of resources there."
'We absolutely loved it'
The local resources are so rich that Auburn, Alabama-based Tennibot, which was a member of Techstars' 2020 cohort, is opening an Indianapolis office this month and will eventually make the Circle City its headquarters.
Tennibot, which was founded in 2016, makes an autonomous robot that collects dozens of tennis balls, shoots them into a basket and returns them to the player on the court in mere seconds. The company and its first-of-its-kind robot are gaining a fast following in tennis circles and have been featured on BBC and in Time magazine and The Los Angeles Times.
"After we got into the cohort, I'll never forget my first trip to Indy," said Tennibot founder and CEO Haitham Eletrabi, who came to Auburn University in 2009 from his native Egypt to get a doctorate degree in civil engineering.
"It's a big city with a small-town feel, and we absolutely loved it," he said. "It's a sports capital and has a lot of synergies and a lot of resources that we've been able to tap into."
Eletrabi was impressed by the technology implemented by many Indianapolis sports organizations, and especially the Indy Autonomous Challenge, the world's first high-speed autonomous auto race set to take place Oct. 23 at the Indianapolis Motor Speedway.
But the gee-whiz sports technology wasn't the only thing that impressed him.
"The support from people in this city is obvious from the time you start in the program," Eletrabi said. "It was very encouraging seeing all the folks rooting for you to succeed. This [Techstars] program is very hands-on and the support we got from Techstars and locals in Indianapolis was just tremendous. We quickly realized this would be a good home for our growing company."
Tennibot isn't an isolated situation.
New York-based Beastcoast, a professional e-sports team and digital media company that was a member of the 2020 cohort, established a training site here for one of its teams. The company also plans to locate retail space here to sell merchandise and use as a content production facility. Beastcoast raised $2 million in pre-seed funding and plans to go after a $4 million to $5 million seed round this quarter, said the firm's co-founder and CEO, Brian Anderson.
Enormous potential
These are the results local sports-business experts were hoping for when Simon, Vaughn, Dorsey and Fuson put together their plan.
Local sports and tech officials hope that, brick-by-brick, company-by-company, they'll build a sports-tech sector as big as any other tech sector in the state. And a bigger sports-tech sector than anywhere else in the nation—and possibly the world.
"The potential for sports tech is enormous," said Dorsey, managing partner at Indianapolis-based venture studio High Alpha. "I don't see any reason why the sports-tech ecosystem couldn't be as big as the educational-tech or even marketing-tech ecosystems here."
That's a bold statement. Indianapolis' marketing-technology reputation—with the likes of Salesforce, ActiveCampaign, Terminus, Perq, Vibenomics, Pattern89, Aprimo, Socio, Lumavate and DemandJump—is strong and fast-growing.
"We have a legacy of sports and an intersection of sports and cloud technology," Dorsey said. "We have the developers and engineers and people who know how to build cloud technology. We're very well positioned. We're the perfect place to pilot, test and develop new technology."
While Boston, New York, Los Angeles and San Francisco have a smattering of sports-tech firms, no city has laid claim to the sports-tech capital title yet. Fliegel said Indy is already among the top sports-tech towns nationally.
"It's early in the game on this movement," he said. "It's the perfect time to be laying the groundwork on this, and I think Indianapolis is on the leading edge. This [sports-tech accelerator] is already making a mark. It's getting noticed, and that reflects well on this region and the resources it has in helping sports-tech companies thrive."
Several news outlets covered the launch of the Techstars sports-tech accelerator in 2019 and, last November, Crunchbase News wrote an in-depth story about Indianapolis' position as a burgeoning sports-tech hub and highlighted several companies from Techstars sports-tech accelerator and a handful of local sports-tech firms.
The Demo Day that concluded the 2019 cohort, where the 10 participants show off their wares, attracted more than 150 investors. The 2020 Demo Day—which was held virtually due to the pandemic—drew more than 300, and Fliegel is confident this year's Demo Day, scheduled for September, will be even bigger.
Capital campaign
Each company gets $120,000 in capital for being part of the cohort, but the 20 firms that have gone through the local accelerator so far have raised a lot more than that.
Nine of the 10 companies in the 2020 cohort raised at least $500,000 in venture capital, with the top company raising $2 million, Fliegel said. The 10th company is working on a $1.5 million round.
Members of the 2019 cohort are also doing well. New York-based Ergatta, which makes a rowing machine that offers online interactive workouts, has raised $5 million and is gearing up for a larger round. Project Admission has raised $3 million; Pistol Lake, a Los Angeles firm that makes high-tech sports apparel, has raised more than $1 million; and Boston-based We Played, which helps colleges monetize their game film and helps fans and players build digital highlight videos, has raised $1 million.
Myles Grote, co-founder of UpperHand, said the move to make Indianapolis a sports-tech epicenter is gaining serious momentum among investors.
Creating a strong sports-tech ecosystem here could be a good way to draw more capital into the market, he noted. While Indianapolis tech companies have grown their capital haul in recent years, the city is still far behind the tech epicenters of San Francisco, New York and Boston.
Not only are regional, national and global investors increasingly interested in sports-related technology firms, but organizations such as the NFL, Dallas Cowboys and Los Angeles Dodgers have recently launched sizable venture funds that could pump money into this market if the right firms are here, Grote said.
But Grote also hopes the Techstars accelerator will generate more activity from local investors. He recently formed local investment group Omnidollar LLC, which has invested in two companies from the 2019 sports-tech cohort and four from the 2020 cohort.
"I think getting in on the ground floor with these companies is a tremendous opportunity," Grote said. "These are companies that have gone through a difficult vetting process to get into this program, and that makes them very attractive to investors. We're making five-figure investments in these companies now, but once we create a track record and register some wins, we want to raise a bigger fund and make bigger investments. This is the sort of activity that an accelerator like this will bring to the city."
As a co-founder and executive of a venture-backed company, Grote said being near your investors is important.
"It's a different world right now with COVID, but one day we're going to get back to normal," Grote said. "When that happens, there's real value to have proximity to your investors, who bring a lot more resources to a company than just capital. In terms of mentoring and guidance, there's nothing better than sitting down with your investors.
"So I do think the sports-tech ecosystem is ready to take off here, and the sky is the limit."•
Please enable JavaScript to view this content.