The National Football League's decision to invite other cities to bid to host its Scouting Combine didn't come as a surprise to local leaders, even though the event has been in Indianapolis since 1987.
In fact, city officials have spent the better part of three years trying to persuade the league to stay put here long term.
Still, that foreknowledge didn't make the news any easier. It did, however, give a group of local organizations a head start on designing a bid that could keep the Combine in town beyond 2022—when the current contract with the NFL expires.
"We were bracing for this news and have been strategizing on how best to approach the NFL on keeping the event in Indianapolis—and growing it," said Chris Gahl, vice president of Visit Indy, which is heavily involved in the effort. "We're not starting from scratch."
In fact, he said, the bid will be different from previous pitches the city has made in an attempt to keep the Combine in town—albeit in ways he couldn't directly discuss.
"Indy is approaching this bid as we do with every single bid: with our best foot forward and in an extremely competitive and extremely creative way," he said.
That will include proposing new ways to engage fans in real time, he said. And if that effort is successful, it could boost the impact of hosting the Combine.
Visit Indy is leading the charge in retaining the Combine, joined by the Colts, the Capital Improvement Board, Indiana Sports Corp., and several city officials.
The Combine has not been a major revenue generator for the city. Its attendance and spending pale in comparison with major sports tournaments or conventions.
The Combine is, however, a marquee event that makes a big media splash. And it has grown from a highly controlled gathering of a few hundred executives and medical personnel to a more public event that in 2020—just before the pandemic—brought in about 5,000 people and $8.4 million in economic impact.
It now has a fan experience area to showcase athletes competing in weightlifting, agility drills and other skill-based activities. The Combine has also seen a rise in television coverage each year since the mid 2000s, with dozens of hours of coverage by NFL Network, ESPN and other media outlets.
In 2020, that figure included more than 100 hours of TV coverage and at least 1,400 credentialed media, the NFL's second-highest count behind the Super Bowl.
Gahl said the exposure from the Combine—both in terms of media attention and the executives in town for the event—is a primary reason Indianapolis officials are so keen to hold onto it.
In fact, city officials generally use the Combine to market Indianapolis to other organizations looking for a place to host big events.
"As the city looks to potentially bid on future Super Bowls or future drafts, it's a very sought-after audience," he said.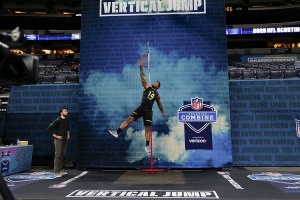 Shift from business-only
So far, only one other city—Dallas—has publicly shared a desire to host the Combine. But at least a handful more—including Las Vegas, Los Angeles, Atlanta and even Minneapolis—will likely submit bids.
Teams have until July 23 to submit an expression of interest in hosting the event.
All 32 of the cities that host NFL franchises are eligible for consideration but must meet certain criteria, according to a memo to the teams sent June 23. The criteria include:
◗ The ability to host the Combine at least two consecutive years.
◗ More than 500,000 square feet of indoor space for a fan-experience area.
◗ A partnership with a local hospital that can handle extensive medical testing.
◗ At least 3,000 hotel rooms near Combine activities.
Experts say that, wherever the five-day event winds up, there will likely be a boost in fan-focused activities as well as opportunities for fans to engage with prospective draftees. But further shifting in that direction could be a challenge for a league that has been slow to open the Combine's doors more widely.
"There is a move from it being a business-only event—a convention type of thing—to one that is a nationally broadcast event that features some fans as well," said Marc Ganis, owner of Chicago-based sports agency Sportscorp Ltd.
"It's not as if we'll see crowds like what you get with the Super Bowl. It's still, at its core, a business event."
Likewise, Indianapolis sports business expert Ken Ungar said the Combine was never designed to be a fan-facing event like the Super Bowl or, more recently, the NFL Draft.
"It's a challenge to create a fan-oriented event—which I understand the NFL wants to do—with an event that's not made for fans, but instead made for teams," he said.
Indianapolis-based National Invitational Camp Inc.—the entity that sends out invitations to would-be participants—has generally overseen the event since its inception, but the NFL in recent years has taken more ownership.
The decision to move to a bid system for the Combine followed years of pressure from NFL team owners to have the league spread the wealth by holding it in various cities.
But Ganis said cities are competing not just against one another for the Combine, but also against Indianapolis' soon-to-be 35 years of experience hosting the event.
This year, only the medical portion of the event was held in Indianapolis, due to league-imposed COVID-19 restrictions.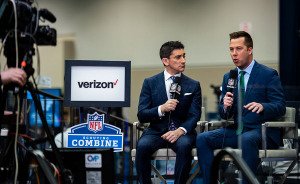 'The gold standard'
The NFL foreshadowed the shift away from Indianapolis when it agreed to an extension to keep the event in place only through 2021—a one-year extension at the time. The league also agreed to four one-year options, allowing it to reevaluate the Combine's stay in Indianapolis on an annual basis.
With more new stadiums coming online in recent years, experts said, the NFL viewed 2023 as the optimal time to explore a new direction.
"If the Combine starts moving around the country, I would expect comparisons to Indianapolis will be made immediately across the board. It's the gold standard as things stand today," Ganis said. "Indianapolis has done so well with the Combine, that it has caused other markets to want to host it and get their own shot at it."
Milton Thompson, an Indianapolis attorney and former sports agent, said he understands the NFL's desire to move the Combine to a new location but expects the league could ultimately return to Indianapolis with a long-term commitment.
"I would predict that they'll still take their shekels of silver but … they'll find their way back here to people who" built the model, he said.
In addition to opening the Combine to bids, the NFL is also continuing to look for host cities for the draft. The league is vetting bids for 2025 to 2029, with calls for similar space needs—500,000 square feet—to what's required for the Combine, although some draft events have been held in outdoor spaces in cities like Las Vegas, Nashville and Cleveland.
Gahl previously told IBJ that local leaders are "going through the vetting process to determine if and when the city will go after the draft."
In a written statement, Indiana Sports Corp. President Ryan Vaughn said the organization considers both the Combine and the draft key opportunities. It's leading the charge on the draft.
"While we assess the future of the Combine, we are also examining the feasibility of hosting the NFL Draft in our city for the first time," he said. "The NFL Draft has transformed into a top-tier event property."
Regardless of which cities bid on the Combine—or the draft—Visit Indy's Gahl said Indianapolis is ready to throw its hat into the ring.
"We are playing to win," he said. "We always have and always will, as it relates to bidding on major sporting events and major conventions and events."•
Please enable JavaScript to view this content.