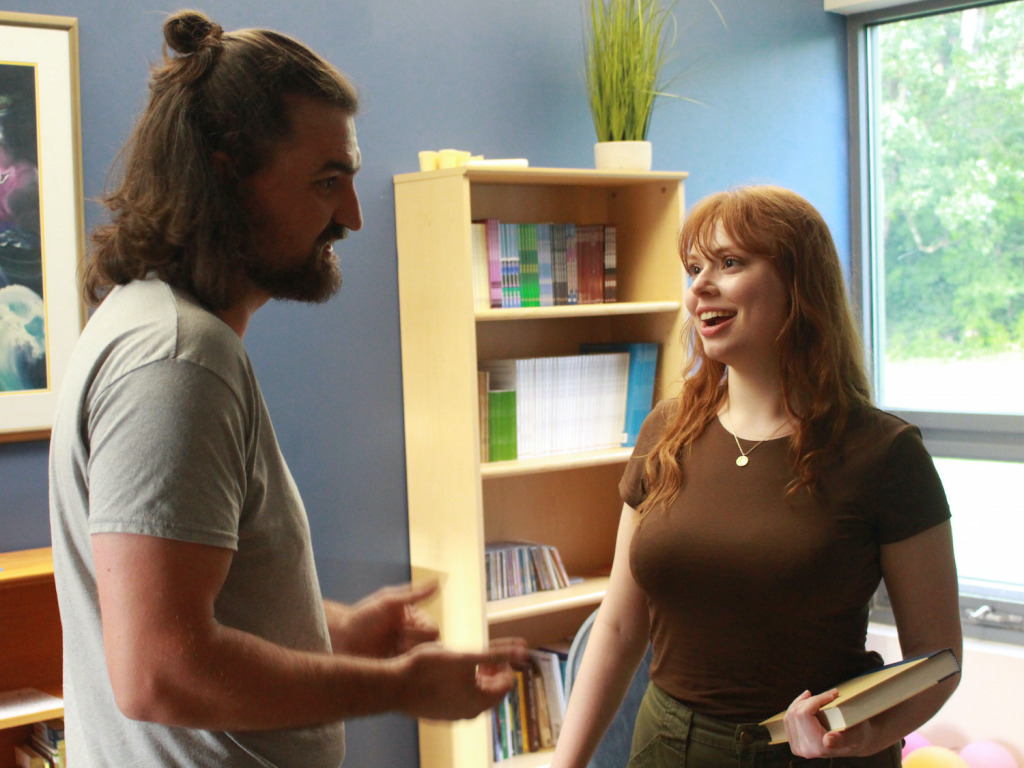 When preparing a production for this year's IndyFringe festival, Carmel native Haley Glickman wrote a comedic script about two volcano scientists who are husband and wife but not clicking as a couple.
"That's Hot," a play set in Iceland starring Glickman as Helena and Matthew Walls as Rudiger, will be presented during three weekends of IndyFringe, which begins Aug. 17 and runs through Sept. 3.
Glickman, a first-time IndyFringe playwright and producer, said it's not easy to craft an amusing story.
"It is so easy to write drama," she said. "Like nobody's business, I can crank out a whole dramatic script so easily. But to keep things light and to keep making positive choices—not just doing jokes but doing things that are rooted in reality and a character's wants and needs while being funny—it's difficult."
Acknowledging that humor is subjective, Glickman said writing and producing 35-minute show "That's Hot" matches the experimental spirit of IndyFringe.
"People have opinions," she said, "but you might as well try."
Glickman, who studied acting at Marymount Manhattan College, said she took inspiration from 2022 documentary film "Fire of Love" when devising "That's Hot." "Fire of Love," which received an Academy Award nomination, focuses on true-life husband-and-wife volcanologists Katia and Maurice Krafft.
"They went on expeditions together and they were in love and they loved volcanoes," Glickman said. "It was a very serious documentary. But there was this random part where the husband expressed a desire to ride down a river of lava in a canoe. I thought, 'This is absolutely insane. There has to be something funny here.' "
In "That's Hot," the characters portrayed by Glickman and Walls hike a dormant volcano while making a documentary film.
Glickman credited her acting partner Walls, an IndyFringe veteran who's worked as a historic interpreter at Conner Prairie and the Indiana History Center, for helping to refine the story.
"He's good at improv, so he never wants to do the same thing twice in rehearsals," she said. "He's always trying new things and it keeps me on my toes and it keeps the script fresh, too."
Before this year, Glickman's IndyFringe experience consisted of a 2013 adaptation of "The Laramie Project," a play based on the 1998 murder of Matthew Shepard, who was a gay student at the University of Wyoming.
Glickman graduated from Carmel High School in 2016.
"It was my first downtown theater experience," she said of IndyFringe. "It was my first time interacting with people who weren't my friends in high school or parents. And I got to see all these new plays."
This year's edition of IndyFringe will present 70 different shows and 300 performances on six stages—two each at IndyFringe Theatre, 719 E. St. Clair St.; the District Theatre, 627 Massachusetts Ave.; and the Athenaeum, 401 W. Michigan St.
"That's Hot" is scheduled Aug. 19-20, Aug. 25-26, Aug. 31 and Sept 1 at the District Theatre cabaret stage, 627 Massachusetts Ave. For more information, visit indyfringe.org.
Partly because pandemic lockdown coincided with Glickman's graduation from Marymount Manhattan, she returned to the theater community of Indianapolis.
"People aren't as nice," Glickman said of her New York experience. "I know everybody says that, but actors are so happy to see you in an audition room here. In New York, you're seeing every redhead who's 20 years old and they're all looking at you like they want to kill you. Here, it's 'Hey, here are the five other redheads in Indianapolis. Let's see who gets it.'"
Please enable JavaScript to view this content.