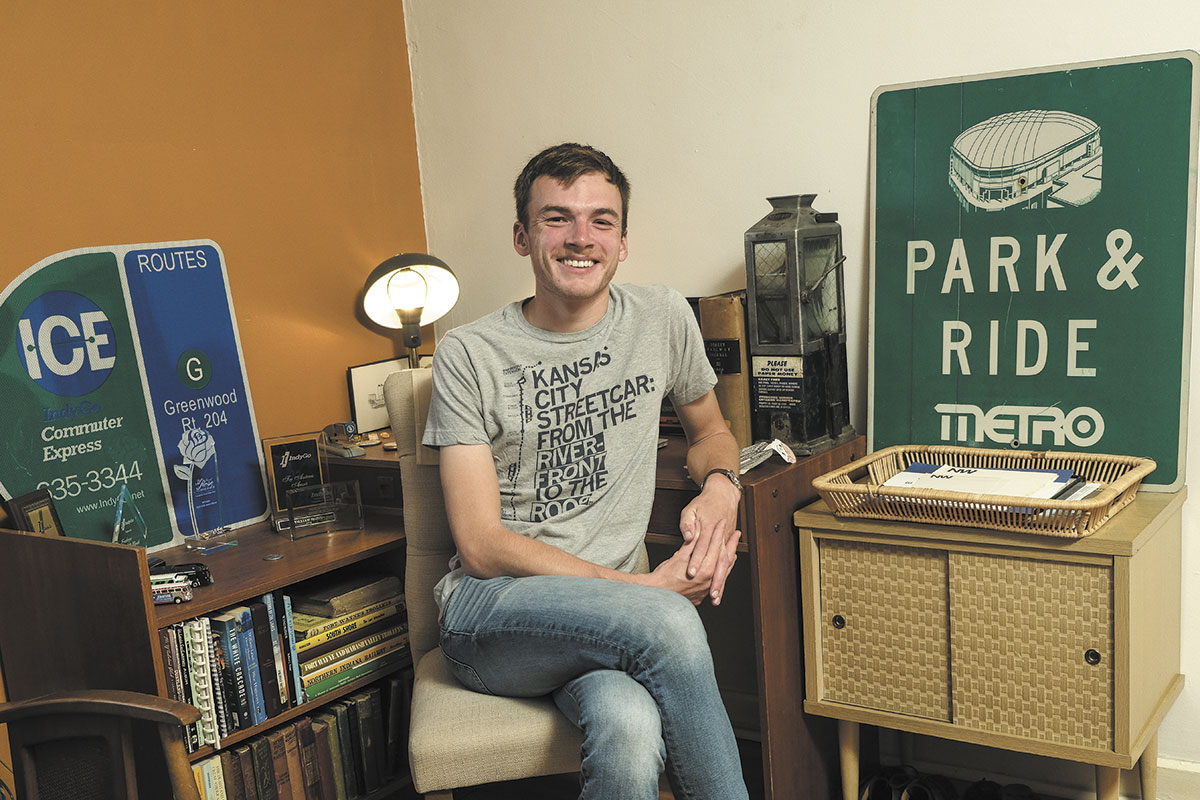 Will Hazen, 25, began driving buses for IndyGo three years ago, representing the fourth generation of his family to work in public transportation.
He has a collection of transit memorabilia that includes 4,000 photos, assorted signage and three full-size buses: two mid-2000s Gillig Corporation Low Floor models from East Chicago and a 1981 GMC Rapid Transit Series bus from the Muncie Indiana Transit System. He stores them for $300 per month in a local truck lot.
He was a recipient earlier this year of a ROSE Award for Indianapolis hospitality workers who provide exemplary customer service. After two IndyGo riders (including a man in a wheelchair) were killed in car-pedestrian accidents in 2021, Hazen has distinguished himself for his work in road safety, donating hundreds of bike lights to a local cycling organization and passing them out for free to transit customers with bikes.
What's your family history in transit?
My great-grandfather worked for the Atchison, Topeka and Santa Fe Railway out in Kansas. My grandfather, when he came back from World War II, got a job as a taxi driver, managed the city bus system in El Dorado, Kansas, and later managed the system in Ottawa, Kansas. When my dad was in college, he drove for Fort Worth Transit. Later, he was an architectural tour guide in Columbus [Indiana]. I would ride the bus with him and sit in the front seat, and I would draw pictures of the buildings. It looked like I might have a career as an artist, but that didn't pan out.
What do you find gratifying about driving for IndyGo?
I've seen how much transit means to people, and it's super-rewarding to be able to help people get where they're going. You realize how much every trip matters, and when you carry 100 or 400 or 500 people a day, it's gratifying to interact with all those people and figure out what their experiences are and where they're going.
Collecting buses is a pretty wild hobby. Do you just enjoy driving them around?
I never intended that they would stay with me for more than three or four years, but I love the 1981 [GMC] enough, it might. But the plan for all of them was preservation. I was reading about the streetcar era and all these streetcars that got put out to pasture, essentially. I thought, aren't we going to look back at this era of public transportation and think, "Gosh, I wish we'd have saved something?" Something that's representative of what was used in Indiana at the time. Something that says, "This is how public transportation has evolved." I thought the best way I could do that was to buy it.
What has it been like to provide hundreds of sets of free bike lights?
I wish the solution wasn't passing out bike lights. I wish there were safety upgrades [to street and sidewalk infrastructure], but I think I saw bike lights as something I could do very short-term to provide an additional level of safety. It's certainly not the end solution. The end solution is streets that aren't designed like racetracks.
More and more, I'm starting to run into people who are like, "You gave me this set of lights!" You'll see they're still using the lights on their bike. It's felt really rewarding to see that. Not only to see them again and know that they're still safe, but also to see that the lights are still working and providing them that extra level of safety.•
Please enable JavaScript to view this content.