Electric utilities don't get a lot of love. They're often seen as low-key, faceless operators that mostly exist in the background.
But now one of Indianapolis' oldest companies, Indianapolis Power & Light Co., is testing whether putting on a whole new look will help it get more recognition and affection.
The utility announced last month it was dropping its old name after nearly a century and taking on the name AES Indiana, in alignment with parent company Arlington, Virginia-based AES Corp.
The rebranding included juicing up its logo with a modern font and a splash of blue, purple, turquoise and green. "The future of energy is here," the company said in its rollout.
It's a bold move, some branding experts say—because of the risk that the public won't like the new name or look. AES Corp. bought IPL in 2001 for $2.2 billion but has allowed the utility to keep its name the past two decades.
AES, with operations from Brazil to Vietnam, had revenue of $9.7 billion in 2020 and 8,200 employees. The local utility will need to reassure customers that its commitment to Indianapolis remains strong and it isn't turning its back on its history, branding experts say.
"People don't like change," said Ken Honeywell, creative director of Well Done Marketing, an Indianapolis ad agency. "We kind of fear the loss of our local brands and local identities."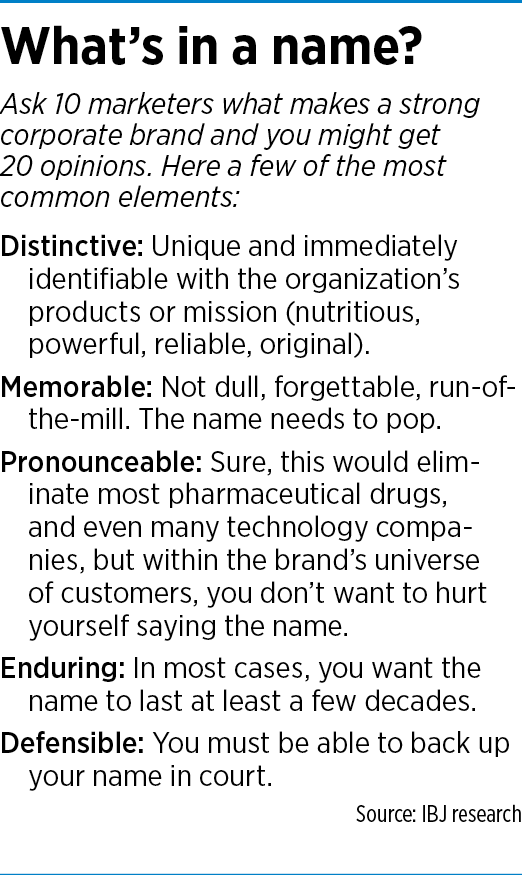 Yet across the country, thousands of companies roll out new brands for products and names each year. Sometimes, it's a move to reach new markets or explain its latest products. Other times, it's an effort to recover from negative publicity.
AES, for its part, said it wants to group all its operations under one brand, while keeping the local identity as part of the name in each market. Dayton Power & Light Co., for example, is now AES Ohio.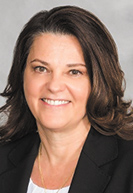 "We are a global company with really strong local roots," Lisa Krueger, AES' executive vice president, told IBJ. "This new brand reflects the future of who we are in each of our markets and shows we are accelerating this energy future."
And the rebranding is meant to give a bigger bang to the corporate parent, which is still relatively unknown in Indiana. The company has been making a big push into renewable energy, such as solar power and battery storage, and is no longer your father's local utility.
"It's fair to say in Indiana, that, although AES has owned IPL for more than 20 years, that not a lot of stakeholders knew who AES was," Krueger said. "That is also a part of this process. We want to bring who we are at AES to each of our markets."
Even so, the AES moniker, at first blush, is hardly a memorable name.
AES acknowledges that the name (originally Applied Energy Services) could take a while to catch on. It said it has held dozens of meetings with community and business leaders to explain the rebranding.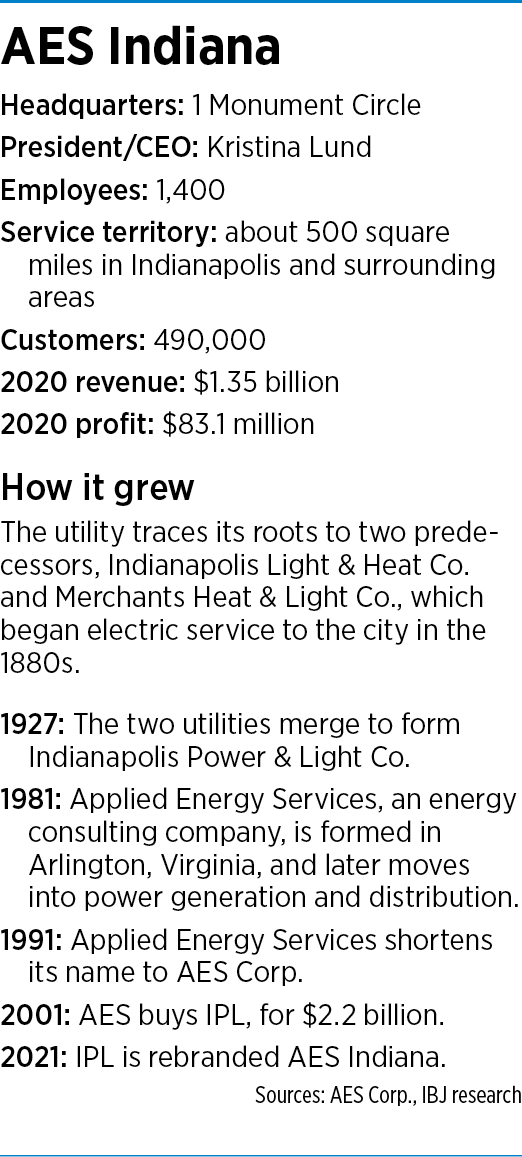 The process will continue through a marketing campaign and in the massive effort to change the name on all its trucks, buildings and employee uniforms.
Some branding experts say that's typical for a company that needs to redo its identity, especially one that has been managing multiple brands in different markets.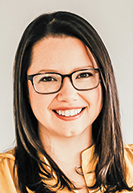 "When we see rebrands of this magnitude, especially [at companies] that have been around for almost a century, it's typically because the name no longer serves the company and no longer reflects what they do and who or where they serve," said Theresa Goodwin, chief branding officer of BoldThink, an Indianapolis creative agency.
Been there, done that
IPL is hardly the first Indiana utility to change its name. Three decades ago, Public Service Company of Indiana, a small electric utility in the southern part of the state, nearly went bankrupt after spending more than $2 billion in a failed attempt to build a nuclear power plant in Marble Hill, along the Ohio River. Costs for the plant had spiraled out of control and PSI was running out of money. The company abandoned the project and auctioned it off for parts in 1985.
PSI's turnaround was led by CEO Jim Rogers, who successfully fought off a takeover bid by the much larger IPALCO, then-parent of IPL. Rogers then engineered the merger with Cincinnati Gas & Electric Co. The combined companies were later bought by Duke Energy, the huge utility based in Charlotte, North Carolina, which renamed the operation Duke Energy Indiana.
And in another part of southern Indiana, electric utility customers have seen a flurry of name changes over the decades. The Indiana Gas Co. and Southern Indiana Gas and Electric Co. merged in 1999 and became Vectren Corp., a publicly traded company based in Evansville.
Then, two years ago, CenterPoint Energy of Houston bought Vectren for $6 billion. It retired the Vectren ticker (VVC) from the stock market but kept the Vectren name for a short while. Last summer, Vectren announced it would be rebranded as CenterPointEnergy, a renaming that will take several more months to complete.

Like many utilities, IPL has a long history, with 94 years of brand consistency. The company was founded in 1927 as a merger between Indianapolis Light & Heat Co. and Merchants Heat & Light Co.
Through a Depression, world war, and a complete transformation of the energy industry, the company kept its name.
But eventually, as it moved more into renewables and further from its tradition as a coal-fired utility, it was time for a new look.
And the Indianapolis operation has been under pressure from environmentalists and community leaders to move more quickly to cleaner energy sources.
In 2017, the City-County Council passed a resolution that called for a reduction in carbon emissions, increased energy efficiency and renewable-energy use. City officials later created a plan for the city to be powered by 100% renewable energy by 2050.
"The city of Indianapolis can't reach our goals without Indianapolis Power & Light," said a letter signed in 2019 by 15 members or members-elect of the City-County Council.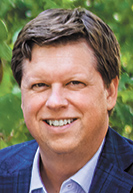 Huge undertaking
Some marketing consultants say IPL's name change could even be overdue, as AES tries to keep all its operations clear and consistent under one name.
"I can't say I'm surprised with IPL's name change," said Brian Coles, co-owner of Coles Marketing in Indianapolis. "From an overall national brand management perspective, it makes absolute sense."
He added: "I do think the name change will cause confusion in the market, especially in the next couple of years. However, over time, as brand experience and recognition grow, it will be less of a concern."
Kesha Coker, a marketing professor at Ball State University in Muncie, said overhauling a brand is often a huge undertaking. Companies that don't have outdated or confusing names have no reason to switch.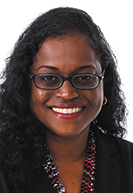 "You know, when companies talk about rebranding, people get the impression that it's a quick name change, and that's it," she said. "But it can take years for a complete switchover, depending on the name."
On the other hand, some utilities cling to their old names, especially at the local level, even if they undergo numerous corporate changes.
In Chicago, Commonwealth Edison, the huge electric utility, has kept its name since 1907, when Chicago Edison combined with Commonwealth Electric. In 1994, it reorganized as a holding company, Unicom Corp., but kept its operating name.
In 2000, Unicom merged with Philadelphia-based PECO Energy to form Exelon. Once again, ComEd kept its familiar local name on trucks, uniforms and building signs.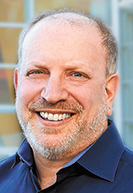 It's been a mainstay brand in a city that has seen its share of name changes. Who can forget the transformation of Comiskey Park, first to U.S. Cellular Field in 2003 and then to Guaranteed Rate Field in 2016? All over Chicago, people still call the legendary field Comiskey.
And that might be true with IPL and AES–for a few years, anyway. And it might take a generation to get used to the new name.
"A lot of people over 45 are probably going to bitch and moan about the name change," said Scott Markham, president of MonogramGroup, a Chicago marketing agency. "And people under 45 are going be like, 'Whatever. You know, it's what I see on the trucks all the time. And that's what I'm getting used to.'"•
Please enable JavaScript to view this content.