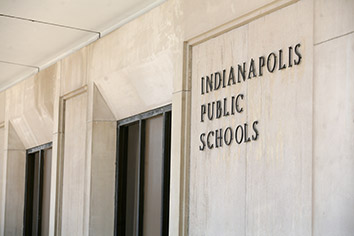 Indianapolis Public Schools wants to add virtual tutoring blocks to the school day at low-performing schools as part of a plan to help students catch up on reading and math skills.
Virtual tutoring is the latest addition to a suite of tutoring efforts the district is launching to address academic declines after the COVID-19 pandemic. Tutoring is among the best available tools to help students catch up, research shows, but virtual models are still largely untested despite their growing popularity among school districts.
At IPS, observers have questioned the effectiveness of the virtual block tutoring provided by an outside contractor — which was tested in just three schools over a five-week period in April and May — and whether it's a better model than tutoring provided by IPS staff members or university partners.
"It's hard to trust anything in just a really short time period," said IPS Commissioner Diane Arnold.
This spring, IPS tested virtual tutoring in 12 schools. The two-part pilot included during-school tutoring blocks, which are expanding to more low-performing schools, and opt-in after-school tutoring that will be available to all IPS students this fall.
Students who participated in the two pilots improved their math scores by 12% to 26% and English/language arts scores by 4% to 9%, district leaders said during a Thursday commission meeting.
The programs' efficacy was measured by an online assessment on the first and final days of the pilot, but the results were impacted by spotty attendance. If a student didn't attend both the first and last days of the session, their scores could not be measured.
As a result, though the programs sought to serve 830 students in grades K-11, the results presented to the IPS Board of Commissioners included only around 148 students in English/language arts and 38 students in math. The district didn't specify how many students attended tutoring but didn't take the exams.
The district intends to expand the pilots this fall after a survey indicated that principals were on board. The during-school tutoring will focus on K-2 literacy in schools with low NWEA metrics, but could expand to other grade levels, said Deputy Chief of Staff Sarah Chin.
Chin said one benefit of working with an outside contractor was that they could be required to collect data on their programs—something the district is considering requiring of other organizations that provide tutoring at IPS, like local universities.
Officials did not answer how much in ESSER dollars has been allocated to the Tutored by Teachers program, saying only that IPS has allocated "sufficient funding for all students in IPS direct-managed schools to participate in free, online tutoring after school, and for tutoring to occur during the school day for all IPS students attending emerging schools."
Anecdotes from the schools that participated in the early pilots suggest there may be issues to address first, particularly in the during-school tutoring blocks.
An IPS teacher who asked to remain unnamed due to fears of retaliation said the materials for the during-school block tutoring didn't align with district standards, and at times weren't challenging enough for the students who participated.
The teacher said that attributing students' gains only to the brief pilot program discounted the instruction they received from their teachers. She said she'd prefer that the district invest in tutoring provided by its own staff—a model that other IPS schools launched this spring. The district has not presented data from this type of tutoring.
Research shows that students leap forward academically when they are matched with an in-person tutor one-on-one or in small groups. IPS and other districts nationally hope to emulate those results through virtual tutoring. The research behind this approach is less robust, though some recent studies have shown that virtual tutoring can have a powerful effect.
Furthermore, the teacher said daytime tutoring sessions took place during the time that teachers were supposed to be doing interventions with small groups of students, some of which were legally required for students who are English learners or who receive special education services.
Chin said the district is working to resolve this issue as the program expands. Officials plan to use the virtual tutoring program to provide students the interventions—known as Tier II or Tier III interventions—using IPS-vetted material.
They're also hired a new director of tutoring to help schools schedule the sessions, according to Chin.
"Something we've learned from our schools is that when we look at our data, the number of students who need Tier II/ III interventions may exceed the capacity of the number of interventionists we have on staff," Chin said.
The district said it would also take a different approach to grouping students for tutoring, after concerns that students weren't grouped according to their NWEA test scores and thus didn't receive rigorous enough instruction.
District officials said they plan to switch to using the NWEA scores rather than separate screening tests to group students. They will also wait to launch the programs until after the fall count day, to ensure students are settled in their schools.
Chalkbeat is a not-for-profit news site covering educational change in public schools.
Please enable JavaScript to view this content.