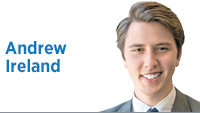 Framed by navy curtains and the flag, President Barack Obama in 2016 waded into the complex and high-stakes debate over patients' rights in their own genetic information.
"I would like to think that if somebody does a test on me or my genes, that that's mine," he explained, asserting a person's tissues and any discoveries that stem from DNA should belong to that person. Yet, in the nearly two decades since the success of the Human Genome Project, several states have failed to protect commonly perceived rights in genetic information.
In Indiana, recipients of genetic information ("receivers") are not required to give patients personal access to these records and may obtain, retain and disclose genetic information without a person's consent. Moreover, Indiana does not enumerate property rights in genetic information or DNA samples and generally does not articulate penalties for genetic privacy violations.
Perhaps it should.
Creating a property interest in a person's genetic information helps foster an efficient market for information, encourage ethical and equitable research practices, and mitigate the inherent risks of the exposure of genetic information to the world.
Opponents of such property rights claim supporters embrace "genetic exceptionalism," placing genetic information above other classes of information or property. Yet, it is more appropriate perhaps to view enumerating rights in genetic information as simply bringing genetic information to parity with a person's expectations and other property rights.
Notably, a property interest helps provide opportunities for "upstream" rights holders to benefit from "downstream" receivers' financial gains in research and for rights holders to sell their interests in the information outright, thus allowing for buyers and sellers akin to the market for any other source of data.
Placing rights in an individual's genes also makes patients partners in medical research, not participants. This creates a more equitable relationship between the two parties, providing strong incentives for ethical, principled research practices.
Finally, the breach of a person's genetic information is like opening Pandora's box. Unlike a credit card, which might be canceled, or even a Social Security number, which under certain circumstances might be changed, genetic information is largely fixed, and its disclosure is a harm someone can do little to mitigate against.
Genetic information already provides employers and insurers a powerful means for discrimination against individuals with certain predispositions to diseases. With the technology that makes sense of genetic information becoming increasingly accessible, this form of discrimination is likely to spill out to other corners of society.
By enumerating certain rights, the state can also provide a course of action to remedy the harms the disclosure of the information poses. This encourages a higher standard of care for receivers when securing this information.
The Indiana Legislature has contemplated the risks involved with the disclosure of genetic information. Following the passage of the federal Genetic Information Nondiscrimination Act of 2008, the Legislature barred the use of genetic information for employment and insurance discrimination.
Yet, wide gaps remain in the protections Indiana law affords.
The field of genetics is fascinating and might revolutionize medicine as we know it; yet, this compelling interest must not foreclose on an individual's property rights. The Legislature should carefully consider enumerating the practical, commonly perceived property right in a person's genetic information.•
__________
Ireland is an international scholar at Sungkyunkwan University's Global School of Business in Seoul, South Korea, and a digital media consultant. Send comments on this column to ibjedit@ibj.com.

Click here for more Forefront columns.
Please enable JavaScript to view this content.