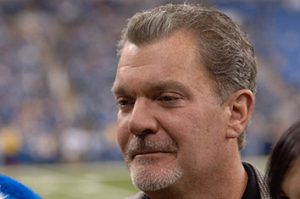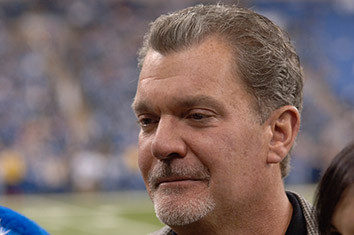 Indiana University announced Wednesday that it plans to establish a research institute dedicated to studying the stigma surrounding mental health and other health challenges, with help from a $3 million gift from the Indianapolis Colts owner Jim Irsay and his family.
The new Irsay Family Research Institute will be located in a newly renovated space in Morrison Hall on IU's Bloomington campus.
IU said the center will focus on:
– Providing direct support and development of research and researchers;
– Conducting more advanced interdisciplinary research in the sociomedical sciences, while bringing several campus-wide efforts under a single umbrella;
– Producing more graduates who are trained to work in the mental health field and raise awareness among all health care providers on how mental health issues complicate care for many other serious illnesses;
– Informing a broader local and national policy agenda relating to mental health and stigma.
"We are deeply grateful to the Irsay family and the Colts for this generous gift, which will help IU continue to conduct evidence-based research and training on stigma around mental health and other medical issues," IU President Pamela Whitten said in written comments. "We look forward to our partnership with the Colts and to the continued groundbreaking work of IU researchers at the Irsay Family Research Institute."
The gift is an extension of Kicking the Stigma, the Irsay family's initiative "to raise awareness about mental health disorders and to remove the shame and stigma too often associated with these illnesses."
"The stigma surrounding mental health is a matter of life and death, and we must do everything possible to lessen that stigma and remove this obstacle to people getting the help they need," said Jim Irsay in written remarks. "Indiana University already has been one of the world's leaders in studying mental health, and we're so pleased this outstanding resource is in our home state so together we can advance this important conversation."
The institute and related programs will be led by IU's Bernice Pescosolido, director of IU's Indiana Consortium for Mental Health Services Research. With her colleagues, Pescosolido has developed and led the National Stigma Studies over the past 25 years.
At IU, she led the Bring Change to Mind national pilot study to increase mental health awareness and reduce stigma on college campuses.
"As the first professional sports franchise to step out front to confront stigma of mental illness, the Colts display the courage and vision to fight prejudice in health and health care," Pescosolido said.  "We are proud to partner with our Indiana home team to do the science to target the stigma that deprives individuals of their health and dignity as they battle mental health and addiction."
The Irsays launched Kicking the Stigma in late 2020 with several national public service announcements, produced in conjunction with the band R.E.M. and featuring Irsay and Colts All-Pro linebacker Darius Leonard. Another national PSA also aired this fall featuring musician Snoop Dogg, NFL Hall of Famers Peyton Manning and Tony Dungy, and actors Rob Lowe and Mike Epps.
During Mental Health Awareness Month in May 2021, the Colts hosted a weeklong virtual fundraiser that raised $4.5 million for Kicking the Stigma Action Grants and will help fund nonprofits and institutions providing treatment services or raising awareness about mental health and mental illnesses. They have since distributed $2.4 million to various national and Indiana-based organizations.
Please enable JavaScript to view this content.