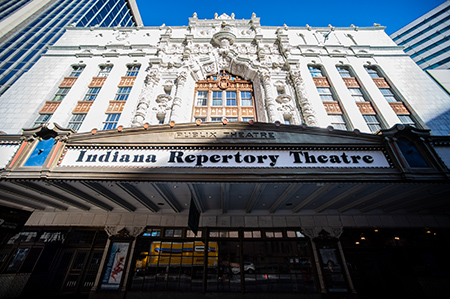 The show must go on, even in a pandemic.
Indiana Repertory Theatre is planning six virtual productions for its 2020-2021 season that will include favorite shows from previous seasons.
The company announced three of the six productions on Monday, each dubbed a "classic" from previous performances at the theater. In another concession to COVID-19, the three productions announced on Monday have small casts, including the Christmas-themed one-man show that will kick off the season in December.
"The season will celebrate the resiliency of our art and safely accommodate our staff and actors in the rehearsal room, and patrons at home," Janet Allen, IRT's artistic director, said in a media release.
All productions will be filmed and made available for online streaming by IRT patrons. The theater is leaving open the possibility that it also could offer in-person live performances of shows on the season's slate in the spring, if conditions allow.
"In this moment, to be able to produce this season means that we can retain our talented staff, hire world-class actors, and engage with our season ticket holders, donors, and our community in new ways," said Suzanne Sweeney, IRT's managing director. "All the while, we are working diligently on reopening plans with the hope of in-person spring performances."
The season will begin with "This Wonderful Life," an adaption of the classic holiday movie "It's a Wonderful Life," performed by a single actor playing more than 30 roles.
The season also will include "Having Our Say: The Delany Sisters' First 100 Years," which features two centenarians telling their life stories as civil rights pioneers. The third show announced Monday was "Tuesdays With Morrie," based on Mitch Albom's bestseller about his relationship with a mentor during the latter's battle with a fatal disease.
The theater has not yet announced when the two shows will be ready for viewing. IRT expects to announce the remaining three shows in the near future.
In March, IRT canceled the final three productions of its previous season after trying to stay open with limited seating to meet state guidelines for stemming the spread of COVID-19.
Please enable JavaScript to view this content.