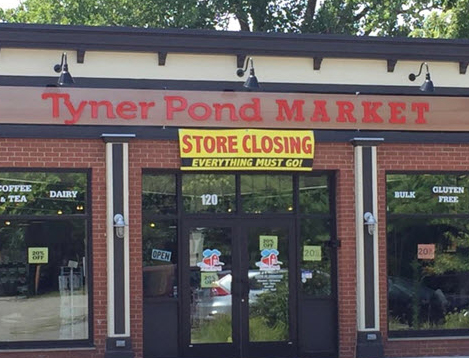 Tyner Pond Market, a 3-year-old specialty grocer in Irvington that sells organic and natural foods, is closing August 15 because of stagnating sales, owner Chris Baggott said.
The store sold a wide assortment of healthy foods, including meats from Baggott's Tyner Pond Farm in Greenfield.
Tyner Pond Farm is an open-pasture, direct-to-consumer livestock operation that sells mostly online, with free delivery in Indiana. The farm will remain open, along with a small market at that location, said Baggott, a longtime Indianapolis-area entrepreneur.
"The farm is doing great, but the grocery store is a hard business," Baggott said Friday. "We were stretched very thin and had to decide where to invest our time."
He declined to disclose sales or profits for Tyner Pond Market, other than to say it was "always very close to break-even."
Tyner Pond Market is located at 120 S. Audubon Road, just south of East Washington Street in the Irvington Historic District. It has about four employees.
Baggott also owns The Mug restaurants in Greenfield and Irvington, and Griggsby's Station restaurant in Greenfield.
He also owns ClusterTruck, which prepares meals in its own kitchen at 729 N. Pennsylvania St. and uses its own drivers to deliver them to customers within 10 minutes of being cooked.
Baggott was a co-founder of Indianapolis-based ExactTarget Inc., which Salesforce.com bought in 2013 for $2.5 billion.
Please enable JavaScript to view this content.