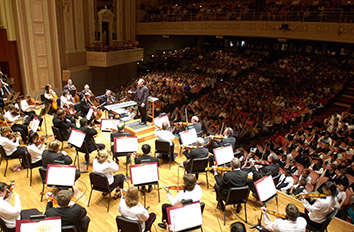 The Indianapolis Symphony Orchestra has canceled all of its summer performances through Sept. 17, including its popular Symphony on the Prairie season at Conner Prairie.
The move also cancels ISO's Lunch Break Series, the last three Hilbert Circle Theatre concerts in its 2019-2020 classical series and several special performances.
The cancellations come even as Gov. Eric Holcomb has implemented a five-phase plan to reopen the economy—and allow events like concerts again—by July 4.
Still, the ISO said it "anticipates it will be several months before musicians and patrons can safely gather for concerts in reasonable numbers."
"Even if concert restrictions are lifted mid-summer in the state's reopening plan, the remaining guidelines combined with the infrastructure required for producing Symphony on the Prairie is so complex that presenting a partial season is not financially feasible," the symphony said in a statement.
The ISO, which has 72 musicians and 54 full-time employees, previously announced it was canceling performances through May 27. It also said last month it had put its musicians and stagehands on furlough and laid off nearly half of its administrative staff.
But the organization applied for and received a federal Paycheck Protection Program loan, which allowed it to bring back its musicians, stagehands and administrative staff, said the ISO's spokeswoman, Kristin Cutler.
"While everyone is working remotely, we are connecting with our community through virtual performances and events, including providing engaging education programs.," she said. "We are offering all full-time employees normal benefits, including health insurance."
CEO James Johnson said Monday that the most recent cancellations are "disappointing" but the "safety of our musicians, staff, and patrons comes before all else."
Johnson said the ISO team had worked "tirelessly throughout the year to plan a summer filled with engaging orchestral programs and vibrant touring acts."
The concerts that are canceled are:
"Five Beethoven Concertos. Two Pianists. One Weekend." May 28-31
Beethoven's "Missa Solemnis," June 5-6
Mandy Gonzalez with the ISO, June 12-13
"Star Wars: The Force Awakens" in concert, June 27
"Disney in Concert: Beauty and the Beast," July 17-18
All Kroger Symphony on the Prairie performances
All Fifth Third Bank Lunch Break Series performances
Customers with tickets for the canceled performances can opt not to have a refund, which will give them a tax-deductible donation to the ISO. They can also exchange their tickets for a gift certificate or value pack for future performances.
Ticketholders must email the ISO box office at iso@indianapolissymphony.org by Aug. 1.
"While this is an unfortunate and unavoidable setback, the ISO plans to come back from this hiatus to serve our community in profound ways," ISO Board Chairwoman Yvonne Shaheen said in a statement.
"We will use this time to reimagine how our concerts and education programs can reach a larger and more diverse audience when we return to performing," she said. "The board of directors is committed to ensuring that the ISO remains a vital cultural asset to the city and state."
Please enable JavaScript to view this content.