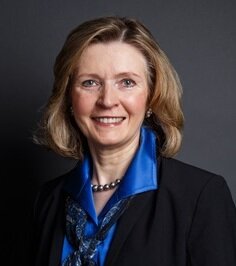 Thanks to revolutionary therapies developed by Dr. Lawrence Einhorn at the Indiana University School of Medicine in the 1970s, testicular cancer is no longer a death sentence.
Einhorn's regimen of platinum-based cisplatin and two other drugs helped reverse what had been a 95% mortality rate for the disease to a 95% survival rate.
Despite that success, platinum-based chemotherapies do come with potential side effects that can affect millions of testicular and other cancer patients each year—a problem that IU School of Medicine researchers are hoping to solve.
Their effort just received a major boost in the form of a five-year, $5.7 million National Cancer Institute grant to the IU Melvin and Bren Simon Comprehensive Cancer Center that will be used to fund an ongoing study to evaluate long-term health outcomes for cancer patients who receive platinum-based chemotherapies.
Dr. Lois B. Travis—the Lawrence H. Einhorn Professor of Cancer Research at IU School of Medicine—is already leading a team of researchers that includes Einhorn and experts from a dozen other top cancer centers. They are following more than 2,000 testicular cancer survivors as part of the Platinum Study, which was established through a previous NCI grant awarded to Travis in 2012.
According to IU medical experts, nearly 6 million patients globally are diagnosed with a cancer each year in which the first-line therapy potentially includes platinum-based chemotherapies. While effective, the treatment is highly toxic and can lead to hearing loss, ringing in the ears, numbness in hands and feet, and other side effects.
It remains the only proven cure for the vast majority of testicular cancer patients.
With the grant, researchers will continue to follow the patients in the Platinum Study. The goal is to better understand which patients are at higher risk for adverse outcomes and the daily effects of the toxicities.
Travis said they have already found that 80% of the patients suffered hearing loss, with one out of five suffering hearing loss at levels at which hearing aids are recommended.
Researchers also found that 56 percent of patients had nerve damage called neuropathy and 40 percent had tinnitus or permanent ringing in their ears.
Ultimately, Travis hopes the research can determine which patients are most likely to experience adverse effects from cisplatin and then provide guidelines that could decrease damaging side effects, such as duration of treatments or improved symptom management.
"This is a critical part of my life's mission: to decrease the cost of the cure for cancer survivors," Travis said in written comments.
Please enable JavaScript to view this content.