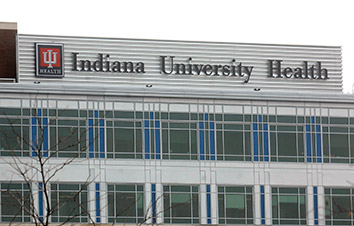 Indiana University Health, the state's largest hospital system, said Thursday it is enlisting the Indiana National Guard to help manage the surging volume of COVID-19 patients.
"As COVID cases continue to increase and hospitalization of COVID and non-COVID patients reach all-time highs, the demand and strain on Indiana University Health's team members, nurses and providers has never been greater," the system said in a statement.
IU Health said it continues to see "exceptionally high numbers" of patients in all 16 of its hospitals. On Wednesday, the system was caring for more than 440 COVID-19 patients. Based on the rate that cases are climbing, it predicted it could have 575 COVID-19 patients by the end of the year. That would surpass the system's census peak of 517 COVID patients on Dec. 14 of last year.
IU Health did not say which of its 16 hospitals would get help from the Indiana National Guard.
It's the latest deployment of the Indiana National Guard to local hospitals, which have been overwhelmed with a growing number of COVID cases.
Hospitalizations due to COVID-19 in Indiana have jumped to their highest level in 11 months, according to the figures released Wednesday by the Indiana State Department of Health.
Hospitalizations have climbed 125% over the past month and are now exceeding levels seen during the surge in August and September. Hospital officials are bracing for a possible extra surge from the omicron variant, which hasn't officially arrived in Indiana but has been reported in at least 19 other states, including Illinois.
Indiana hospitals set a new record last weekend with 70% of all staffed hospital beds currently in use.  Some hospitals have not been able to staff all beds, due to a growing shortage of nurses, forcing some to take units out of service temporarily.
The state health department said COVID hospitalizations rose from 2,642 on Monday to 2,755 on Tuesday. That's the highest mark since Jan. 7, when hospitalizations reached 2,769. COVID patients occupy nearly 30% of Indiana's intensive care unit beds.
In September, the Guard fanned out to several other overstressed hospitals, including Ascension St. Vincent Hospital Indianapolis on West 86th Street, Deaconess Hospital in Evansville and Clark Memorial Hospital in Jeffersonville, to help with patient care and general help.
IU Health said six-person National Guard teams will help at its hospitals, consisting of two clinical and four non-clinical service members, and deployments will be in two-week increments.
While clinical service members may treat patients, the non-clinical service members will offer administrative and logistical support to allow hospital teams to focus on patient care.
Please enable JavaScript to view this content.