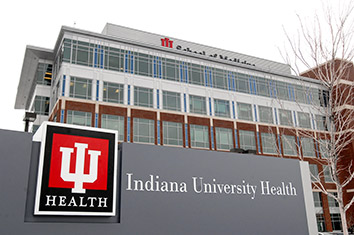 Indiana University Health, the state's largest hospital system, said net income for the first nine months of the year fell 63% to $329 million as it dealt with temporary closures, supply disruptions and deferred medical procedures from the COVID-19 pandemic.
IU Health on Thursday said patient service revenue fell 2.5% to $4.5 billion during the nine-month period. The system saw decreases in hospital admissions, surgical cases, ER visits and inpatient days.
Operating expenses rose 5.2% to $4.6 billion during the period, as the system acquired unprecedented amounts of personal protective equipment for caregivers and patients, built more negative-pressure hospital rooms, established a free virtual clinic that has screened over 82,000 people, and created a testing lab that has completed more than 293,000 tests.
"As the coronavirus remains active in Indiana and elsewhere, IU Health continues to rely on its operational planning and strong balance sheet to help withstand the negative economic impacts from the pandemic," said Jenni Alvey, senior vice president and chief financial officer, in written remarks. "IU Health is prepared for new surges in the pandemic and remains committed to providing the best-available care to our patients, team members and community."
The system, which owns 16 hospitals, including Methodist Hospital downtown, Riley Hospital for Children and North Hospital in Carmel, recently said it is preparing for a new surge of COVID-19 patients twice the size of the surge last spring.
IU Health said it has retained its workforce of 34,000 during the pandemic without furloughs or pay disruptions.
Please enable JavaScript to view this content.