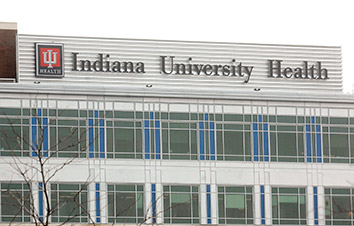 Five months after a Black doctor died of COVID-19 after alleging she received racist medical care at Indiana University Health North Hospital in Carmel, the hospital system said an outside panel concluded that the medical care she received did not contribute to her death.
But in a lengthy statement released Wednesday afternoon, IU Health acknowledged there was a "lack of empathy and compassion" shown in the delivery of her care.
The hospital system did not specify the empathy and compassion issues, or identify which caregivers were responsible for the treatment of Dr. Susan Moore, 52, who died Dec. 20 after she transferred to another hospital.
"We owe it to our patients to always show up for them, to treat them with dignity and respect, to appreciate their perspectives, and to validate their feelings when they are in our care," Dennis Murphy, CEO of IU Health, said in a written statement.
He added: "We did not live up to these values with Dr. Moore and acknowledge that we have more to do to become a more diverse, inclusive and anti-racist health system."
In an interview, Murphy said no staff members will be terminated, at the recommendation of the outside review panel. He said a small number of staff members will be put on administrative leave while they receive diversity training, then will be returned to their clinical roles.
The hospital system said it has already begun taking action after receiving recommendations from the external review panel.
Those steps include conduct training for all employees "to enhance compassion, encourage empathy and facilitate an optimal patient experience."
IU Health, the state's largest hospital system, said it also plans to hire more patient care advocates, improve patient care coordination, and increase support for team members who experience burnout and poor patient outcomes.
IU Health plans to require more comprehensive training for all employees, with a focus on "mitigation, unconscious bias, microaggressions and anti-racism to foster an inclusive culture. "
It said it will engage with community leaders and stakeholders "to publicly acknowledge the history of racism in healthcare and Indiana, and how IU Health will work toward reconciliation and change."
The death of Moore, a family medicine physician who had practiced in Indiana since 2009, has garnered national interest after The New York Times, The Washington Post and other major outlets wrote stories about her treatment at the hospital, describing footage from a seven-minute video posted on social media by Moore.
Moore was admitted to IU Health North Hospital after testing positive for COVID-19. In her Facebook post, she said she had to repeatedly ask for medication, scans and routine checks. She said caregivers there, including one white doctor, seemed to dismiss her pain and wanted to discharge her from the hospital late in the evening.
"I put forth and maintain, if I was white, I wouldn't have to go through that," Moore said in the Dec. 4 video, as she labored to breathe, with her voice often cracking. "This is how Black people get killed, when you send them home, and they don't know how to fight for themselves."
She was released from the hospital on Dec. 7, but was again hospitalized 12 hours later when her temperature spiked and her blood pressure dropped, according to her post. She was taken to a different hospital, Ascension St. Vincent in Carmel, and said she was experiencing better care. Still, her condition worsened, and she was put on a ventilator. She died Dec. 20.
The outside panel of six experts included four Black members who reviewed the circumstances surrounding the care of Dr. Moore.
Please enable JavaScript to view this content.