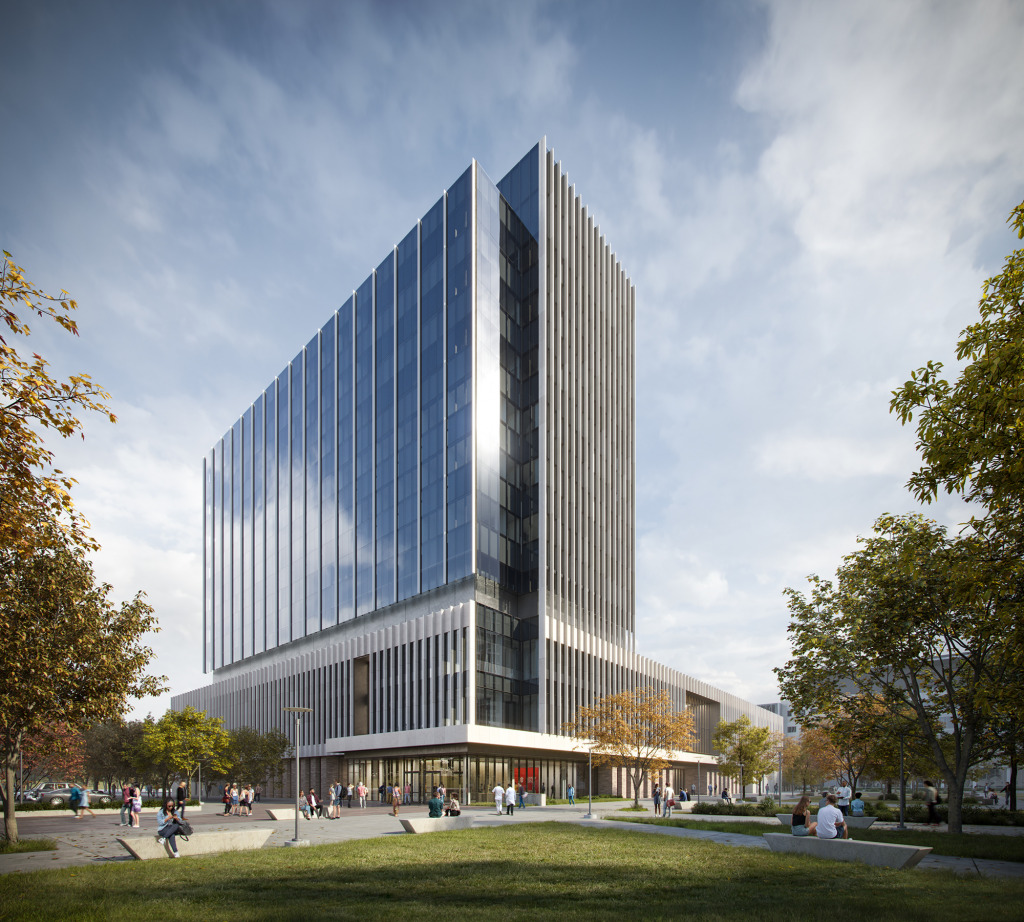 After spending more than 60 years on the IUPUI campus, the Indiana University School of Medicine is preparing to pull up stakes and move its classrooms to a new spot a few miles away.
IU officials will break ground Wednesday afternoon on a new, $230 million medical education and research building, the largest construction project in the history of the school and its first new classroom space in Indianapolis since 1959.
The 11-story facility, spanning more than 326,000 gross square feet, will be built west of Senate Avenue and just south of the IU Neurosciences Research Center on 16th Street.
The move will take place in conjunction with IU Health's massive, downtown consolidation of its Methodist and University hospitals onto one campus. That project will expand the Methodist Hospital campus south by eight blocks, or about 44 acres.
IU Health is planning a new, $2.68 billion hospital on the development, with about 2 million square feet under roof. The new hospital  is planned to rise 12 stories and feature three patient towers.
IU President Pamela Whitten, IU School of Medicine Dean Jay Hess and IU Health CEO Dennis Murphy are scheduled to speak during the groundbreaking event, which will conclude with a ceremonial shovel-turn indoors in the first-floor auditorium of the nearby IU Health Neuroscience Center.
The ceremony, which begins at 4 p.m., is not open to the public, but will be streamed live on the medical school's Facebook page.
Operations at Methodist Hospital and IU Health University Hospital, which is 1.5 miles southwest of the IUPUI campus, will be consolidated into the new hospital when it opens in 2026. The future use of the two current hospitals is still under evaluation.
IU Health said combining operations of the two hospitals will eliminate "costly duplication" of medical services and help provide more accessible, cost-efficient care.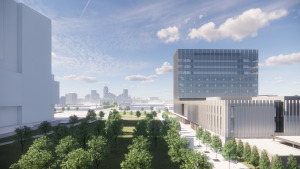 The oldest portion of Methodist Hospital dates to 1908, while University Hospital opened in 1970.
All along, the goal of the huge new urban campus has been to incorporate the medical school alongside the new hospital. IU has said for more than two years that it planned to move to the expanded campus, about two miles north of its current location.
All classroom instruction for medical students will go to the new campus, as will graduate training programs in the clinical sciences for residents and fellows. Some administrative offices also will move to the new campus.
Most research labs and related facilities associated with doctoral programs will stay put on the IUPUI campus or on other sites, officials said.
The medical school is aiming to take occupancy in late fall 2024.
IU said the new site for the medical school will provide flexibility and scale to accommodate medical education facilities as well as future research facilities. It is referring to the new campus as an academic health center.
Please enable JavaScript to view this content.