The Indiana University board of trustees voted Friday morning to name Pamela Whitten—the leader of fast-growing Kennesaw State University in Georgia—its 19th president, making her the first woman to lead the state's largest university system.
Board members said Whitten's success in fundraising, enrollment growth and improving diversity among students and faculty were key to their decision to choose her after a national search.
After the vote, Whitten addressed the board, pledging to keep an IU education affordable, accessible and high quality, and ensure "diverse, tolerant and inclusive" campuses.
"Central to all that we do across every area of the university will be ensuring the success of our students who are truly our lifeblood," she said.
Whitten—who worked briefly at Purdue University—will take over for Michael McRobbie, who announced last August that he would step down after 14 years overseeing the school, which enrolled about 90,000 degree-seeking students last fall across its core campuses in Bloomington and Indianapolis, online and at seven regional sites.
IU Board Chairman Michael Mirro called Whitten a "visionary scholar" and a "passionate and accessible leader" in an email to the IU community.
And Melanie Walker, an IU trustee and co-chair of the presidential search committee, said, "Pam checks every box for IU."
"I am very confident we found the right person for this important moment in IU's history in Pam Whitten," she said. "What stood out for us is that Pam is a visionary, a collaborator and an action-oriented leader."
Whitten has been at Kennesaw State, a public university with more than 41,000 students, since June 2018, when she was appointed president by the state's University System Board of Regents. KSU, founded in 1963, offers more than 150 undergraduate, graduate and doctoral degrees on two campuses in suburban Atlanta.
The school's top majors, according to its website, are nursing, biology, psychology, mechanical engineering, marketing and management.
Originally chartered as a commuter school, Kennesaw State now has 5,200 students living on campus. It has grown quickly under Whitten's leadership, with enrollment up 9% from fall 2019 to fall 2020, making it now the second largest university in Georgia. Last fall, it had the largest freshman undergraduate class in the state.
"In a short amount of time, just three years, she led major progress at the university, overseeing a 15% increase in student enrollment …, all while addressing significant diversity and inclusion and fiscal challenges," Walker said.
And Quinn Buckner, an IU trustee, said, "Pamela will be a powerful advocate for the issues that are important," which includes student engagement, research, and diversity and inclusion.
In addition, said Buckner, a former IU star basketball player, "Pam is a huge fan and a supporter of athletics. And I know how excited she is to come here and cheer for the Hoosiers. Pamela, we will be cheering you on, and we look forward to working with you in the weeks and the months ahead."
Kennesaw State is significantly smaller than IU, which has more than 41,000 students on its Bloomington campus alone, plus nearly 30,000 at IUPUI in Indianapolis. About 20,000 students are at regional campuses or are online students.
IU's enrollment is about 101,000 students when non-degree students—including high school students taking college classes—are counted. That's down about 1% from the previous year.
Whitten took over at KSU after its previous president resigned amid criticism of his handling of student protests concerning the national anthem.

Last June, Whitten appointed a 21-member task force to consider "racial challenges and opportunities" at the school. And in January, she announced the creation of the Radow Institute for Social Equity to "address the challenges of social justice, equity and economic inequality while developing sustainable solutions that help address pressing social challenges and produce real change."
Whitten will be the first woman to lead Indiana University and just the sixth woman to serve as president of a public college in Indiana. Two women are presidents in Indiana now: Deborah Curtis at Indiana State and Sue Ellspermann at Ivy Tech Community College.
Purdue (France Cordova, 2007-2012), Ball State (Jo Ann Gora, 2004-2014) and the University of Southern Indiana (Linda Bennett, 2009-2018) have also had a woman serve as president.
IU is also one of seven Big Ten schools that has never had a female president. The remaining seven Big Ten schools have had women at the helm, including Ohio State University, where Kristina Johnson has been president since June 3, 2020, and the University of Minnesota, where Joan Gabel has been president since 2019.
Whitten was among four finalists in 2017 vying to become president of Iowa State University and one of three finalists in 2016 for the job of chancellor at the University of Tennessee in Knoxville.
Before moving to Kennesaw State, Whitten served from 2014-2018 as senior vice president for academic affairs and provost at the University of Georgia.
She previously spent 16 years at Michigan State University, where she rose to be the dean of the College of Communication Arts and Sciences. She was also director for telemedicine at the University of Kansas Medical Center and a Purdue University professor of health communication and Regenstrief faculty scholar.
She is considered an expert in the field of telemedicine—and was studying it at Purdue before it became common. She has conducted research funded by the National Institutes of Health and the U.S. Department of Commerce. She has published two books and more than 100 peer-reviewed research articles and book chapters, the bio says.
Whitten has a doctorate in communication studies from the University of Kansas, a master's in communication from the University of Kentucky and a bachelor's from Tulane University.
She is earning about $500,000 annually at Kennesaw State, according to The Atlanta Journal-Constitution.
Whitten will face a number of challenges as IU's next leader, but chief among them is a so-called higher education cliff, caused by a drop in the number of 18-year-olds in the U.S. beginning in about 2025.
That's expected to spark fierce competition for students at colleges and universities across the country. Experts predict that many private and small higher education institutions won't survive and that larger universities will grapple with financial challenges associated with fewer students.
Whitten will also need to be prepared to deal with changes in the way higher education is delivered—changes intensified by the pandemic—and concerns about rising student debt.
A web page developed for IU's presidential search said the board of trustees was looking for a leader who could "further build upon the university's rich history and international reputation." It was also seeking a leader who is strategic, visionary and student-centered and who possesses "unquestioned" integrity, exemplary communication skills and the ability to manage a large, complex, multi-location higher education institution, the description said.
Other important characteristics the trustees were looking for included "outstanding" managerial skills, financial acumen and the ability to fundraise and develop additional revenue streams.
Maybe most importantly, candidates must demonstrate a commitment to diversity, equity and inclusion, the site said.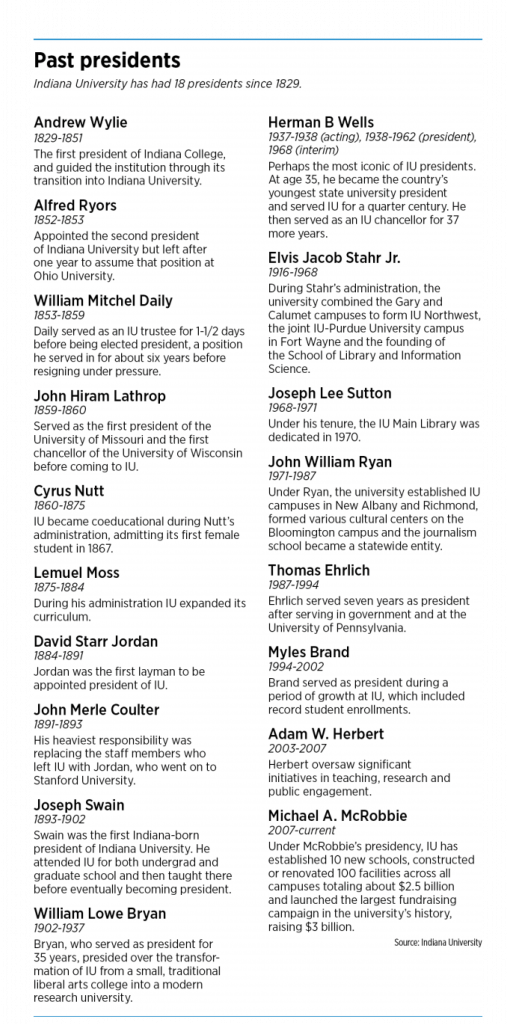 Please enable JavaScript to view this content.