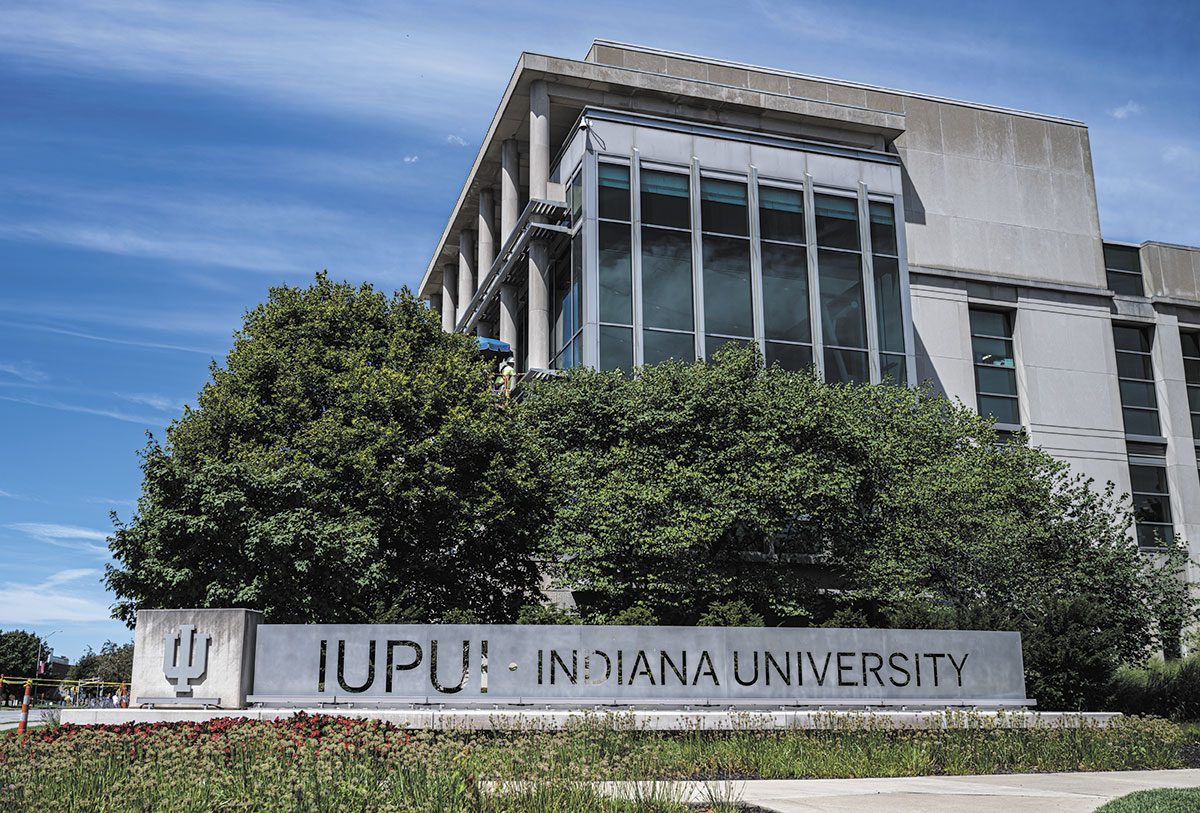 The uncoupling of IUPUI, giving Indiana University and Purdue University their own identities in Indianapolis, will bring big benefits to both schools and to the business community, education and corporate leaders predict.
The move, announced last week, won't be complete for two years, and many details have yet to be worked out. But IU, which plans to rebrand its majority portion of the IUPUI campus as Indiana University Indianapolis, says it plans to beef up its local presence, including research in numerous academic areas.
Purdue, for its part, says it is looking forward to growing its Indianapolis presence under its own name. Those plans include expanding Purdue's Indianapolis enrollment by at least 1,000, opening a branch of its Applied Research Institute here, and partnering with IU on a biosciences engineering institute.
Local business and tech-industry leaders say they see the effort as a chance to increase the pipeline of qualified employees who can work at local companies. They're also excited about IU's ambitions to build a bigger research presence on the Indianapolis campus.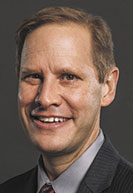 These plans should give a big boost to Indiana's tech sector, said Dennis Trinkle, executive vice president of pathways and programs at Indianapolis-based TechPoint. "It lines up perfectly with what we think needs to happen."
TechPoint is a not-for-profit that works to strengthen Indiana's tech sector, which currently employs about 115,000 people. The group recently launched an initiative called Mission 41K, which aims to add another 41,000 people to the state's tech workforce by 2030.
"To get there, we have to double the growth rate that we've seen in the last 30 years—but this step by Purdue and IU adds a central missing element that will help us get there," Trinkle said.
Among other aspects of the realignment, Purdue will take over the engineering, computer science and technology programs at what is now IUPUI, operating them under a yet-to-be-determined name as what Purdue has called "a fully integrated expansion" of its main campus in West Lafayette.
IU, whose Bloomington-based Luddy School of Informatics, Computing and Engineering already has an Indianapolis presence, has said it plans to expand its Luddy offerings here.
Because each school has its own specialties, allowing each to operate independently here will unlock growth potential for both, Trinkle said. "Whenever you can allow both institutions to focus on their strengths in what they do, you end up getting significantly faster growth."
This growth, he predicted, will ultimately increase the pipeline of local graduates who can fill tech-sector jobs. It will also give central Indiana's tech firms increased access to interns—who might later become full-time employees.
Indianapolis Deputy Mayor of Community Development Jeff Bennett said the change presents potential for more graduate and doctoral students in the city.
"That's kind of what we're missing now. And I think it fits into an overall strategy: talent attraction, then talent retention," Bennett said.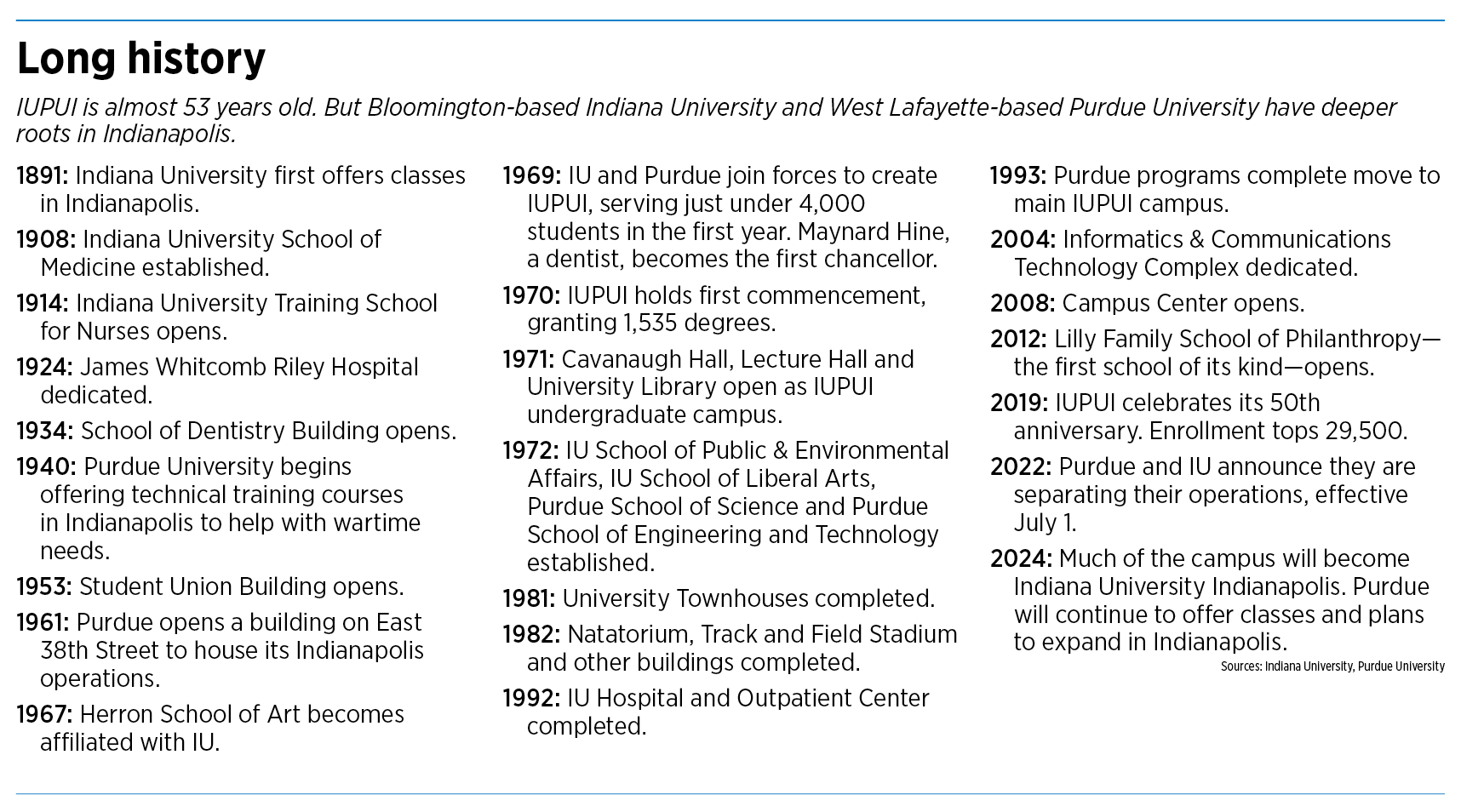 Bringing more research
The pending split also has the potential to bring significantly more research—and research funding—to the Indianapolis campus, IU says.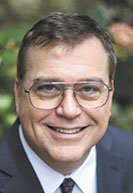 For the fiscal year ended June 30, the IUPUI campus landed total research funding of $70 million, said Fred Cate, vice president for research at IU. That number doesn't include funding for research at IU's medical school, which is based on the IUPUI campus but reports its numbers through IU's main campus in Bloomington due to National Science Foundation rules, Cate said.
Of that $70 million, $56 million is affiliated with IU research and $14 million with Purdue research, Cate said. He said IU research funding could increase about 50% over the next five years as a result of the realignment, boosting IU's Indianapolis annual research funding to near $90 million.
"The goal is to really make Indianapolis stand out as a place of higher education investment," he said.
Though details have yet to be worked out, Cate said IU could boost its Indianapolis research by expanding some of its existing research initiatives.
Cate said the planned Luddy School expansion in Indianapolis could increase research activity and grant funding. So could the joint medical engineering institute that IU and Purdue will launch together. Advanced manufacturing and transportation research are other areas of opportunity, he said.
IU could also more actively pursue grants targeted at urban universities, Cate said.
IUPUI's current research activity falls significantly below that of IU and Purdue.
According to the Center for Measuring University Performance's 2020 report—the most recent available—IUPUI spent $54.3 million on research in 2018, ranking it 188th among U.S. research universities. In comparison, Purdue ranked 42nd, at $535.8 million. IU ranked 43rd, at $534.8 million. Both Purdue and IU are considered R1 research universities, a classification for schools with a very high level of research activity. IUPUI is not.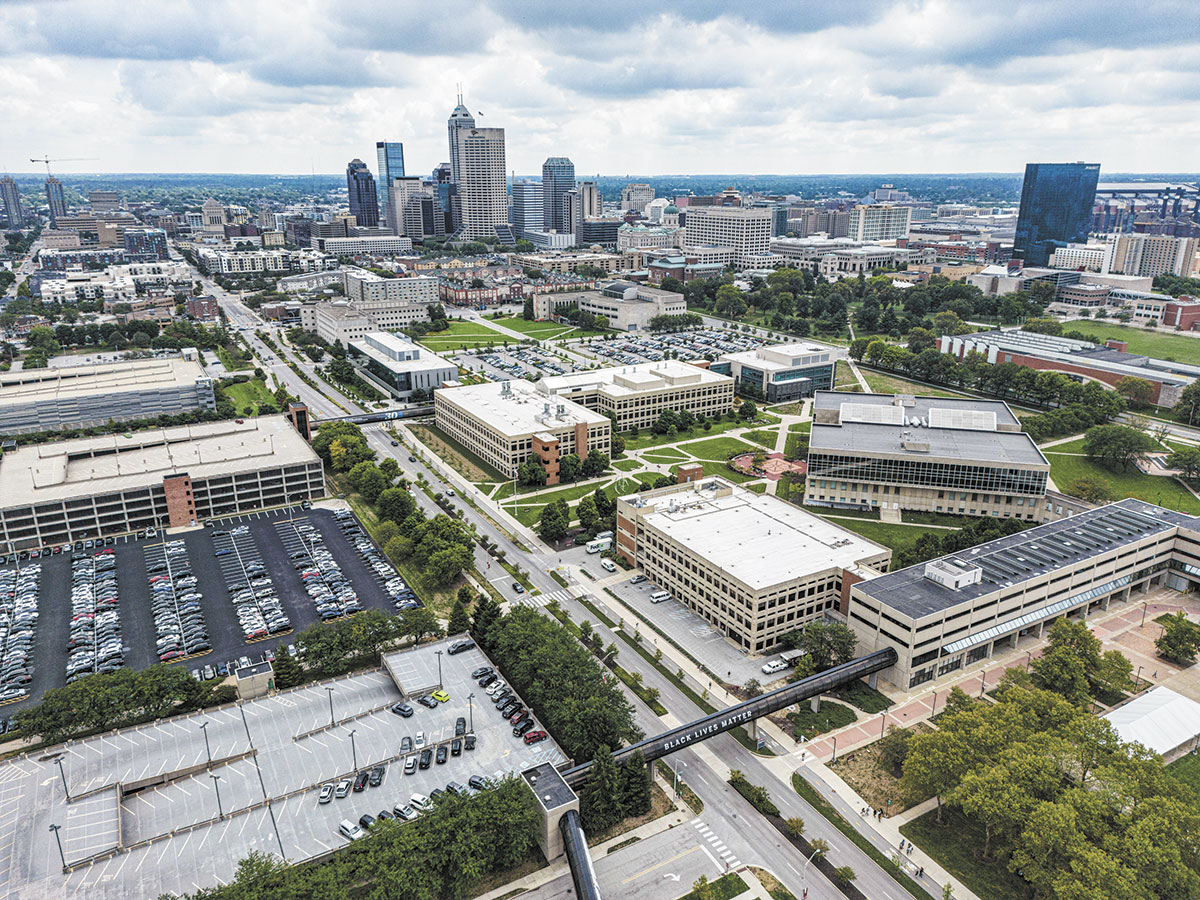 Multiple benefits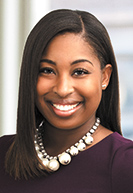 Observers say the broader business community could also benefit from the increased research.
A major research university is "definitely something that our peer cities have and that we lack," said Portia Bailey-Bernard, vice president at Develop Indy—the arm of the Indy Chamber that handles economic development for the city.
Having a research university will help produce more skilled graduates, Bailey-Bernard said, which will in turn boost central Indiana's talent pipeline. And talent availability is a key factor for companies considering relocating or expanding.
"They want to be able to make sure they've got a school they can pull from for talent," she said.
The research itself can also be a job creator, said John Thompson, president of Indianapolis-based First Electric Supply and an Indiana Economic Development Corp. board member. Not all research jobs require a doctorate, Thompson said. A lab technician, for instance, might need less than a four-year degree—and research jobs tend to pay higher than those in other sectors, regardless of the education required.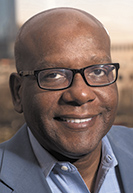 Trinkle said an increase in local research should also attract companies that want to collaborate on projects of interest. The researchers can offer valuable guidance to local companies that need help navigating the transition to artificial intelligence and other advanced technologies.
"Literally every business model's going to be reworked over the next 10 years," he said. "Having the expertise locally will allow local companies to be able to innovate faster."
Both Trinkle and Thompson pointed to the opportunities Purdue's planned Applied Research Institute could unlock here. The institute's focus is on translating research discoveries into real-world solutions for business, defense and other partners.
Thompson said he expects the institute's activities to generate at least 20 startups in the next five years, and likely many more. "I think I'm being conservative. I think it will be way more than 20."
Some of those startups won't survive, he acknowledged—but some will, providing investment opportunities for angel investors like himself and, later, perhaps venture capital firms.
"I can't wait," Thompson said.
Indiana's current and former higher education commissioner both praised IU's and Purdue's Indianapolis plans.
Chris Lowery, Indiana's current commissioner for higher education, said the schools will unlock potential by going separate ways.
Lowery said the "strategic, transformational directions" each will take in focusing on different STEM niches will attract talent to Indianapolis while expanding research and development outside the private sector.
If IU Indianapolis becomes an R1 research institution, he said, that could be a "not only additive, but exponential factor" in the area's research and development environment.
Former higher education commissioner Teresa Lubbers said the change will clarify each university's role. Any time two institutions operate under shared governance but have different visions, goals and offerings, it can create confusion, she said.
This decision has been under discussion for a long time, said Lubbers, who currently serves as president of the Sagamore Institute.
"What it should do, and what has been needed for so long, is to bring clarity," she said.
She noted the recent transition for Indiana University-Purdue University Fort Wayne to just Purdue University Fort Wayne. Enrollment increased after the 2018 split, she said, and that's likely to happen at the Indianapolis campus also.
Challenges, opportunities
Purdue University Fort Wayne offers a possible glimpse at both the challenges and opportunities ahead for the Indianapolis campus.
In that case, IU took over the life sciences programs of what had been colloquially called IPFW, and Purdue got the rest of the Fort Wayne school.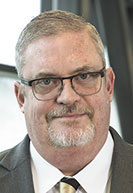 The realigned university has already seen some clear benefits, said Vice Chancellor for Academic Affairs Carl Drummond.
For one, Drummond said, the name change brought "mission clarity" because the school and its faculty members can now fully identify with Purdue.
It also helped the school recruit a broader range of students, he said.
Before, few people outside the greater Fort Wayne area knew what IPFW was—especially because the letter "U" was not part of the school's abbreviation. That made it extremely hard to recruit non-local students—something the school had identified as a necessary part of its growth.
"If we went to Fishers and tried to recruit students to come to Fort Wayne, they didn't know what we were," Drummond said. "It was impossible."
The school now has "a real clear story to tell, and it's working," he said.
In the 2018-2019 school year, the first after the split, 8.6% of Purdue Fort Wayne students were out-of-state or international students. In 2022-2023, that population is expected to be 16%.
That said, the transition hasn't been entirely easy.
Drummond, who has been at the Fort Wayne campus 29 years, said the school made the difficult decision to cut some programs as part of the shift. And some people resented that the Purdue and IU trustees didn't consult the campus before making their decision.
"There's been a lot of hurt feelings still, and a lot of unhappiness," he said.
Things might go more smoothly at IUPUI, Drummond said, since IU already has a majority presence. The two universities were equal partners in Fort Wayne, which made that separation more challenging but worth the school's now-clear identity, he said.
"We're Purdue University."•
Please enable JavaScript to view this content.