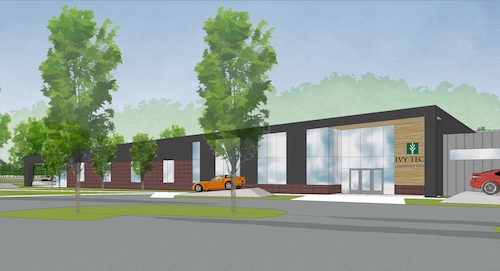 Ivy Tech Community College and city leaders on Wednesday broke ground on the college's new $14 million automotive technology center in the International Marketplace District on the northwest side of Indianapolis.
The 60,000-square-foot building is under construction at 4751 Century Plaza Road on about six acres of land gifted to the college from the Eskenazi Family Foundation in 2017. A Loews movie theater formerly occupied the site.
The center will move operations from a building it has operated in for several years at 1331 E. Washington St. Indianapolis-based TWG Development plans to redevelop that facility.
The new automotive technology center will house classrooms, training labs, faculty offices, student common areas and corporate labs for the college's manufacturing partners. It will also have an admissions professional on-site to assist anyone that wants to enroll in any of Ivy Tech's programs.
In addition to the new building, the college plans to enhance partnerships in the neighborhood to increase educational attainment. It has already partnered with the nearby Global Village, where it will offer general/core classes, Ivy Tech said.
The new automotive center is just a part of $176 million in new developments for the International Marketplace District and is expected to serve as an anchor for the area.
Construction is expected to take about a year, with the new center being open in time for the fall 2021 semester.
"This groundbreaking has been years in the making, and we are extremely grateful for the generous gifts and funders that helped make this possible," Kathleen Lee, chancellor of Ivy Tech Central Indiana, said in written comments. "While it is bittersweet to leave the East Washington location, we are so happy that TWG Development is going to develop the facility. The neighborhood will be in good hands and our downtown campus is still only a few miles away to serve the community."
Please enable JavaScript to view this content.