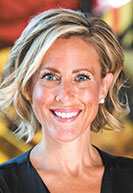 Ivy Tech Community College has hired Courtney Roberts as president of the Ivy Tech Foundation, it announced Monday. Roberts, who will also serve as senior vice president of development at Ivy Tech, is expected to begin her new role Jan. 4.
The college said Roberts will lead its philanthropic efforts and partner with donors to invest in its students, faculty, and programs.
Roberts succeeds John Murphy, who retired July 31 after leading the foundation for the last eight years.
"Courtney Roberts is a proven leader and philanthropic force in our state, nation and world, and I'm very pleased she will be joining the College and Foundation to help us further our impact on students, employers and communities," Ivy Tech President Sue Ellspermann said in written remarks. "Her vision and passion for creating shared value in communities across the globe will serve us well and further our mission."
As president of the foundation, Ivy Tech said Roberts will focus on reaching the five-year statewide capital campaign goal of $285 million by June 2023. She will also plan future campaigns to help grow Ivy Tech's philanthropic impact around the state.
"Ivy Tech is a critically important institution in the State of Indiana," said Roberts. "Not only is it fueling the economic engine of Indiana's workforce – training Hoosiers for the careers that will grow our future economy – it also plays an essential role in advancing access to higher education and opportunities for individuals and communities."
Roberts previously spent 14 years with Indianapolis-based Eli Lilly and Co. She most recently served as the director of social impact for the company's global health philanthropic partnerships.
She was named a Women of Influence by IBJ in 2018.
Please enable JavaScript to view this content.