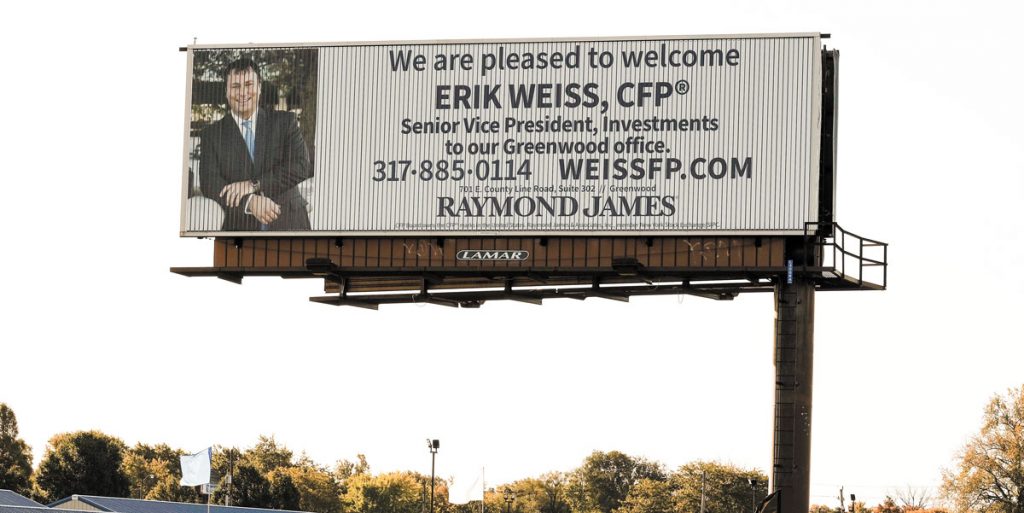 J.P. Morgan Securities LLC has sued one of its former Indianapolis financial advisers, alleging that Erik Weiss, since leaving for a job with Raymond James & Associates last month, has been improperly soliciting clients to follow him.
In the lawsuit filed Oct. 9 in U.S. District Court in the Southern District of Indiana, J.P. Morgan says Weiss had persuaded 40 clients to follow him within a month. The firm is asking the court to stop him from further solicitation while the matter goes through arbitration with the Financial Industry Regulatory Authority.
Weiss did not return messages seeking comments about the case.
Securities attorneys say such lawsuits became uncommon after 2004, when the industry crafted an agreement called The Protocol for Broker Recruiting that made it easier for brokers to take clients with them to a new firm without fear of litigation.
"These kinds of actions are relatively rare," said Keith Griffin, a securities lawyer with Indianapolis-based Griffin Law Firm. "I don't see it as often as I used to."
But since 2017, a couple of large firms have dropped out of the agreement, and attorneys have mixed views on whether suits like the one against Weiss will become more common as a result.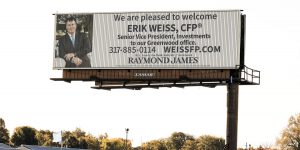 New York-based J.P. Morgan has never been a member of The Broker Protocol, according to Dennis Concilla, who heads the securities law practice at Carlile Patchen & Murphy LLP in Columbus, Ohio. Concilla also operates his firm's website—thebrokerprotocol.com—which includes both a database of members and information about the protocol. St. Petersburg-based Raymond James is a member.
J.P. Morgan and Raymond James declined to comment on the Weiss case, as did Philadelphia attorney Jeffrey Csercsevits of Atlanta-based Fisher & Phillips LLP, who is one of the attorneys representing Weiss.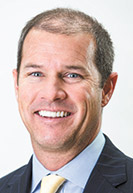 Phone messages left with the attorneys representing J.P. Morgan were not returned, and Weiss' attorneys have not yet filed a formal response to the lawsuit.
But in its legal complaint, J.P. Morgan says Weiss violated his non-solicitation agreement by "engaging in aggressive solicitation of JPMorgan clients" via phone calls and text messages since leaving the firm Sept. 13 for Raymond James' Greenwood office.
Weiss has also been disparaging J.P. Morgan by saying its products are inferior to Raymond James' and that J.P. Morgan limits the products available to clients, the complaint alleges.
Weiss joined J.P. Morgan in 2007, when it operated as Chase Investment Services Corp. When he left the firm, the suit says, Weiss was serving about 600 clients and had assets under management of $197 million. Weiss did not bring any clients with him when he joined J.P. Morgan, the filing says, and "the substantial majority" of those 600 clients were assigned or referred to him by the firm during his time there.
Within the first month of his departure, according to the suit, Weiss had already persuaded 40 clients with more than $27 million in combined assets to follow him to Raymond James.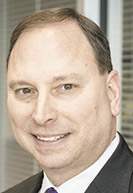 J.P. Morgan is no stranger to the type of lawsuit it filed against Weiss.
"J.P. Morgan is very litigious," Concilla said. "They're very protective of their business."
Indeed, J.P. Morgan has filed at least 21 similar suits nationwide over the past decade, including several in the federal court's Southern District of Indiana.
One of those was filed in September 2018, when the firm sued Nathan D. Shields, Mark V. Obrzut and Jackson M. Stewart, three former employees of its Carmel office who left J.P. Morgan for jobs with Raymond James. J.P. Morgan alleged that the three had improperly solicited clients to get them to follow the men to their new firm. The men all disputed J.P. Morgan's claims, saying they simply contacted the clients to let them know they had left the firm.
In December, the court issued a preliminary injunction against the three that prohibited them from soliciting their former J.P. Morgan clients or from using any of the firm's confidential information.
The dispute itself is being handled through FINRA's arbitration process.
J.P. Morgan filed a similar suit in June 2018 against Gabriel M. Campbell, who left the firm's Bloomington office for a job at Merrill Lynch.
And in July 2013, the company sued Indianapolis brokers Frank J. Esposito Jr. and Matthew M. Green, both of whom left J.P. Morgan for jobs at UBS Financial Services Inc.
Almost 1,900 firms are currently part of The Broker Protocol, which allows brokers who move from one protocol-member firm to another one to solicit clients to follow them.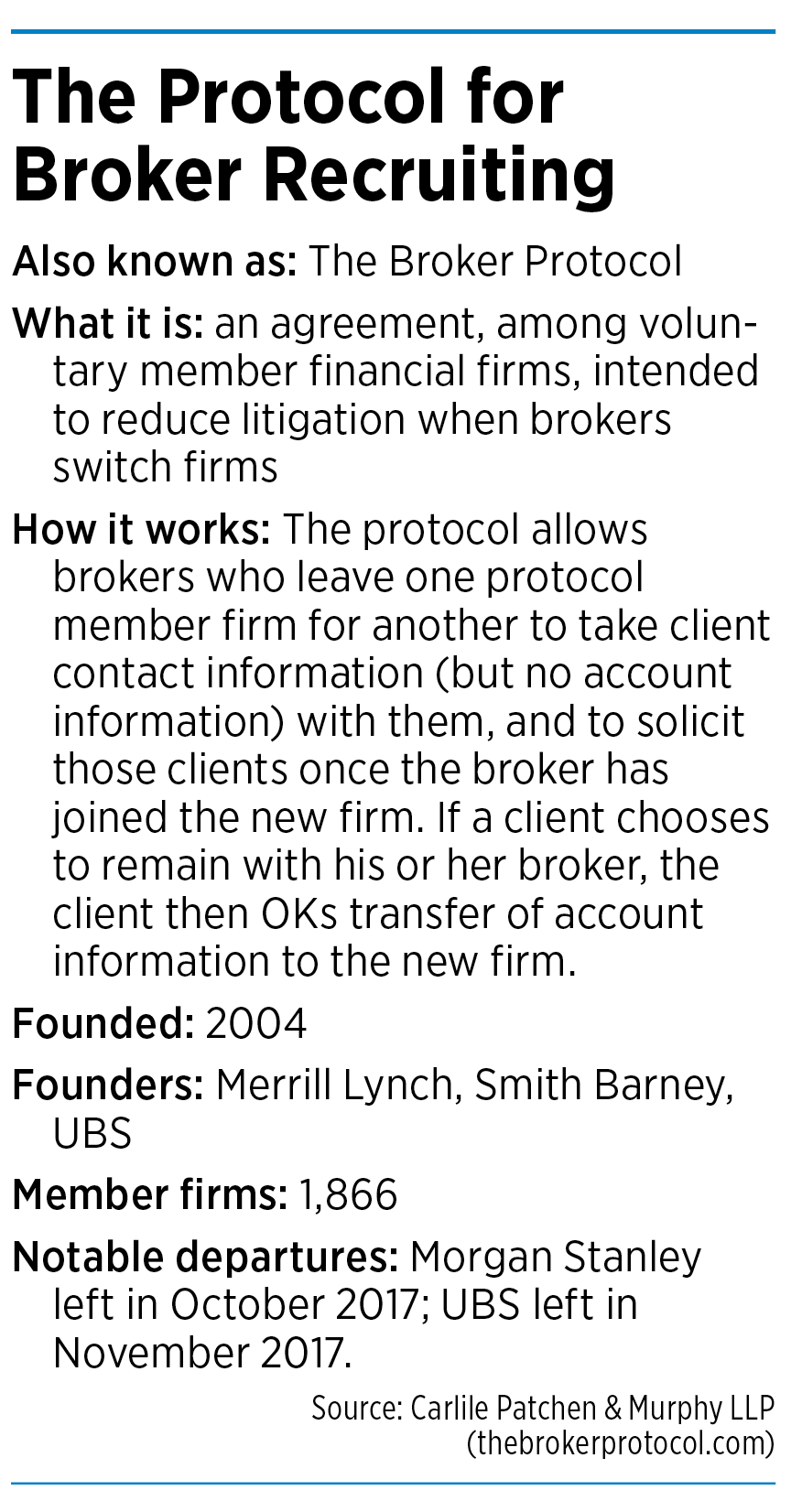 But bank-associated brokerages like J.P. Morgan typically don't sign on to the protocol, Concilla said, because they have a strong interest in keeping brokerage clients who might also have bank accounts, mortgages and other business with the bank.
The protocol's formation in 2004 represented an attitude shift in an industry where firms had been quick to sue brokers who switched firms and took clients with them.
Merrill Lynch, Smith Barney and UBS were the founding members of The Broker Protocol.
UBS dropped out in the fall of 2017, as did Morgan Stanley Smith Barney LLC.
Those exits triggered fears that the protocol was weakening, but Concilla said that's not been the case. "The demise of the protocol's been greatly exaggerated. On balance, more firms are joining than leaving."
Indianapolis attorney Mark Maddox sees something different.
"We just see these cases now getting filed all the time," said Maddox, a former Indiana securities commissioner who now practices securities law at the Indianapolis firm Maddox Hargett & Caruso PC. "It's just been an area that's been exploding in the last two years."
Griffin isn't sure what the future holds.
With the exit of the two big firms, he said, the protocol is "not quite what it once was."
But he said it's too early to predict the future of the litigation landscape. "The jury's still out. I don't know what it's going to look like six months, 12 months from now."•
Please enable JavaScript to view this content.