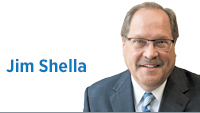 "You the man!" That's the standard greeting from Diego Morales. "You the man!"
It begs for a reply along the lines of, "No. You the man!" But I've never been able to give him that response. Because he's not the guy.
This is a public service announcement.
Don't let Diego Morales become the next Charlie White.
Morales is the GOP nominee for Indiana secretary of state. He is unfit for office.
Charlie White is the most recent candidate for secretary of state who was wholly unqualified and, important point here, was elected nevertheless.
White, a Republican, was accused of voter fraud during the 2010 campaign, and GOP leaders ignored the facts. Then-Secretary of State Todd Rokita even conducted an investigation before the election that cleared his fellow Republican of any wrongdoing.
After the election, a grand jury indicted White and he was convicted of six felonies, including voter fraud, theft and perjury (in a court in Hamilton County, his home county) before being removed from office in February 2012.
Morales now faces questions about sexual harassment, his work history and his military record.
GOP leaders are again in "hear no evil, see no evil, speak no evil" mode.
It matters because the choice before voters in November involves three candidates: Morales, Libertarian Jeff Maurer and Democrat Destiny Wells.
It matters because the secretary of state is in charge of our elections and, at a time when the validity of elections around the country is being challenged, we need someone competent to fill that role. (Did I mention that Morales has called the 2020 election a "scam"?)
GOP leaders will continue to support Morales because they know that, if elected and then removed, as White was, a Republican governor will get to name a replacement. Taking Morales' name off the ballot now would give an advantage to Wells.
The most serious charges against Morales were spelled out in a publication called "The Cheat Sheet." Writer Abdul-Hakim Shabazz quoted two women who anonymously accused Morales of assaulting them. One account goes like this: He pinned her against the wall and was "aggressively rubbing against her" before reaching for her shirt.
Both women had worked with Morales, who denies the accusations and says they are 15 years old. The Indianapolis Star reported that GOP Chairman Kyle Hupfer was aware of the accusations weeks before they were published and did nothing. Hupfer issued a statement saying, "A political party is not an investigative or judicial body."
The questions about Morales' military record are prompted by the fact that he appears in uniform on his Facebook page and in campaign photos, yet he was discharged from the National Guard before the conclusion of his contract. Numerous reports have spelled out the details; neither Morales nor his campaign will explain the records, instead referring reporters to the Army or the National Guard.
Then there is his work history. The Associated Press has done extensive reporting on how Morales was fired from the Secretary of State's Office in 2009 by Rokita. He blamed it on "office politics." Two years later, he was back working in that office when he was disciplined for poor performance and, as a result, quit his job. The boss this time was none other than Charlie White.
And that brings us full circle. Morales could not meet White's standards. White could not meet the legal standards required to hold office.
Voters should reject Morales.•
__________
Shella hosted WFYI's "Indiana Week in Review" for 25 years and covered Indiana politics for WISH-TV for more than three decades. Send comments to ibjedit@ibj.com.

Click here for more Forefront columns.
Please enable JavaScript to view this content.