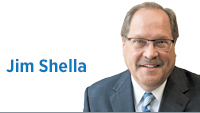 The Oct. 7 attack on Israel by Hamas is the "worst act of antisemitic violence since the Holocaust," according to Israeli Prime Minister Benjamin Netanyahu.
It is also a reminder that we need to continue to teach the lessons of the Holocaust.
I don't think I ever really understood the horror of Hitler's reign until I interviewed a Holocaust survivor in person. I was working as a reporter in Grand Rapids, Michigan, in the early '80s when David Mandel, then the operator of the best men's store in town, decided to tell his story to a local service club.
He was a teenager when he, his parents and five siblings were all taken to a concentration camp. As soon as they arrived, his mother and four siblings were taken away, never to be seen again. He was given the job of going through the belongings of new arrivals.
The day after his speech to that service club, David agreed to a half-hour television interview with me, something he had not previously done.
That half hour was so emotional that a fellow reporter, who joined me to ask questions, kept changing the subject. He was trying to get away from the worst parts of David's story.
A few years later, I was working here in Indianapolis when a producer suggested I try to localize stories about neo-Nazi attacks taking place around the country. "Find a Holocaust survivor," he said. In the business, we call that a "producer fantasy."
Nevertheless, I called the Jewish Community Relations Council, and, to my surprise, someone arranged an interview with Mike Vogel, a Holocaust survivor who had never told his story publicly.
We conducted the interview at Mike's home one evening and, while I don't remember much else about the interview, I will never forget how Mike kept a large glass of scotch within reach to help him get through it.
Now here's what I didn't know at the time: David Mandel and Mike Vogel were best friends and went through that experience together. I learned that when, late one night, I turned on public television to see a documentary that told the story of Mike and David returning to Auschwitz in 1991. They did it so people would remember what happened there.
"We have to find out what made people so inhumane to fellow man," David said in the documentary. It's called "Auschwitz: If you cried, you died." The title is a quote from Mike as he explained he couldn't cry when he learned his father had been taken to the gas chamber. (If you wish to watch the documentary, you can easily find it on YouTube.)
Six million Jews died in the Holocaust, 1.6 million at Auschwitz. And while the casualties in the current war between Israel and Hamas are in the thousands, the numbers are still unfathomable, and the horror is tougher to escape. The video of bombings is live on the TV news, and the stories are being told in real time by victims in both Israel and Gaza.
And it feels close to home. I recently saw a Facebook post from a friend who tried to maintain communication with relatives in Israel who are in danger at the same time his daughter, a student at Bates College in Maine, was on lockdown during the active-shooter situation there.
In the documentary, Mike and David wonder how anything as horrible as the Holocaust could happen in modern times. But these things keep happening.•
__________
Shella hosted WFYI's "Indiana Week in Review" for 25 years and covered Indiana politics for WISH-TV for more than three decades. Send comments to ibjedit@ibj.com.

Click here for more Forefront columns.
Please enable JavaScript to view this content.