The state's largest hotel reopened late Wednesday with updated safety protocols and a fully renovated slate of rooms after being shut down for more than three months because of the COVID-19 pandemic.
The JW Marriott Indianapolis, 10 S. West St., which has more than 1,000 rooms, is expected to hit 40% occupancy this weekend, General Manager Phil Ray told IBJ.
He said most visitors staying at the hotel this week will be in-state leisure travelers and participants in the Nike Tournament of Champions girls basketball tournament. Next week, the hotel plans to host a group for a self-contained event that utilizes its convention space and hotel rooms.
The JW is operating at one-fifth its normal staffing level—about 125 people—with plans to have many of those employees working in various capacities. Merrillville-based owner White Lodging earlier this week informed the state it expects about 350 of the property's employees to remain out of work for at least six months or until demand rebounds.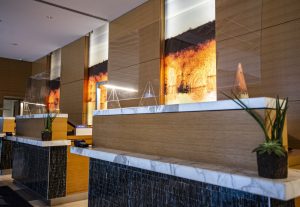 Guests who stay at the hotel will see a variety of changes, including plexiglass barriers at the check-in counters and an increase to the amount of time allocated for room cleanings from roughly 30 minutes per room to up to 45 minutes, allowing for housekeeping to follow an enhanced disinfectant protocol.
Hotel staff will regularly clean high-touch areas in the lobby and elevators. Stay-over cleaning services will not occur in guest rooms unless requested.
The JW is requiring all staff to complete a health screening before each shift, as part of the hotel's adoption of a new program from the Indiana Restaurant & Lodging Association called the Hoosier Hospitality Promise.
All guests will be asked to wear masks in public areas, adhere to social distancing protocols and keep limits of no more than four people on elevators (unless they are in the same group).
The JW is not restarting room service and is keeping one of its two restaurants—OP Italian—closed until occupancy bounces back.
Aside from pandemic-related changes, the reopened hotel comes with some aesthetic changes, too. This includes upgrades to each of its rooms and the underground parking garage—a process that was well underway at the time the property shut down. Ray declined to specify how much was spent on the renovation.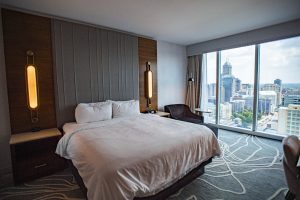 "We were already underway, so it was great to still be able to keep going and finishing," Ray said. "[White Lodging] kept investing their dollars and taking advantage of the time. So the silver lining is that we're happy we could get those projects done."
The hotel also added eight rooms to its inventory, bumping its total to 1,013—once again making it the largest JW Marriott in the United States, next to the one in Austin, Texas, which also is owned by White Lodging.
The hotel's return comes at a unique time for the downtown market, which saw occupancy sink from about 70% early this year to single-digits by the end of March. Those figures have rebounded to the teens, mostly carried by stronger weekend figures.
But the return to normalcy isn't something Ray expects to happen overnight.
"It's going to be very interesting, and … quite honestly, we look at this as kind of a stepping stone process," he said. "The first step is, let's reopen the hotel."
Please enable JavaScript to view this content.