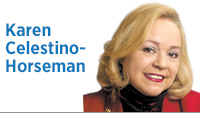 I just returned from visiting my mother's family in Colorado. I was able to spend 10 glorious days visiting with four of my five remaining aunts and my one remaining uncle (there were originally 14 of them). For 10 days, I ate Mexican food, listened to Mexican music and laughed. In the Celestino family, laughter is like air—we just can't live without it.
And while no one can live without food, in the Celestino family, the importance of food goes a step further. Food is an expression of love. While I was there, my Aunt Terry made enough food to feed dinner to over 125 guests attending the wedding of her grandson (my cousin). She served tacos with homemade salsas, meats, beans, rice and freshly made tortillas from the local tortilleria. My Aunt Dominga made ceviche and my Aunt Beatriz assisted everywhere.
On the night before I left, the three of them gathered in the kitchen to make me over two dozen tortillas to bring back to Indiana. Aunt Dominga made the dough and rolled them out, while Aunt Terry cooked them on the comal and handed them off to my Aunt Bea. If you have never eaten a hot, homemade, soft, white, flour tortilla slathered in butter, I strongly suggest you add it to your bucket list.
In the months to come, I will sparingly pull a tortilla out of the freezer and eat it hot with butter. The taste and smell of the tortilla will provide me with the equivalent of hugs from my aunts as I remember watching them cooking, laughing and talking in the kitchen.
Family is everything to the Celestinos, so to maintain our family bond, we have a rule: We will not discuss politics. On the doors of the homes of my Aunt Bea and my Aunt Terry, you will find bumper stickers supporting Trump. My Aunt Dominga holds her political cards to her chest. My Aunt Linda, who lives in Colorado Springs, is a diehard Democrat. My mother and Aunt Henrietta, both of whom are passed, were also strong Democrats. My cousins are divided between Trump supporters and those supporting Democrats. If you have read my columns in the past, you know that I am also very much a Democrat.
When Trump was running for president in 2016, my family and I quickly realized that, unless we made rules regarding political discussions, we would not be a family for long. After some false starts, we ultimately agreed we would not discuss politics.
During my recent visit, one of my aunts began discussing a topic that led us to a political precipice. I started to respond but then remembered the rule. Holding up my hand, I said, "We can't go there. It's against the rule." Realizing where we were headed, everyone quickly agreed and almost immediately we began laughing and talking about other things.
Since 2016, I have heard from a surprising number of people who have told me they have stopped speaking to family members because they hold viewpoints they cannot support. I find that sad.
The presidential election cycle has started, and it is already stirring some passionate feelings and opinions. Please remember to keep your family first. We will be electing a president every four years, but who knows how long your family will be with you? Not discussing politics is a small price to pay for family.•
__________
Celestino-Horseman is an Indianapolis attorney. Send comments to ibjedit@ibj.com.

Click here for more Forefront columns.
Please enable JavaScript to view this content.