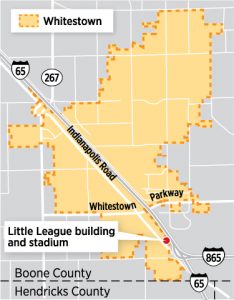 Indianapolis-based Kite Harris Property Group is planning a $25 million mixed-use development adjacent to the future Little League International Central Region headquarters in Whitestown, according to an economic development agreement approved by the Whitestown Redevelopment Commission on Wednesday night.
Kite Harris is proposing a development containing multifamily, retail, office and recreational facilities on about 15 acres northwest of the future Little League headquarters at 7279 South Indianapolis Road. The company also is involved in developing the Little League headquarters land.
The triangular site is between Interstate 65 to the east and Indianapolis Road to the west.
The town, which owns the property, has agreed to sell the 15 acres to Kite Harris for $1, according to the agreement. The property is part of the former 135-acre Wreck's Inc. junkyard, which the town bought late last year and hopes to see developed into a community campus.
Kite Harris representatives told the commission they're considering several site plans for the property, but a conceptual site plan submitted to the town shows four buildings dedicated to multifamily, one with multifamily and retail, and one with multifamily and a curling facility. The conceptual site plan includes a seventh building, though it's intended use is not identified. Kite Harris representatives said their plan for the property could include office space.
The agreement between Kite Harris and the town stipulates construction must be complete within three years of the property transfer.
Little League anticipates holding its 2020 tournaments on the headquarters site.
Whitestown officials anticipate the Kite Harris project will be one of several public-private partnerships that will come from attracting Little League to the town of fewer than 9,000 residents.
Please enable JavaScript to view this content.