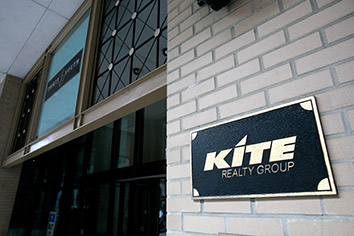 Indianapolis-based Kite Realty Group Trust is launching a $5 million loan program geared toward its small-business tenants, the company announced late Monday.
Kite, a real estate investment trust, owns interests in 82 retail properties that total about 16 million square feet in 16 states.
The loan program is open to Kite tenants that operate fewer than five locations nationally. Applicants can request loans that cover up to three months of operating expenses, including rent.
In a document describing the program, Kite says it will make loan awards based on "its assessment of the tenant's history with Kite Realty Group, contributions to the (retail) center, financial need and other factors.
Loans will carry a 4% annual interest rate, with repayment over three years starting in August.
Loan applications will be available for download at kiterealty.com starting Wednesday, and the company will accept applications between Friday and May 1.
Website Seeking Alpha, citing commercial property researchers at Green Street Advisors, reported Sunday that owners of the more than 30,000 strip malls in the United States have been paid only between 30% and 50% of April rent.
"We have many small businesses in our shopping centers who have made every effort to make it through this crisis, but who need additional funds to cover expenses until they are able to fully re-open," John Kite, chairman and CEO of Kite Realty, said in written remarks.
"This program is designed to supplement other available sources to help them pay employees, vendors, and other expenses. Our small-shop, local tenants are an extremely important part of our business and our local communities, and we will continue to look for creative ways to help them through this period."
Kite's announcement of the loan program is in line with a coronavirus update the company shared with investors April 7.
In that presentation, Kite said its strategy for weathering the pandemic includes "offering accommodations for smaller shop tenants" while "discussing with national tenants the fact that the survival of the retail eco-system requires their support."
According to that presentation, Kite earns 66% of its annualized base rent from its national tenants—retailers with a national footprint such as Walmart, PetSmart, Lowe's, Whole Foods and TJ Maxx. Another 15% comes from tenants with a regional presence, including the regional grocery chains HEB and Publix.
The remaining 18% of annualized base rent comes from local tenants, though the presentation did not give a precise definition of "local."
Please enable JavaScript to view this content.