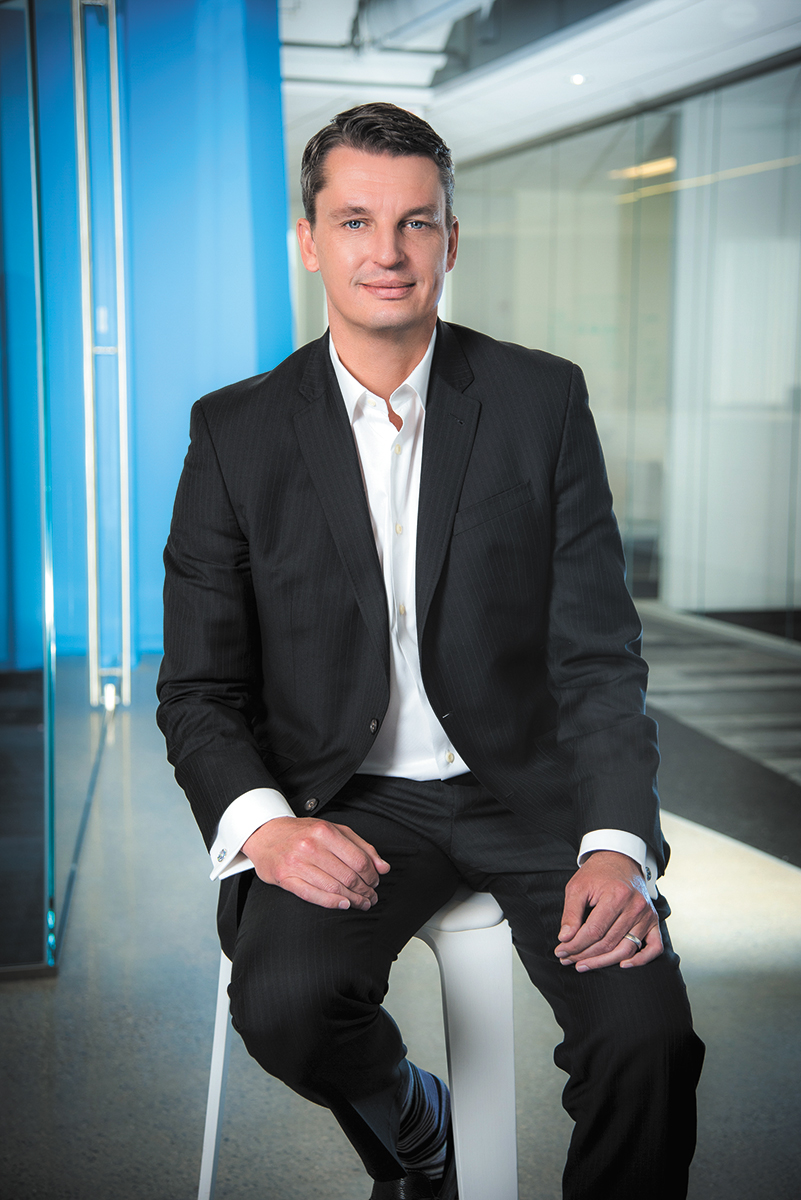 Heath Fear
Kite Realty Group Trust
chief financial officer
Heath Fear's first time in Indianapolis was for his interview with the Kite Realty Group management team before starting his job as chief financial officer in November 2018—a talk that was expected to last only 45 minutes but stretched to two hours.
Since joining Kite—after similar posts at other major retail property groups—Fear has guided the company to surer financial footing, largely by orchestrating the sell-off of two-dozen undesirable properties to free up cash for
future investments.
What has been Kite's strategy in selling off through what the firm has called Project Focus?
The project was really an initiative to address several things to better position the company for growth in the future. We sold a total of 24 properties for $544 million. Most of those proceeds were used to pay down debt. We wanted to get our balance sheet in better shape so we had a lot less leverage and a lot more liquidity.
What we sold was the lower end of our portfolio—really trying to increase the durability of our cash flow by getting rid of our most vulnerable properties and tightening up our national geography … selling assets to continue concentrating ourselves in the South and in the West, from which over 77% of our rents come.
We're still very long on Indianapolis, too. We think it's a great place for us and we have a lot of assets here. It's our second-largest market [after Las Vegas].
How does the sell-off position Kite from a long-term perspective?
As we were [entering] 2020, not only did we lower our leverage, but we also pulled back on our development pipeline to make sure that we were entering the year with as much financial optionality as possible. We obviously weren't thinking there was going to be a global pandemic; we were saying to ourselves that this is an economic cycle—it's very long in the tooth. We felt as if 2020 might be one of those years where things could get a little odd. Thank God, we got everything done [with Project Focus] in 2019.
What's the long-term outlook for Kite?
We're a firm believer that open-air retail is going to be the winner in this space. You're seeing more customers adopting online methods … but we think the long-term consequences of
COVID-19 is going to be actually a boon for our business.
We're hoping early data suggests that the reopening efforts that are happening don't show tremendous spikes in cases. But honestly, we just don't know. The good news is that we have the financial flexibility to wait out the storm.
We're hoping by the virtue of the fact that we can get through this next 12 months—hopefully, the world normalizes by then—on the other side of that, we're going to be in the position to take advantage of perhaps some of the dislocation in our space. Maybe there's assets we can buy at a more attractive price than maybe we could have bought them pre-COVID. We're feeling very bullish on how the future looks for us.
Were markets like Las Vegas or Indianapolis more adversely affected by the COVID-19 pandemic than other areas?
We've seen distress across all of our markets because of the pandemic. At one point, nearly 50% of our tenants were closed.
For Las Vegas, there was a disproportionate impact, because tourism and the casino business there are such integral parts of that market. But we're very confident that that market is going to bounce back as the state reopens. We're very bullish about our holdings in Las Vegas; they've been some of our best-performing properties in our recent history. But there's no doubt that the lack of tourism in Vegas is something we're going to have to deal with in the medium term.
We're very much focused on keeping our tenants open and helping them reopen and [keep] operating. The great part about it is, we're not distracted by other financial distress that's keeping us from putting 100% of our focus on our tenants.
How are investors responding to Kite's standing in the market?
A lot of them are very focused on rent collection, after we discussed during the first-quarter investment call our collection of 67% of rents for April—one of the higher collection rates in the space. They're very, very short-term focused right now, which is a little bit of a struggle for us as a management team, because we're always trying to have a longer-term focus on the business.
They're obviously concerned, with [retail] bankruptcy names out … but I think they're also understanding that this is a short-term event, hopefully, and that, when the world normalizes, open air is still a very, very viable product.•
Please enable JavaScript to view this content.